The A-Rod question that should matter most: Can he still play?
Even by Alex Rodriguez standards, Sunday was a confusing day. And now we're further away from knowing if he can still play.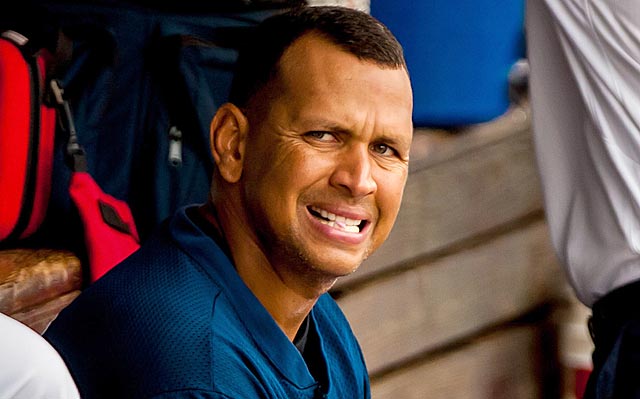 BOSTON -- First he was playing Monday, then he was playing Tuesday, then he wasn't playing at all.
First he was headed to Texas, then he was headed to New York, then he was on the way to Tampa.
If you're confused by the latest Alex Rodriguez developments, I don't blame you. Even by A-Rod standards, Sunday was a confusing day, and this is a confusing time.
There are far more questions than answers, and even when you get an answer, you can't know whether to trust it, because an hour later, you hear the opposite.
And that's why it's really too bad that A-Rod isn't headed to Texas to play for the Yankees on Monday night. Because until he actually steps foot again on a big-league field, he can't give us the answer to the question that probably should matter most:
Is he even capable of being a top-level player anymore?
If he is, then bring on all the other questions, the ones about how his rehab is going and how much he has to fear from MLB's Biogenesis police. If he's not, then who cares when he's going to be back in the lineup or how long a suspension baseball can get him to accept (or convince an arbitrator to sign off on)?
Three weeks of minor-league games told us little. A-Rod made it through 13 games in the 20 days of his rehab assignment. He hit .200 with a couple of home runs. He gave us some happy talk about how much he loves the game, but to some scouts, he looked bored.
If he had made it to Texas, we would start getting real answers on whether last year's second-half fade was caused by the bad hip that required surgery.
"I think we're all a little bit anxious to see what he looks like when he plays," Yankee manager Joe Girardi said Sunday afternoon, at a point where the official word was still that A-Rod might play Tuesday.
Girardi is probably the most anxious of all, because he has been forced to watch nightly what his lineup looks like without A-Rod. It's perfectly understandable that he has been hoping for the best, hoping that A-Rod could somehow come back from this hip surgery the way he came back from the last one, in 2009.
Even Girardi, though, will admit that there was never any certainty of that happening.
"He hasn't played in a while, and he's almost 38," Girardi said. "You want to see what you've got."
Now we won't see it this week, with A-Rod instead headed for Tampa for what the Yankees called "rest and treatment" of a quad strain that some will no doubt see as far too convenient.
He'll get rest. We'll get no rest from the A-Rod updates, the A-Rod speculation, the A-Rod conspiracy theories, which pop up almost daily in the New York tabloids.
Some of them are believable. Some might even be true. Some don't even fit the facts (he can't avoid a suspension by going on the DL, for example).
But unless there's any chance he can be good again, the stories and the speculation mean little. Unless there's a chance he can be good again, he's merely the guy who once seemed to be one of the great players in baseball history, only to go crashing down because of drugs and injuries.
That's an interesting story, but it's one we're all already a little tired of.
The new story would have been A-Rod on the field, A-Rod in the lineup, maybe even A-Rod trying to rescue the sinking Yankees ship. That story would have been worth reading, and those games would have been worth watching.
I know, you already said you were done with A-Rod (and yes, I'm talking about you, Gregg Doyel). I know, you've told everyone that you just wish A-Rod would go away.
But the A-Rod you're done with is the guy who hits the back page plenty but never hits a baseball. The A-Rod you want to go away is the A-Rod who makes news by not playing.
I'm guessing that if A-Rod actually were going to play Monday night, you would think about tuning in.
Maybe you would have, maybe you wouldn't have. As with so much else that comes with Alex Rodriguez, we'll never know.
Boston wants to add two big bats to their lineup, not just one

Even more relievers signed on the final day of the Winter Meetings

Keep tabs on the top 50 free agents right here
The league is not happy Ohtani's medical information leaked

Kansas City and Baltimore were quite busy at the Rule 5 Draft

Piscotty's mother was diagnosed with ALS earlier this year