The afternoon Johnny Football met Bryce Harper
What was Texas A&M quarterback Johnny Manziel doing in the batting cage and meeting with Nationals outfielder Bryce Harper? Apparently, what Heisman Trophy winners and 20-something shooting stars do naturally: consummating a Twitter relationship.
SAN DIEGO – Finally, the planets aligned and just what the world has been waiting for occurred here Thursday night: The long-distance Twitter admiration society between two young stars made human contact.
Heisman Trophy winner and Texas A&M quarterback Johnny Manziel … meet Nationals All-Star Bryce Harper.
"Us 20-, 21-year-olds have to stay together," Manziel quipped.
In town for a week to work with reknowned quarterbacks coach George Whitfield Jr., Manziel dropped by Petco Park for a little batting practice before heading home this weekend.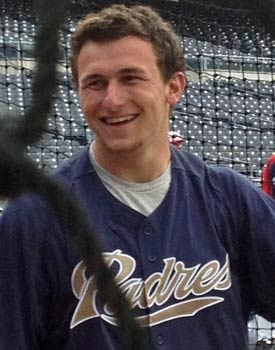 Heisman Trophy winner Johnny Manziel takes in Nats-Padres in San Diego. (Provided by Scott Miller)
That the Nationals were in town made it all the better.
"I checked on Twitter one day and happened to see he was following me," Manziel said of Harper. "So I shot him a message."
That message led to an exchange of cell phone numbers, and then to a flurry of text messages, and next thing they knew, Twitter was responsible for the hatching of another beautiful and starry relationship.
In truth, the two only spoke for about a minute or two during batting practice before Thursday night's Padres-Nationals game. You know how the younger generation is – it's all texting and not much for actual conversation, right?
Actually (and seriously), each man was so busy they didn't have time to talk at length.
Harper, after smashing into the Dodger Stadium wall on Monday, was back in the lineup after missing two games (except for one pinch-hitting appearance Wednesday).
And Manziel was busy with photo ops and taking batting practice.
Sort of. First swing, the bat flew out of his hands and helicoptered into the netting on the side of the batting cage.
He eventually settled down and nearly drilled a pitch out of the park. It crashed into the left-field wall.
Not bad for a guy who hadn't swung a bat in "four, four-and-a-half years."
Mostly, though, this is a serious week of hard work with Whitfield as Manziel prepares for his sophomore season at Texas A&M.
"Try to perfect the art of throwing a football," Manziel said. "Even though it can't be done."
The art perfected, he meant.
As for Harper, these two have one thing in common.
"He's going to go all out," Manziel said admiringly. "You're never not going to see him go all out.
"That's something that sticks to me. I play with my heart, too."
L.A. manager Dave Roberts indicated that Puig's benching was related to more than one inci...

Manager Torey Lovullo said so on Monday
Let's see how SportsLine forecasts the race for MLB's 10 playoff spots

Monday kicks off the final week of MLB action. Let's take a look at everything that went d...

No other rookie in baseball history has hit more home runs than Judge has this year