The 'All-Returns' team (or the 'All-Free Agent Mistake' team)
How many players do teams wish they could return just one year after signing them as a free agent? More than you may realize.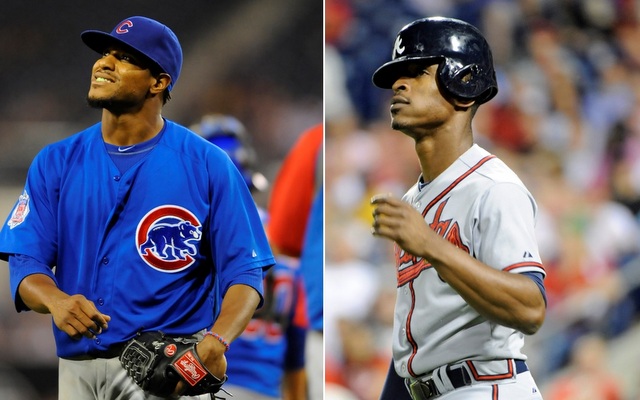 Every year, teams spend millions of dollars to sign the free agents they believe will put their team over the top. Inevitably, some of those deals go bad and teams want a "do-over," like a holiday shopper returning a gift they don't like. It's happened to all of us.
Dayn Perry already looked at the All-Black Friday team in honor of the start of the holiday shopping season, and now it's time to flip the coin and look at the All-Returns team. These are the players who were signed just last offseason that teams wish they could simply bring back to the store for a refund. Too bad baseball transactions aren't as easy as buying a shirt or an Xbox.
ANGELS -- Joe Blanton , Josh Hamilton
Poor Los Angeles Angels . Well, not literally. They've had one of baseball's highest payrolls for years now, but they most certainly did not get any bang for their buck with these two pickups. Blanton pitched to a 6.04 ERA (62 ERA+) in 132 2/3 innings in 2013 and is still owed $8.5 million in 2014. That stings.
Unlike Blanton, Hamilton was a major investment. His five-year, $125 million contract is so back-loaded that they still owe him $106 million over the next four years, after he put up a 108 OPS+ with 21 home runs in 2013. That's a good season but not a nine-figure player season.
BLUE JAYS -- Melky Cabrera , Maicer Izturis
The Toronto Blue Jays were the biggest spender last winter, at least in terms of sheer talent added. They made two blockbuster trades and spent a bunch of free agents, including for $16 million for Cabrera and $9 million for Izturis. In return they got an 88 OPS+ and a 65 OPS+, respectively. Ouch.
BRAVES -- Melvin Upton
No team has more buyer's remorse than the Atlanta Braves . They agreed to pay the elder Upton brother $72.25 million across five years last winter, and he played so poorly in 2013 (9 HR and 53 OPS+) that he was benched for Jordan Schafer down the stretch. Can he rebound? Maybe, he is still only 29. Do the Braves want to pay him all that money to find out? No way.
CARDINALS -- Ty Wigginton
The St. Louis Cardinals have already "returned" Wigginton -- they released him at midseason after he hit to a 22 OPS+ in 47 games. St. Louis still owes him $2.5 million in 2014, however. They gave him a two-year contract worth $5 million a year ago.
CUBS -- Edwin Jackson
Four years and $52 million for a pitcher who pitched to a 4.06 ERA (105 ERA+) from 2008-12 while throwing at least 180 innings each season is perfectly reasonable. Unfortunately, Jackson led baseball with 18 losses thanks to a 4.98 ERA (79 ERA+) in his first season on Chicago's north side. He still might be salvageable, perhaps moreso than anyone else in this post, but the Chicago Cubs owe him $39 million through 2016 either way.
DODGERS -- Brandon League
The free-spending Los Angeles Dodgers wanted a proven closer, and instead they got a 5.30 ERA (68 ERA+) in 54 1/3 innings in the first year of a three-year, $22.5 million contract. League lost his closer's job to Kenley Jansen pretty early in the season. This is one Los Angeles wishes they could give back.
NATIONALS -- Adam LaRoche
Following a 33-homer, 127 OPS+ campaign in 2013, the Washington Nationals gave LaRoche a two-year deal worth $24 million last winter. He hit 20 homers with a 102 OPS+ in 2013 and now the team has something of a logjam at first base. With LaRoche on board, Washington can't move Ryan Zimmerman and his throwing issues over to first and play Anthony Rendon at his natural third base position. Power is scarce and LaRoche may still be tradeable with only one more year left on the contract.
PHILLIES -- Mike Adams
Adams was arguably the best setup man in baseball over the last few years, so the Philadelphia Phillies gave him a two-year, $12 million contract. His career-long injury problems resurfaced in 2013 and limited him to only 25 innings (3.96 ERA and 98 ERA+). Adams is working his way back from labrum and rotator cuff tears and Philadelphia is again looking for a setup man.
WHITE SOX -- Jeff Keppinger
Three years, $12 million, four home runs and a 62 OPS+. That's the Keppinger story. The ChiSox were terrible this past season and this free agent addition was one reason why.
YANKEES -- Ichiro Suzuki
For price of two years and $13 million, the New York Yankees go Old Ichiro instead of Ichiro Of Old. The first ballot Hall of Famer set career lows in batting average (.262), on-base percentage (.297) and OPS+ (62). Father Time remains undefeated.
Harrison has a thing for ending no-hit bids

Hill was close to perfect across regulation but it turned out to be all for nothing in the...

Plus Hank Aaron weighs in on Colin Kaepernick, Trevor Rosenthal hits the DL, and more
Davis should help fortify the Red Sox outfield

Whether or not Mike Matheny will adjust is to be seen

Hammerin' Hank wants to see Kaepernick get another shot in the NFL