The Angels' much-improved rotation
The Angels are enjoying an excellent 2014 thus far thanks in part to better starting pitching.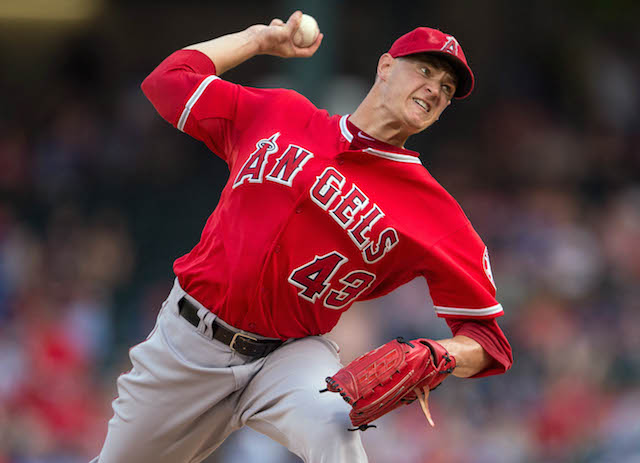 More MLB: Power Rankings | Expert Picks | Latest news & notes | Fantasy news
After topping the Rangers on Friday night (LAA 3, TEX 0), the Angels solidified their claim as being the best team in baseball not named the Athletics. Sure, they have the misfortune of sharing a division with those A's, which puts the Angels "merely" in first wild-card position in the AL. However, they're now on pace for 97 wins, and their +83 run differential is second only to, yes, Oakland. Oh, and they're also just 2 1/2 games out of first place. 
Anyhow, when it comes to doling out credit for Anaheim's success in 2014, MVP-in-waiting Mike Trout is of course first in line, but let us not overlook a signficantly improved rotation. Starting pitching has been a source of hand-wringing in Anaheim over the last handful of seasons. After all, the Angels in the first two seasons of Trout's career ranked 10th and 11th in rotation WAR. This season, though, things are going much more swimmingly.
Let's take a look at the Angels' rotation in 2014 versus their outputs in 2013, when the team posted its worst record since 2003 (AL rank in parentheses) ... 
The improving Angel rotation
Season
ERA
WAR
K%
BB%
QS%
IP/GS
2013
4.30 (11th)
8.7 (11th)
17.6 (12th)
7.6 (9th)
54 (6th)
6.0 (6th)
2014
3.81 (3rd)
7.8 (3rd)
21.6 (3rd)
8.0 (10th)
55 (6th)
6.1 (4th)
(Note: WAR = FanGraphs' version of WAR; K% and BB% = strikeouts and walks as a percentage of batters faced; QS% = quality start percentage; IP/GS = innings per start.)
As you can see, Angel starters, versus 2013, have improved in every regard except BB%. When it comes to ERA, WAR and K%, they've improved by leaps and bounds. This is the kind of broad-based progress that leads to a march up the standings, which is exactly what we've witnessed.
As for specifics, Jered Weaver is still a useful stalwart, but it's the author of Friday night's gem -- Garrett Richards -- who's been the ace of the staff thus far. He's now worked 123 1/3 innings on the year and has pitched to a 2.55 ERA. His breakout season thus far has been abetted by increased velocity, more frequent use of the sinker and drastically improved bat-missing capabilities. It's been earned, and it seems sustainable, in other words. 
On another level, it's impressive that the Angels have made these strides without a characteristic season from the underappreciated C.J. Wilson. What's helped is that the Angels haven't trotted out the replacement-level sorts that they leaned on far too often last season. While the 2013 Angels were reduced to giving 33 starts -- or more than 20 percent of the schedule -- to the likes of Joe Blanton and Tommy Hanson, the 2014 model has gotten far more palatable back-end contributions. That's not to say that Hector Santiago and Matt Shoemaker have been true stoppers, but they have been solid by the standards of fourth and fifth starters. That kind of depth wasn't there last year. 
Sure, the bullpen is a trouble spot, but when you have the best offense in the AL paired with a rotation that's now top-quartile in terms of run prevention and underlying quality, then you're going to win a lot of games no matter what the relief corps does. That's the case thus far for the 2014 Angels. 
deGrom is set to become a free agent after the 2020 season

Perkins missed most of the last two seasons due to injury

Jonathan Singleton was suspended after a third positive test for a drug of abuse
Rodriguez will join Jessica Mendoza and Matt Vasgersian on the "Sunday Night Baseball" boo...

Jeff Wilpon talked about payroll on Tuesday, and it won't make any Mets fan happy

Yelich's agent recently asked the Marlins to trade him before the spring