The Bay for Buck and Bell trade makes a lot of sense, especially for the Mets
The two-for-one deal originally suggested by the Marlins couldn't hurt at this point.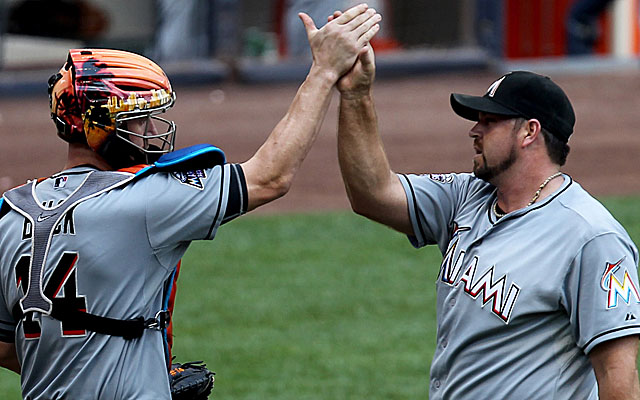 Heath Bell (right) has $20M and John Buck $8M remaining on their contracts.
(US Presswire)
The Mets would be wise to re-visit the pre-deadline talk of a trade of Jason Bay to the Marlins in exchange for Heath Bell and John Buck.
The teams did talk briefly about such a deal before the deadline, as Ken Rosenthal of Foxsports.com reported. Unfortunately for the Mets, the talks didn't last.
Word is, the Mets called back with "some questions.'' No word on what the questions were, but it's possible they were looking to even the money out a little bit.
Bay is owed $24 million on his $66 million, four-year contract while Bell and ($20 million) and Buck ($8 million) are owed $28 million. So that's a possibility.
Whatever, this a deal the Mets need to try hard to make. All three of those players will clear waivers if they haven't already, so it's still possible to do such a deal. I suggest the Mets call back immediately.
All three players are abject underachievers for their current teams after being strong performers with previous teams. Bay, a star with the Pirates and Red Sox before signing his big contract with the Mets, was hitting .157 going into Wednesday night's game between the Mets and Marlins. Bell was 2-5 with a 5.36 ERA and Buck was hitting .177.
Bay needs to leave the Mets, who are loathe to just eat the money on deals that don't work. The same could be said for Bell and Buck, though they have the advantage of not feeling the New York wrath in Miami.
The Marlins did try hard to trade Bell before the deadline, sources suggest. But a Marlins person said the belief is Bell is currently showing signs of improvement and that person said he didn't see much chance this two-for-one deal for Bay had of happening.
Word Wednesday was they may even give Bell yet another shot at closing, in fact. And it's true that Bell's had only one bad year in Miami to three for Bay in New York, so I could see why the Marlins wouldn't be so anxious to make this trade, even if it was their idea originally.
That's too bad because all three players could use a change of scenery. I suppose it just makes too much sense.
No, you're not imagining things. This MLB offseason has been very slow compared to the last...

Francesa will retire from radio next month, so he'll have plenty of free time next summer

Get your sports fans something that they'll wear all year
Get 15 percent off any order of more than $75 at CBS Sports Shop

The Twins need help in the rotation, and they may look to the trade market to find arms

Here are the bullet-points of what went down Tuesday regarding MLB and the Braves' punishm...