The best and not-so-best fits for Nelson Cruz
Slugger Nelson Cruz is one of the best free agents left on the board, but he's a limited player and doesn't fit every team. Here's a look at his market.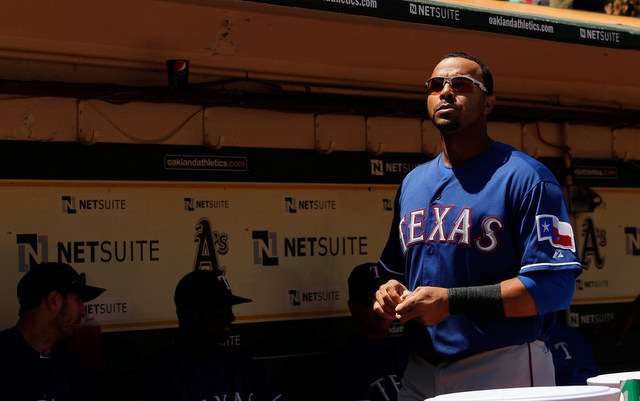 MORE: FA tracker: position players | FA tracker: pitchers
The Rangers effectively closed the door on a reunion with Nelson Cruz on Friday, not only by officially introducing $130 million man Shin-Soo Choo, but also by giving Cruz's old No. 17 to Choo. Sure, the two could always work something out for the number, but that's a pretty strong indication the team is moving on.
Cruz, 33, is arguably the best free agent position player left on the board thanks to a power bat that has hit at least 22 home runs in each of the last five years. Only 16 players have gone deep more times since 2009. Of course, Cruz also comes with several drawbacks, specifically his shoddy defense and recent 50-game PED suspension. Teams will also have to forfeit a draft pick to sign him, which is another negative.
There are more than a few clubs that could use a 20+ homer bat in the middle of the lineup, but that alone doesn't necessarily make them a fit for Cruz. There are plenty of other pieces to the puzzle. Here's a rundown of where the slugger makes the most sense at this point of the offseason.
Best Fits: Mariners and Orioles
The Mariners already added some thump to their lineup by acquiring Robinson Cano, Corey Hart and Logan Morrison, but they were said to have interest in Choo before he hooked on with their division rivals. Cruz would cost less than Choo and the draft pick compensation isn't much of a deterrent for Seattle since they've already surrendered a pick for Cano. The Mariners have made some big splashes this winter but they'll need to do more to contend in the top heavy AL West.
The Orioles, meanwhile, have some extra cash burning a hole in their pocket after the Grant Balfour deal fell through. They also lost Nate McLouth to free agency and don't have obvious solutions in left field or at DH. Cruz could step in to fill either hole if the club goes internal at closer (Tommy Hunter?). Money is tight, but Baltimore could find some extra payroll space later in the offseason if Cruz is still sitting there unsigned. He'd be a great middle of the order complement to Adam Jones and Chris Davis.
Makes Sense: Astros, Pirates and Indians
All three of these clubs have a spot for Cruz. The Astros were in on Choo before he signed with Texas and could now shift their resources to the more affordable (but lesser) player. The Pirates appear to be banking on Jose Tabata holding down the right field fort until top prospect Gregory Polanco is ready, but Cruz would be a more offensively productive solution. Pittsburgh has not really improved this winter following their breakout 2013 campaign.
The Indians might be the best fit from this category. They added David Murphy earlier this offseason but the flexibility of Nick Swisher and Carlos Santana would allow them to slot Cruz in as the regular DH. That assumes Santana's trial at third base works out. The Tribe need pitching more than they need another bat though. Cruz would help but he is a luxury for them at this point, a luxury they might not even be able to afford.
I Guess It Could Work: Red Sox and Angels
The Red Sox lost Jacoby Ellsbury to free agency and appear poised to hand the center field reins over to prospect Jackie Bradley Jr., but they always have the option of sliding Shane Victorino to center and adding a new right fielder. They were in the mix for the Carlos Beltran earlier this winter, remember. Cruz's right-handed pop would work well in Fenway Park, but the BoSox tend to prefer more patient hitters who work deep counts. He doesn't fit their typical profile.
Thanks to some trades (the Mark Trumbo deal, specifically) and non-tenders (Jerome Williams and Tommy Hanson), the Angels have cleared some payroll space in recent weeks and have money to spend. They figure to spend it on a pitcher, however, plus they just signed another DH/outfielder in Raul Ibanez. If they're not sold on Kole Calhoun as an everyday outfielder, I suppose Cruz could fit. It just seems unlikely.
Square Peg, Round Hole: Blue Jays, Reds and Yankees
The Blue Jays already have three outfielders (Melky Cabrera, Colby Rasmus, Jose Bautista), so signing Cruz would require either a) trading Cabrera, or b) freeing up the DH spot by trading Adam Lind or Edwin Encarnacion. Could it happen? Sure. Will it? Nah. They have bigger fish to fry.
The Reds really need a center fielder but Cruz is a corner outfielder exclusively. Jay Bruce is a standout defender in right and Cincinnati already did the "square peg in a round hole" thing last year by sticking Choo in center. Sliding Bruce to center and adding Cruz -- whose right-handed power would fit great in the cleanup spot between Joey Votto and Bruce -- to play right is far-fetched, especially given the team's payroll constraints.
And finally, whenever we talk about a big name free agent, we have to talk about the Yankees. They already signed two outfielders (Ellsbury and Beltran) this winter and have incumbents Brett Gardner and Alfonso Soriano, so the outfield is packed. That doesn't even include Ichiro Suzuki and Vernon Wells, who figure to be on the chopping block. Trading Gardner for a pitcher or second baseman would allow them to rotate Soriano, Beltran and Cruz around the two corner outfield spots and DH. That's a lot of moving parts though, and if the Yankees were to spend big on another free agent, it would probably be a pitcher or Stephen Drew.
They still would much rather grab the AL East, however

Sale becomes the first AL pitcher to reach 300 strikeouts since 1999

Steve Balboni's long-standing record of 36 has finally fallen
Several players called for the netting to be extended down the base lines following Wednesday's...

Maria made landfall as a Category 4 on Wednesday

The players are trying to do their job and don't want to see anyone hurt