The best 'MVP one-two punch' is in Milwaukee
Let it be said that the Brewers have the best position player combo of all thus far in 2014.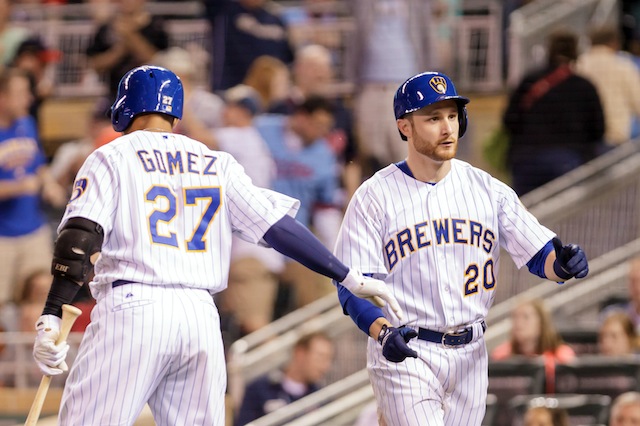 More MLB: Power Rankings | Expert Picks | Latest news & notes | Fantasy news
The guess is that what's about to be postulated will not come as breaking news to Brewers loyalists: Those Brewers boast perhaps the most valuable combo in all of baseball thus far in 2014. Oh, and Ryan Braun, 2011 NL MVP, is not one of the two players in question. 
Can any two players on any one team match the value provided to date by Carlos Gomez and Jonathan Lucroy? No, I'd attest. Thus far in 2014, Gomez and Lucroy have combined for a WAR of 6.9. Per FanGraphs, Lucroy ranks fifth in MLB in WAR, and Gomez checks in at sixth.
Just four other teams -- the Angels (Mike Trout and Erick Aybar), Royals (Alex Gordon and Salvador Perez), Rockies (Troy Tulowitzki and Nolan Arenado) and Athletics (Josh Donaldson and Brandon Moss) -- have two position players who have combined for a WAR of 6.0 or higher. Of those, only the Trout and Aybar duo has a higher mark than Gomez and Lucroy (7.0 to 6.9). That said, when it comes to having two players who can plausibly be considered MVP candidate as we approach the halfway point, the Brewers stand alone (i.e., Trout more than doubles Aybar's value to date). Of course, to appreciate what Lucroy and Gomez have done this season, you need not be a WAR evangelist (although, please do endeavor to actually understand WAR before you "bang spoon on high-chair" about how much you hate it). 
In Lucroy's case, he's long been an elite framer of borderline pitches for strikes. According to StatCorner, Lucroy has been MLB's best framer in 2014, and that's in keeping with his established skill level in this regard. He's also been better than the league average when it comes to throwing out opposing would-be base-stealers.
There's also his bat. Lucroy entered the 2014 season with a career OPS+ of 104, which is to say he was a quality hitter, particularly by the standards of catchers. This season, though, Lucroy has reached another level: .341/.405/.536 in 68 games. As well, he leads the NL in hits and ranks fifth in OPS+, fifth in OBP, second in doubles, eighth in times on base and sixth in total bases. In other words, Lucroy would be having a top-shelf season even if he weren't a standout defender at a premium position ... which is what he is. 
Speaking of "standout defender at a premium position," we have Gomez. He's among the very best defensive center fielders in the game today, and since 2012 he's been on another level in terms of power. This season, Gomez is batting .313/.381/.544 (152 OPS+), and he's presently on pace for 26 homers and 44 doubles. All of that is to say nothing of his excellent base-running (he's 11 out of 13 in steals). In Gomez you have a complete player and you get the broad-based excellence that being a complete player necessarily entails. 
Having a pair of such excellent players is indeed a rare thing, and it has much to do with why the Brewers have spent 70 days (and counting) in first place. 
Keep it locked right here for everything you need to know about the world of baseball Tues...

There have been several racially charged incidents at Fenway Park this year

Washington's right fielders have sputtered offensively since Harper went down
The good news? Wichita still has a chance to win the series Tuesday night

Soon more home runs will have been hit in 2017 than in any other season in MLB history

Ferrell somehow avoided going to the ground