The Blue Jays and the anatomy of an 11-game winning streak
The Blue Jays have won their last 11 games to get back into the thick of the AL East race. How have they done it?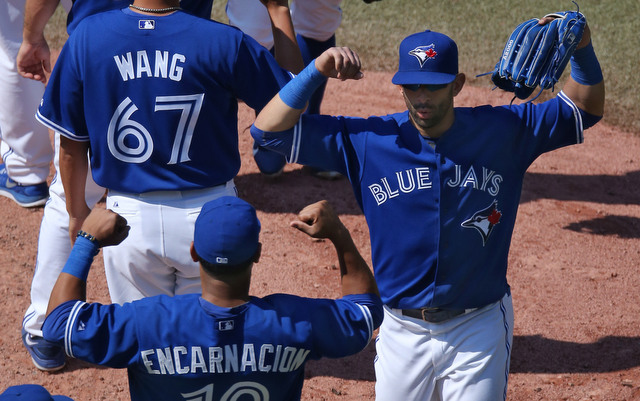 More MLB: Scoreboard | Standings | Probable Pitchers | Sortable Stats | Odds
After starting the season with just 10 wins in their first 31 games, the Toronto Blue Jays have won 28 of their last 43. That includes a streak of 11 consecutive wins, which ended against the Rays on Monday night.
Eleven straight wins is an impressive feat no matter what, but the Jays have done it by winning the last 10 games against teams with a winning record. They swept four games from the Rangers on the road last week and just took three straight from the Orioles at home this weekend. Texas has won six of seven since that series, and Baltimore went into the series against Toronto having won eight of their previous 11. The Blue Jays haven't simply beat up on bad teams during this stretch.
So, how does a team win 11 straight games? Well, it takes a total team effort. You can't just pitch well and scratch across a few runs, nor can you win every game 9-7 with poor pitching. Here is how the Jays have done it:
The Starting Rotation
During the streak, Toronto's starters have pitched to a 2.65 ERA and 1.19 WHIP while averaging more than 6 1/3 innings per start. Yankees castoff Chien-Ming Wang has tossed two straight excellent games (one unearned run in 13 1/3 total innings), and Mark Buehrle seems to have finally found his groove in the AL East, allowing just two runs total in his last two starts.
Although Josh Johnson gave up four runs in six innings on Sunday, he has returned from the DL looking very much like the 2009-10 version of himself. He has had a 2.84 ERA with 25 strikeouts in 25 1/3 innings in four starts back. R.A. Dickey's up-and-down season has continued, but Esmil Rogers has stepped into the rotation and pitched extremely well, allowing just three earned runs in 13 2/3 innings across two starts. Only three times in the 11 games did the Jays not get a quality start.
The Offense
The lineup is firing on all cylinders, so even a mediocre pitching performance is good enough to win. Toronto has scored 70 runs during the streak, an average of 6.36 runs per game. They're hitting .260/.309/.493 as a team during that stretch, which is roughly equivalent to the .268/.317/491 line that Mark Trumbo put up last season. Imagine a lineup of nine Mark Trumbos; that's the Blue Jays.
The hottest hitters during the streak have been Edwin Encarnacion (14 for 40, .350, with four homers) and Adam Lind (15 for 44, .341, with four homers), but they aren't the only ones chipping in. Fan favorite Munenori Kawasaki hit a game-tying two-run homer over the weekend, his first career homer. Rajai Davis provided a walk-off single in the same game. Maicer Izturis had a game-winning two-run single in the eighth inning of another game. The Jays have been getting contributions from up and down the lineup.
The Bullpen
Whenever the starters have handed off a lead, the bullpen has preserved it. Heck, even when the starters have handed off a tie game or a deficit, the bullpen has kept it close enough for the offense to get Toronto back into the game. During the streak, the team's relievers have allowed just two earned runs (0.63 ERA) and 21 base runners (0.73 WHIP) with 32 strikeouts (10.0 K/9) in 28 2/3 innings.
The star of the bullpen show has been left-hander Brett Cecil, who was drafted as a college closer but recently shifted back into relief following an unsuccessful stint as a starter. Cecil has a 1.38 ERA and 0.69 WHIP this season. During the streak, he has thrown 6 2/3 almost perfect innings -- just one walk allowed. In fact, Cecil hasn't allowed a hit since May 28, a franchise-record span of 43 batters faced. That's basically a no-hitter and a half.
Closer Casey Janssen has allowed two runs over the last month (none during the streak), setup man Steve Delabar has struck out 14 of the last 28 batters he's faced, and veteran southpaw Darren Oliver has allowed one hit to a left-handed batter since May 18. OK, I cheated on that last one; Oliver spent a few weeks on the DL not too long ago. Point stands, though, that the bullpen has been awesome for manager John Gibbons, just like the other aspects of the team.
Keep tabs on the top 50 free agents right here

Your one-stop shop for all things MLB Winter Meetings-related

The Angels knew about the first-degree sprain and still wanted to sign the potential ace, of...
The run on relievers continues with two more signings

The Yankees added Giancarlo Stanton in a blockbuster trade, though they now have openings at...

Smyly is currently on the mend from Tommy John surgery