The Blue Jays' Twitter account seems to be a big fan of the Rangers
Did you think the person running the Blue Jays' Twitter was a big Jays fan? That would seem not to be the case.
For your considered consideration and via Marc Normandin of SBN's most excellent Lookit, we present the following captured tweet ...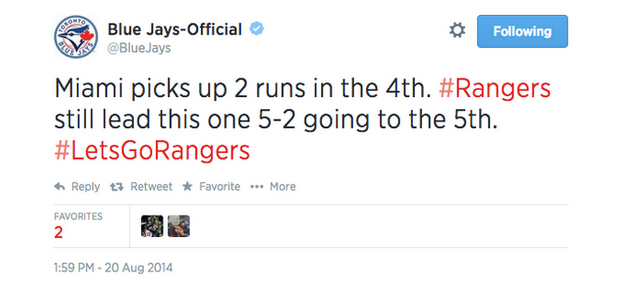 (Wink of CBS eye: @calumshanlin)
Hmmm. Yes, that is verifiable enthusiasm for a Rangers victory dispatched from the Blue Jays' Twitter account. Know this, Blue Jays fans: A quisling lurks among you. 
Or, as Normandin points out, it's that the same social media manager (or unpaid intern) runs both accounts -- and other accounts, probably -- and momentarily got the wires crossed. Personally, I find the tale of lacerating betrayal to be more interesting, so I'll say it's that. 
They still would much rather grab the AL East, however

Sale becomes the first AL pitcher to reach 300 strikeouts since 1999

Steve Balboni's long-standing record of 36 has finally fallen
Several players called for the netting to be extended down the base lines following Wednesday's...

Maria made landfall as a Category 4 on Wednesday

The players are trying to do their job and don't want to see anyone hurt