The Bobblehead Project: 'Blauch Head' argues at wrong time
Remember when Chuck Knoblauch argued during the ALCS, Game 2, in 1998? Here's our Bobblehead Project entry.
The Bobblehead Project: The Complete Collection
It's time for another entry into the Eye on Baseball faux-toy collection: The Bobblehead Project. For those unfamiliar with what we're doing here, click on the above link to see the explanation along with the full collection.
This time around, we'll revisit the boneheaded play that earned Chuck Knoblauch the nickname "Blauch Head" in at least one publication: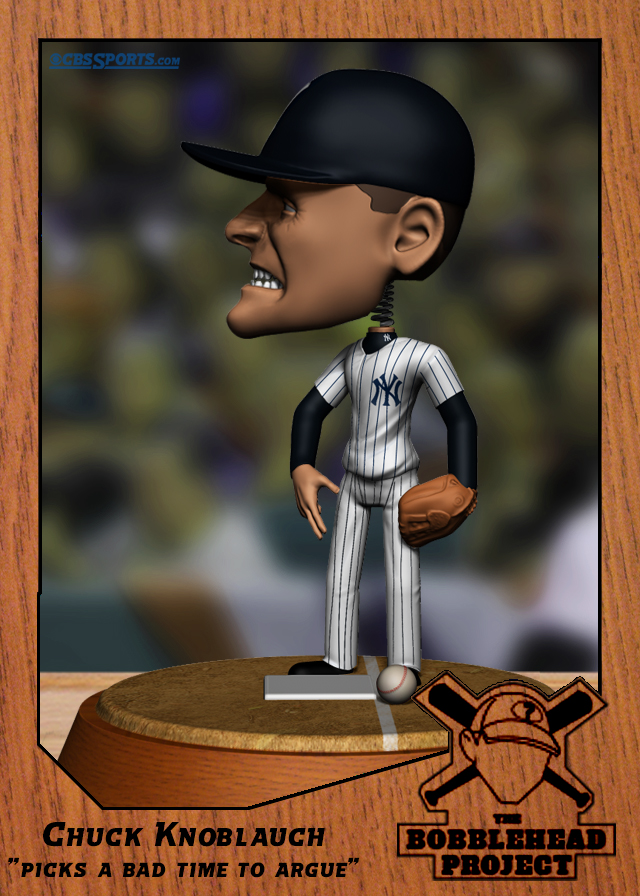 Note the point down toward the base (and, yes, the ball is symbolic here, because it was a bit behind him on the actual play).
The referenced play came in Game 2 of the 1998 ALCS against the Indians. In the top of the 12th inning with the game tied, 1-1, Jim Thome singled to lead things off. He was replaced by Enrique Wilson as a pinch-runner. Travis Fryman was then tasked with a sacrifice bunt (watch it here on YouTube -- and sadly this is the best video of the play we could find. Boo Internet!).
What ensued was a bizarre play that inspiring a few requests for this Bobblehead (including one from my brother).
Tino Martinez would field the bunt and spin to make the throw to Chuck Knoblauch. Fryman, the ball and Knoblauch's glove all arrived at first base pretty much simultaneously and the ball got away.
While Knoblauch was arguing his case that Fryman was inside the line (where the base is, by the way), Wilson noticed there was a chance to score. And score he did. On the throw home, Fryman would get all the way to third base and score later in the inning, as the Indians would win, 3-1, evening the series one game to one. 
What ensued on Knoblauch was what you'd expect in tough New York City. Headlines like this:
It was dubbed the "Blunder in the Grass" by columnist Mike Lupica, for example.
Knoblauch would say he didn't know where the ball was. That's probably true, but he wasn't exactly looking for it -- which is why we symbolically included it on the Bobblehead.
Regardless, that's our entry for this installment of the Bobblehead Project. Thanks, as always, to our artist Jarod Valentin.
For more, definitely hit up our entire collection.
deGrom is set to become a free agent after the 2020 season

Perkins missed most of the last two seasons due to injury

Jonathan Singleton was suspended after a third positive test for a drug of abuse
Rodriguez will join Jessica Mendoza and Matt Vasgersian on the "Sunday Night Baseball" boo...

Jeff Wilpon talked about payroll on Tuesday, and it won't make any Mets fan happy

Yelich's agent recently asked the Marlins to trade him before the spring