The Bobblehead Project: Joba Chamberlain vs. the Midges
Our latest bobblehead features Mother Nature, as Joba Chamberlain battles it out with the Cleveland midges.
More MLB: Scoreboard | Standings | Probable Pitchers | Sortable Stats | Odds
Our latest installment of the Bobblehead Project is the first to involve Mother Nature. It wasn't a rain delay or even a snow delay though, it was insects. Midges, actually.
The scene: Game 2 of the 2007 ALDS, Yankees at the Indians. Cleveland slaughtered New York in Game 1 (12-3), but the Bombers carried a 1-0 lead into the eighth inning of Game 2. Manager Joe Torre gave the ball to his setup man, Joba Chamberlain, who was summoned from the minor leagues in August and pitched to a 1,221 ERA+ with 34 strikeouts in 24 innings down the stretch.
As soon as Joba took the mound, the midges sprung into action. The little winged insects descended upon Progressive Field and delayed the game several minutes. Chamberlain was very clearly rattled and, with a one-run lead, his inning went:
Four-pitch leadoff walk, runner to second on a first-pitch wild pitch to the next batter.
Runner bunted to third.
Line out to first base.
Runner scores on second-pitch wild pitch to the next batter, whom Joba hits with the next pitch.
Six-pitch walk.
Four-pitch strikeout to end the inning.
Chamberlain threw only a dozen of his 25 pitches for strikes, and the Tribe tied the game without the benefit of a hit. They did, however, benefit from a couple million friendly locals. Without further ado, here is our latest bobblehead, midge-covered Joba: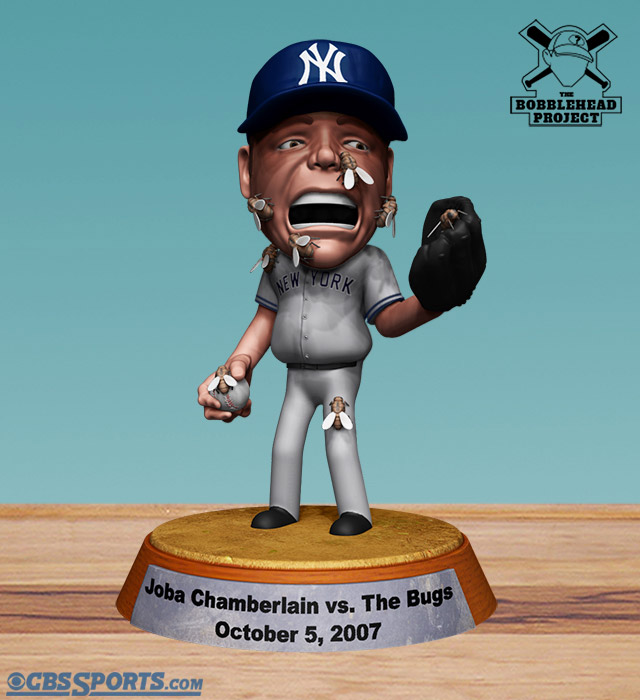 The Indians went on to win the game 2-1 in 11 innings and won the series. What everyone forgets about that Game 2 performance is that the pitcher formerly known as Fausto Carmona shoved it for Cleveland. Pitching through the same midge attack as Chamberlain, Carmona allowed one run on three hits and two walks in nine innings.
If this bobblehead was ever put into production, I wouldn't count on seeing it at Yankee Stadium. That's a Progressive Field giveaway if I've ever seen one. Major props as usual go out to our artist, Jarod Valentin, for his outstanding work.
Bobblehead Gallery (click on thumbnail) ...
Bobblehead Gallery (click on thumbnail) ...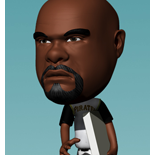 Wright was arrested at his home Friday

The former Tigers teammates were voted into Cooperstown by the 16-person Modern Era Commit...

The Yankees still have room for a good-sized signing even after Saturday's trade with Miam...
St. Louis gets some much needed help for their bullpen

Keep tabs on the top 50 free agents right here

Morrow thrived with the Dodgers last season