The Bobblehead Project: Nolan Ryan vs. Robin Ventura
For this week's episode of the Bobblehead Project, we'll look back at a certain fracas that's still talked about to this day.
More MLB: Scoreboard | Standings | Probable Pitchers | Sortable Stats | Odds
Needless to say, this installment of the Bobblehead Project can be filed under "by popular demand."
To set the scene ... Arlington, Texas, August 4, 1993. Third inning, White Sox lead the Rangers 2-0 (in part because of Ventura's first-inning RBI single). Nolan Ryan plunks Ventura was a patented fastball, and after a moment's hesitation Ventura charges the mound ...
And here's an AP headline from the morning after:
And here, at long last, is the bobblehead of this still much-discussed tussle ...
As baseball brawls go, this is as iconic a moment as you'll find.
But, if I may, please allow me to play revisionist historian. First, Ryan's pummeling of Ventura essentially amounts to a series of hastily administered schoolyard noogies. Second, Ventura, as this action-news footage reveals, mounts a comeback in the end ...
Give it to Ryan on the judges' scorecards, but Ventura was in no way Farnsworthed.
Mostly, though, it's long past time that this showdown on the mound be commemorated in bobblehead form forevermore. And that's what we've done. Automatic for the people.
As always, thanks to our artist Jarod Valentin for his championship work.
Bobblehead Gallery (click on thumbnail) ...
Bobblehead Gallery (click on thumbnail) ...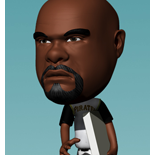 The ballparks in Cincinnati, San Diego and Seattle will have expanded netting in place by Opening...

Thursday brings us plenty of stretch-drive MLB action, so keep it right here

Mondesi spent six years as the mayor of San Cristobal in the Dominican Republic after reti...
The veteran skipper has been Mets manager since the start of the 2011 season

The Baltimore third baseman is eligible for free agency following the 2018 season

The clubs breaks ground on Globe Life Field next week