The Bobblehead Project: Palmeiro's Congressional 'bobblefinger'
Remember when Rafael Palmeiro wagged his finger at Congress? The Bobblehead Project certainly does.
More MLB: Scoreboard | Standings | Probable Pitchers | Sortable Stats | Odds
It all started when Jose Canseco named Rafael Palmeiro (along with a multitude of others) as a steroid user in his book Juiced. That same year, Palmeiro appeared at a terribly necessary and upstanding Congressional inquiry into the matter and began his remarks by finger-wagging at his interlocutors and insisting that he never did steroids. Period!
As the story goes, mere months later Palmeiro was suspended after failing a test for -- submit your guesses now -- steroids!
So in celebration of Palmeiro's now-infamous public-speaking gambit, we present not a bobblehead of the occasion, but rather a bobblefinger ...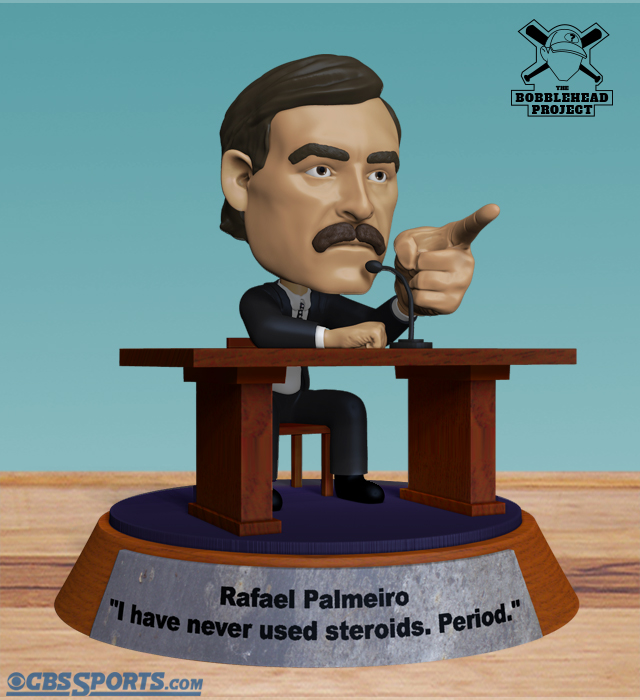 Is this the world's first "bobblefinger"? For reasons that escape us, records aren't kept of such matters, but we're going to assume that, yes, this is indeed the world's first bobblefinger.
By way of reminder, here's a brief clip of the genuine article ...
For his part, Palmeiro attributed the failed test to his receiving a tainted vitamin B-12 injection from then-teammate Miguel Tejada. At that point, though, the story was already written.
Mamas, don't let your babies grow up to be finger-waggers.
As always, big thanks to our artist, Jarod Valentin, for his continued amazing work on the Bobblehead Project.
Bobblehead Gallery (click on thumbnail) ...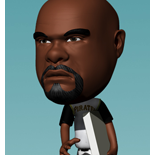 It's almost that time of the year again, time for the Tebow madness to return

Walker was a tremendous all-around player, but Coors Field undoubtedly inflated his career...

A beardless Wilson says that he tried to outrun the police on the second day he had his driver's...
The Diamondbacks outfielder was not impaired, he was just going way too fast

MLB can unilaterally implement rule changes, which will also include limits on mound visit...

If the MLBPA wants to repair MLB's salary structure, it should push for more money for young...