The Bobblehead Project: Palmeiro's Congressional 'bobblefinger'
Remember when Rafael Palmeiro wagged his finger at Congress? The Bobblehead Project certainly does.
More MLB: Scoreboard | Standings | Probable Pitchers | Sortable Stats | Odds
It all started when Jose Canseco named Rafael Palmeiro (along with a multitude of others) as a steroid user in his book Juiced. That same year, Palmeiro appeared at a terribly necessary and upstanding Congressional inquiry into the matter and began his remarks by finger-wagging at his interlocutors and insisting that he never did steroids. Period!
As the story goes, mere months later Palmeiro was suspended after failing a test for -- submit your guesses now -- steroids!
So in celebration of Palmeiro's now-infamous public-speaking gambit, we present not a bobblehead of the occasion, but rather a bobblefinger ...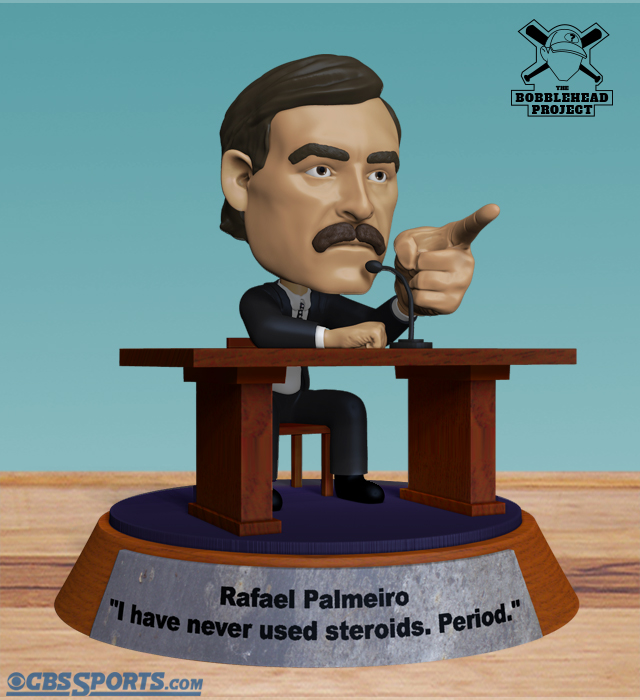 Is this the world's first "bobblefinger"? For reasons that escape us, records aren't kept of such matters, but we're going to assume that, yes, this is indeed the world's first bobblefinger.
By way of reminder, here's a brief clip of the genuine article ...
For his part, Palmeiro attributed the failed test to his receiving a tainted vitamin B-12 injection from then-teammate Miguel Tejada. At that point, though, the story was already written.
Mamas, don't let your babies grow up to be finger-waggers.
As always, big thanks to our artist, Jarod Valentin, for his continued amazing work on the Bobblehead Project.
Bobblehead Gallery (click on thumbnail) ...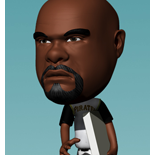 Davis should help fortify the Red Sox outfield

Whether or not Mike Matheny will adjust is to be seen

Hammerin' Hank wants to see Kaepernick get another shot in the NFL
Will Tanaka or Upton try their luck in free agency again in the offseason?

Pujols smacked his 610th career home run Tuesday night

Who will be the wild cards? Who will be most healthy? Who will be hot? This could be fun.