The Bobblehead Project: President Bush gives post-9/11 thumbs up
Back in 2001, President George W. Bush gave thumbs up to the New York crowd before firing a strike for the ceremonial pitch for Game 3 of the World Series. It remains an indelible image of national pride. Let us look back, here on 9/11.
We will never, ever forget the tragic events of Sept. 11, 2001.
In the hours immediately after the World Trade Center was attacked Americans needed answers to the big questions: Is my family OK? Are we going to be safe? Is there anything I can do to help?
On that day, Americans were busy rallying around the tragic scenes in Manhattan, Arlington, Va., and western Pennsylvania. On that day, Americans rallied not around teams, but around America itself. And, on that day, Bud Selig told us what we already knew ... every once in a while, the national "pastime" just isn't relevant.
Ultimately, the season was pushed back an entire week, with games returning to a still-grieving country on Monday, Sept. 17. Undoubtedly, there was a group of people who would have preferred a longer layoff. To others, the return of baseball was a welcome diversion after a full week of heartbreak, worry and fear. To many more, the 160,000 fans who attended the six games that night, and the millions more who watched on TV, began to represent a growing sentiment ... America will not be terrorized.
And guess what else? We're going to a ball game.
Much like the New Orleans Saints would come to symbolize their community's resiliency in the wake of Hurricane Katrina four years later, the New York Yankees became a focal point as they cruised easily into the playoffs, and made their way to a World Series matchup against the Diamondbacks.
Before Game 3, when the Series returned to New York, President George W. Bush had the honor of throwing out the ceremonial first pitch and, upon reaching the mound, held a thumbs-up signal high to the crowd. Politics aside, that moment remains an indelible image in the minds of many Americans. This was our president telling us that we were all in this together, and that everything was going to be all right.
So with today's Bobblehead Project entry falling on 9/11, I thought it fitting that this be our "bobble" for the week: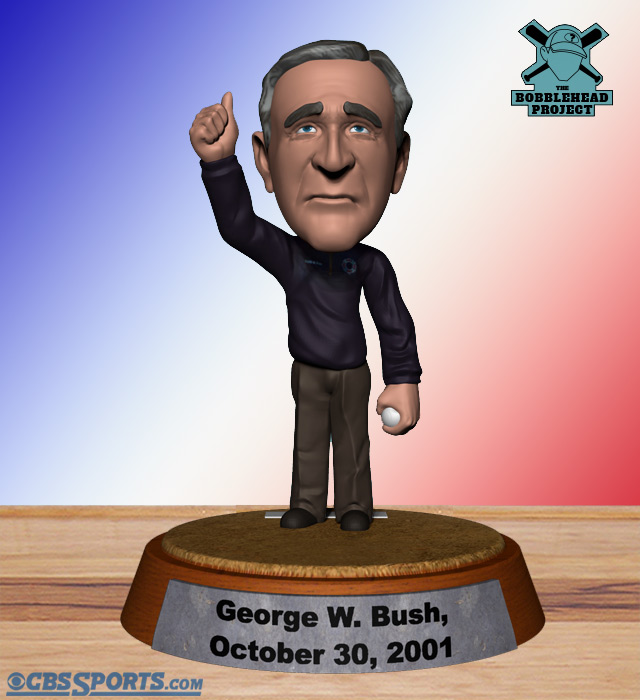 Here's video of the actual pitch, which still gives me the chills.
So good. Perhaps the best part is that President Bush spoke with Derek Jeter in the hallway before the game and Jeter told him not to throw the pitch from in front of the mound. If he did, Jeter said, the crowd would boo him. So President Bush got up on the hill and fired a strike -- with good velocity and right down the middle.
This was an outstanding moment and one of the greatest ceremonial first pitches in baseball history, under the circumstances. I would definitely purchase this if someone made this statue.
For those new to The Bobblehead Project, here's what we're doing, in word form from our first entry:
In light of all the creative bobbleheads coming up this season, the Eye On Baseball team decided to do a fun little project. Let us imagine what outstanding bobbleheads we'd like to see in the coming years. The only requirements are that the bobbles are baseball-related and that they are actually able to be made into a bobble.
So, on 9/11, I don't believe we could have made a better choice than President Bush with his thumbs up. While many of our best ones are funny, this one is meant to remind us of that sense of national pride we had during this moment back in 2001.
Special thanks here, as always, to our artist, Jarod Valentin.
Bobblehead Gallery (click on thumbnail) ...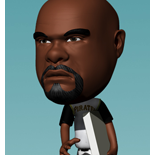 Among other sanctions, Atlanta lost the player who was deemed the No. 1 international signing...

Among other penalties, No. 1 international prospect Kevin Maitan is now a free agent

Judge underwent the arthroscopic procedure on his left shoulder on Monday
Giancarlo Stanton trade rumors are hot right now

It's part of commissioner Rob Manfred's ongoing effort to improve pace of play

But one other team is prominently in the mix for the Marlins' slugger