The Bobblehead Project: Ted Williams, American hero
It's the Fourth of July, and you should consider today's Bobblehead Project entry to be in the spirit of the season.
More MLB: Scoreboard | Standings | Probable Pitchers | Sortable Stats | Odds
It's Thursday and, in these parts, that means it's time for another Bobblehead Project entry. It also, of course, happens to be the Fourth of July, so it's thoroughly fitting that today's bobblehead is dedicated to Red Sox legend Ted Williams, one of the game's great war heroes. ... 
Williams lost almost five full seasons to military service, first during World War II and then the Korean War. As hinted at above, Williams was a pilot. He spent the latter years of World War II earning his wings but didn't see actual combat. That very much changed in the Korean War, as Williams flew 39 combat missions 1952-53. For about half of those missions, Williams was wingman to another Marine pilot named John Glenn.
Williams also had a near brush with death while fighting in Korea. Here's how Lt. Col. Ronald J. Brown described the scene in Leatherneck magazine:
On Feb. 16, 1953, a badly damaged Grumman F9F-5 Panther jet (Bureau #126109, nose #10) approached airfield King-13 at Suwon, Korea. The aircraft's radio was inoperable, its hydraulic system was gone, and it was trailing smoke and fluids. Unable to communicate or control his speed, the pilot brought his wounded plane in for a spectacular belly landing, skidding the length of the field, showering sparks and debris.

Fire and rescue crews quickly doused the burning aircraft with foam, but it was a total wreck.
Clutch performance, that.
We'll leave you with another image of relevance to the topic at hand ...
Happy Fourth of July to you and yours and most especially all of those who have served.
As always, big thanks to our artist, Jarod Valentin, for his continued amazing work on the Bobblehead Project.
Bobblehead Gallery (click on thumbnail) ...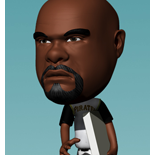 Neshek and the Phillies are closing on a two-year contract

And the team that first drafted Cole is interested

This scout was SUPER into Jeter
Stanton warned Marlins fans about the lean years that are forthcoming

The World Series champions aren't complacent

Stanton swiped at his old team on his way out