The Bobblehead Project: Tommy John's 'Million Dollar Elbow'
For the latest entry in our "world famous" Bobblehead Project, it's Tommy John and his "Million Dollar Elbow." Come check it out.
The Bobblehead Project: The Complete Collection

Unfortunately, one of the major themes of the 2014 baseball season -- and, also unfortunately, that isn't just limited to Major League Baseball -- has been Tommy John surgery. So, in true thematic and topical form, here is the Bobblehead Project's latest entry (via Jarod Valentin of CBSSports.com):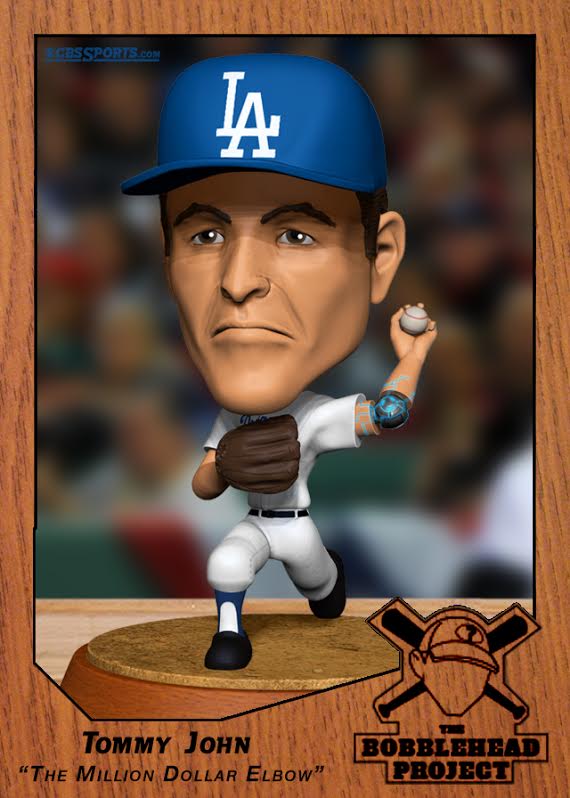 Yes, kids, Tommy John was an actual player. A great one. The four-time All-Star was the first man to have the procedure to fix his ulnar-collateral ligament in his throwing (left, in John's case) elbow. It happened in 1974 and was performed by the legendary Dr. Frank Jobe.
The first attempt on this procedure couldn't have produced much better results. John returned to the Dodgers in 1976 and ended up pitching all the way through the 1989 season. Post-surgery, he went to three All-Star Games and finished in the top 10 of Cy Young voting four times, including two runner-up finishes.
In all, John went 288-231 with a 3.34 ERA (111 ERA+), 1.28 WHIP and 2,245 strikeouts in 4,710 1/3 innings in his illustrious career. Though he was on the ballot the full 15 years, John never made the Hall of Fame, garnering a personal high of 31.7 percent of the vote in his last year on the ballot (2009).
The only modern-era players with more wins who are not in the Hall of Fame are Randy Johnson -- who will most certainly get in this coming year in his first attempt -- and Roger Clemens. Given John's historical impact as the guinea pig with this procedure and the win total that BBWAA voters generally tend to love, I'm pretty surprised he's not in.
For now, having his name immortalized as part of a career-saving medical procedure will have to suffice as a nice little consolation prize. Oh, and also being part of the immortal-in-its-own-right Bobblehead Project. That's a pretty stout consolation in my view.
For the entire series of the Bobblehead Project wrapped into one handy post, check out our complete collection.
Maxwell joins a growing movement across sports

The Yankees punched their ticket to the playoffs with a win over the Blue Jays on Saturday

Sabathia's stance seems to be an increasingly popular one among athletes
Plus the A's and Brewers have hope, Giancarlo goes deep again, and much more

Matt Chapman and Matt Olson give the A's hope

Despite an awful month, the Dodgers are again NL West champions