The boos can't hurt Farrell (who may really have his 'dream job')
When Bobby Valentine got booed last April, it was a reminder of how everything with the Red Sox had already gone bad. John Farrell got booed Friday night, under very different circumstances, but it only helped prove that this Red Sox team and this Red Sox season are off to a very different start.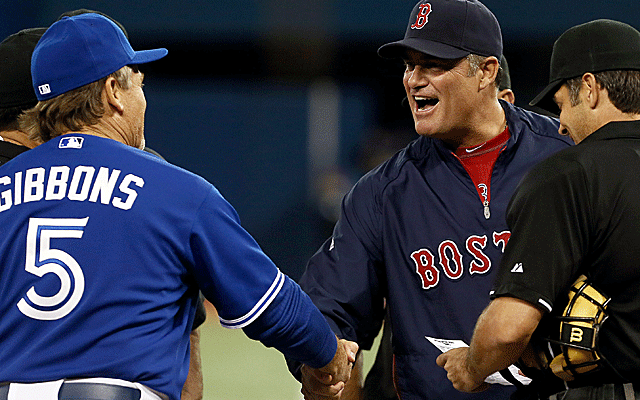 The boos reigning down from Blue Jays fans before the game started didn't affect John Farrell.
(Getty Images)
TORONTO -- Wasn't it right around this time last year that Bobby Valentine was getting booed?

It was, wasn't it? And it was a reminder of everything that was already wrong in a Red Sox season that wouldn't get any better.

So now it's a different year, and a different Red Sox manager, and John Farrell got booed Friday night for a completely different reason. And yet, the way and his team reacted to it says everything about how this Red Sox team and this Red Sox season are off to a different start.

Sorry, Blue Jays fans, but you can't hurt John Farrell. You can hate him all you want, you can boo him all you want, but you can't hurt him.

You can't even get him to admit he doesn't like it.

"It was electric in here," Farrell said, on a night when nearly all the electricity was directed at him, more than anyone else who was involved in the 6-4 Red Sox win over the Blue Jays. "It was a great crowd. It's a great atmosphere."

It was a different atmosphere, anyway, on a night when the promotion was basically, "Let's all boo our ex-manager."

Seriously, have you ever heard fans boo the pregame meeting at home plate? Have you heard fans boo the visiting team's pitching changes? Have you heard fans mockingly chant the visiting manager's name, over and over, inning after inning?

The crowd -- and the "Let's boo" promotion attracted a near sellout -- even booed when Farrell went to check on the health of rookie shortstop Jose Iglesias (who took a Josh Johnson pitch on the right forearm and eventually had to leave the game).

It was different, but then it's different for a manager to ask to leave one team to take over another team in the same division. It's different for that manager to publicly admit that he had wanted to make the switch a year earlier, and then to make comments that could be read to suggest he viewed the first city as just a steppingstone to the job he really wanted.

Farrell probably would have been better off not saying some of the things he did after leaving the Blue Jays for the Red Sox last fall, and he certainly wasn't going to make the same mistake now. He had nothing but compliments for this city and its baseball fans Friday.

"I think history shows Toronto is an outstanding baseball town," Farrell said.

Perhaps it will be again, although the Blue Jays' 1-3 start isn't doing much to build on the momentum the Jays generated with their big offseason. It certainly can't help that on the nights with the two biggest crowds this week, the Blue Jays lost.

That's hardly Farrell's problem now, just as it's hardly Farrell's problem that he's not the most popular guy in this town, or in the clubhouse he once ran.

"We'd rather have him there [in Boston] than have him here and wishing he was there," Jose Bautista said Friday afternoon. "We have a manager who wants to be here."

The Red Sox have one, too. They have a manager who seems to have showed up at the right time (following the unpopular Valentine), and with the right group of players (in a clubhouse that was rebuilt with team chemistry and "Boston fit" in mind).

Farrell mentioned Friday night that people who only watch on television don't realize how much fun the Red Sox are having in their dugout.

His team does seem to enjoy being together. It also seems significantly more ready to win than the team Valentine took over a year ago. Once again Friday night, the Red Sox were able to show off young talent (Iglesias made a brilliant play at short, and Jackie Bradley Jr. was on base three times) and their outstanding bullpen (four innings, one run).

The Red Sox were even able to turn the booing into a positive. They looked to be joking about it at times, although afterwards they would only admit that they enjoyed seeing people in the stands and hearing them make some noise.

"I think our players fed off it a little," Farrell said.

There's no doubt things would have been different if the Red Sox were still the mess that they were under Valentine. Things may well have been different if the Blue Jays were the ones off to a fast start.

Maybe then the booing would have gotten to Farrell. Maybe then he wouldn't have so easily been able to say that he enjoyed it.

And maybe then it would have stung a little when the fans taunted him about that "dream job" remark.

Right now, this does look like Farrell's dream job. Right now, it's hard to think he made any kind of mistake by leaving, or that the Red Sox made any kind of mistake by going to get him.

Right now, the booing won't hurt John Farrell.

It only helps prove how much the Red Sox have changed.
This would undoubtedly be the worst trade in Miami Marlins history

The Pirates recently shipped Gerrit Cole and Andrew McCutchen to Houston and San Francisco,...

Surely, Martinez and his agent are holding out for more
The reliever had a very good 2017 season with the NL Central champs

We don't need to discuss Chipper's Hall of Fame case, so let's have fun instead

Dioner Navarro still hopes to return someday