The Braves and Nats scored many runs followed by a lot of runs
The Braves and Nationals on Saturday remembered to bring their bats, it would seem.
MORE: Spring Training | FA tracker: position players | FA tracker: pitchers
Consider this your spring training line score of the day ...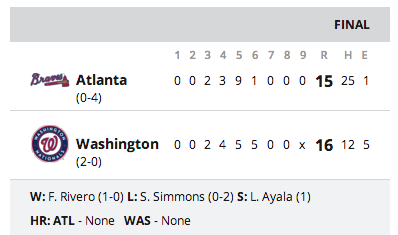 As you can see, the Braves and Nationals played a game of baseball and combined to score 31 runs on 37 hits. Oddities ... Of the 8 1/2 innings played, 4 1/2 were scoreless. Eight Braves have multi-hit games, and somehow no one on either side managed a home run. 
Spring training, as you can imagine, typically makes a hash of scorecards, but now fathom the Braves' half of the fifth via the following tweet, which was dispatched with scarcely concealed exasperation ... 
This is one half-inning. Gross. pic.twitter.com/UejDKvtAWz

— Dan Kolko (@masnKolko) March 1, 2014
That fifth inning took longer than three Mark Buehrle complete games (note: possibly not true.)
In any event, Rare is the team who gives up 25 hits and commits five errors yet still wins. Expectations, you see, are still in preseason form.
The report also says that Jeter had outgoing president David Samson do the firing

This wasn't a traditional hidden ball trick, but the Blue Jays pulled it off

The Tigers essentially fired Brad Ausmus on Friday, but things are going to be ugly for a...
The club made the announcement on Friday

Plus the Tigers will make a change in the dugout and all of Friday's action

The Rockies are clinging to the second NL wild card spot at the moment