The Braves' unlikely and dominant rotation
Somehow, the Braves' patchwork rotation has been a shutdown unit. Can they keep it going?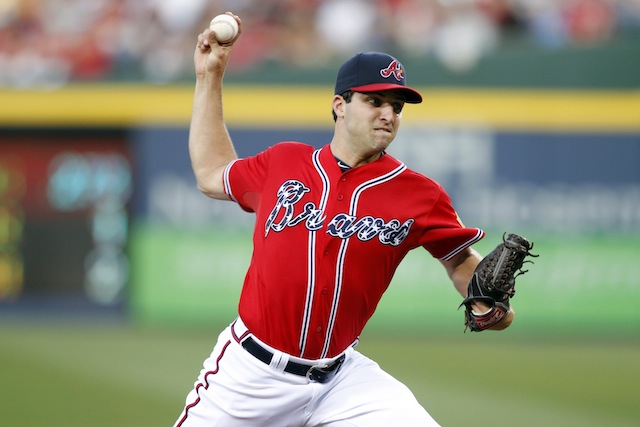 More MLB: Power Rankings | Expert Picks | Latest news & notes | Fantasy news
This kind of thing should look fairly familiar by now ... 

Yes, another Braves starter has, in defiance of expectations, suffocated the opposition. On Saturday night, it was David Hale's having his way with the Reds. He's one-fifth of what's been rather easily the best rotation in baseball thus far in 2014.
That a certifiable contender is getting good starting pitching is not particularly noteworthy, but bear in mind that this is a team that lost Kris Medlen and Brandon Beachy to season-ending surgeries before the season even began. This is also a team that hasn't yet received a start from Mike Minor. Still and yet, Ervin Santana, Julio Teheran, Alex Wood, Aaron Harang and Hale have more than passed muster. In fact, they've dominated. 
How have they done it? It's been a mix of skill and luck. To state the obvious, the Braves' rotation ERA of 1.68 (!) isn't sustainable, and neither is their quality-start percentage of 82.6 (!!). With that said, bring into the mix advanced ERA proxies like FIP and xFIP, both of which attempt to remove luck and defense from the ERA calculus, and the Braves' rotation still grades out very well (tops in the NL in FIP, third in xFIP). That's in part because they've proved adept at making hitters miss: Atlanta starters presently rank third in the NL in K%, and they've allowed the NL's lowest contact rate on pitches in the strike zone. As well, they rather easily boast the highest swinging-strike percentage of any NL rotation. 
On the other hand, there's also reason to expect regression. The rotation's BABIP of .263 is certainly low, but it's in part the byproduct of having Andrelton Simmons and a plus defensive outfield on the diamond. Less promising is the rotation's high stranded-baserunner rate of 84.2 percent. That's going to come back earth somewhat in the weeks to follow. The Braves' rotation is also giving up home runs at a rate of about 1 out of every 20 fly balls. That's an obscenely low figure, particularly at the team level, and it's one that goes far beyond the bounds of any repeatable skill. Braves starters are going to start giving up homers at a greater clip at some point. 
On an individual level, we should all agree that Harang isn't going to continue pitching to a sub-1.00 ERA. Elsewhere, however, it's promising that Santana has been able to miss bats at a high rate while also maintaining the gains in his batted-ball profile that he made last season -- i.e., he's keeping the ball on the ground like never before. 
Can the Braves' starters, at the individual and aggregate level, continue to get hitters to swing and miss and swing and miss on pitches in the strike zone despite fastball velocities that rank near the bottom of the league? We know home runs are on the way, at least to some extent, but for the Atlanta rotation to continue surprising us those early bat-missing capabilities will need to stick around.
Elsewhere, Minor returns soon, and the trade market should take shape in the weeks to come. Can this patchwork group keep it going in the interim? Reasons for skepticism aren't hard to find, but keep in mind that sometimes lightning stays in the bottle for an entire season. 
(Data courtesy of FanGraphs and Baseball-Reference)
Cozart's coming off a big season as the Reds' shortstop

The veteran slugger spent the last eight seasons with Cleveland

The Padres may be poised for an active winter
Yes, Bryce Harper is going to make a lot of money next winter

Outfield prospect Clint Frazier might be part of the talks

Boston wants to add two big bats to their lineup, not just one