The case for trading Chris Sale
The White Sox say they won't entertain trade offers for left-handed ace Chris Sale, though they're in last place. CBSSports.com's Mike Axisa explains why they should reconsider.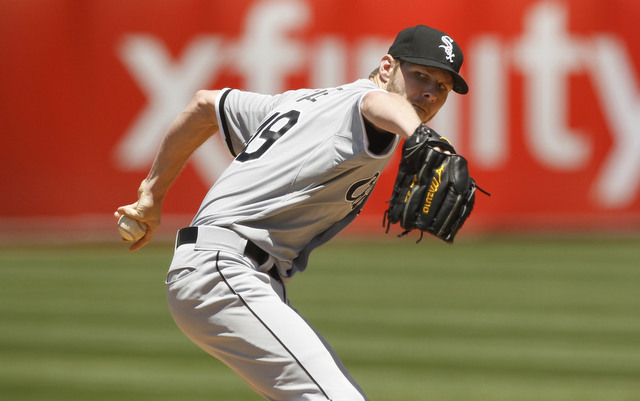 More MLB: Scoreboard | Standings | Probable Pitchers | Sortable Stats | Odds
At 37-55, the White Sox are 14 games back of the Tigers in the AL Central and 15 1/2 games back of a wild-card spot. They are one of the worst teams in baseball this year, so it was no surprise when Jon Heyman of CBSSports.com reported the team was "open for business" last month. They're selling.
That "open for business" sign comes with a disclaimer, though. Everyone is available except captain Paul Konerko and the team's best player, ace left-hander Chris Sale. Considering the 24-year-old has a 2.97 ERA with a 4.14 K/BB in 312 innings since moving to the rotation last year and is signed affordably though 2017 ($30.65 million with club options for 2018 and 2019), it's easy to understand why they'd want to hold onto him.
There is a case to be made that the White Sox should make Sale available in a trade, however, a case that I'm going to try to make. It's easier said than done whenever you're talking about a player of this caliber, of course. I'll give it a try, anyway.
Speeding Up The Rebuild
Coming into the season, ESPN's Keith Law (Insider required) and Baseball America ranked the ChiSox's farm system as the 28th- and 29th-best in baseball, respectively. The organization doesn't have much young talent at the moment, which is a problem considering the state of the big-league team. Trading Sale would add some serious young impact players to the organization.
GM Rick Hahn wouldn't be out of line if he asked the Rangers for a package headlined by Jurickson Profar, for example. He could ask the Red Sox about Xander Bogaerts and the Cardinals about Oscar Taveras, and that's just the headliner. A pitcher of Sale's caliber with that contract should bring back an elite prospect and a few other pieces to move the rebuilding process faster than expected.
Injury Risk
Pitchers have a tendency to get hurt; it comes with the territory. Sale's funky, side-winding delivery doesn't seem like it's built for a long haul, similar to how Tim Lincecum's tornado wind-up spawned questions about his long-term durability. To Sale's credit, he has held up just fine under a big-league workload and proven the detractors wrong.
The question that the White Sox have to ask themselves is how much longer do they think he'll hold up? Lincecum was done as an elite pitcher by age 28, just to use him as an example again. It's worth noting the White Sox have been the best team in the league when it comes to keeping players healthy -- they averaged just 400 days lost to injury from 2010-12 according to FanGraphs, almost 200 days fewer than any other team. Their training staff is top notch.
"That pitcher will get hurt" is the safest bet in sports, but maybe the club's uncanny ability to keep players on the field is a reason not to trade Sale. If they feel like they have a good read on him physically (not to mention his work ethic) and think he'll hold up until the team is ready to contend, great. I tend to bet against the pitcher -- any pitcher, not just Sale specifically -- staying healthy for the duration of what figures to be a multi-year rebuild, however.
Do The Timetables Line Up?
Considering their poor farm system and lack of young, building-block big leaguers outside of Sale, fellow lefty Jose Quintana and maybe infielder Gordon Beckham, it's fair to assume it will take the team some time to right the ship. Sure, things could break right and they could contend as soon as next year, but that would be a big surprise. This doesn't have to be an Astros-level rebuild, but it could be a two- or three-year Red Sox-esque retooling.
If that's the case, will Sale still be at his best when the team is ready to make another push for the postseason? Or will his best years have been wasted during the rebuild? Could the rebuild take so long that he's not even under contract by time they're ready to contend? That seems unlikely given the two club options, but rebuilding processes do have a tendency to take longer than expected. If Sale's best years are going to be wasted on a non-contending team, they'd be better off turning him into young players.
* * *
Obviously, the decision whether or not to trade Sale would have more to do with the quality of offers received than anything else. Hahn could ask for Profar or Taveras or another good young player, but that doesn't mean he'll get them. It's entirely possible other clubs will be wary of Sale holding up long term, though elite pitching is always in demand and I'm sure a few teams would be willing to roll the dice.
There is something to be said for the marketing and fan interest angle as well. With Konerko aging, Sale is in position to take over as the face of the franchise (if he hasn't already). It's easy to say, "Trade him; rebuild!" when you aren't the one who has to worry about keeping fans interested and selling tickets. If the team is on the fence about moving Sale, the business angle could make them lean one way or the other.
If I was running the White Sox, I'd keep Sale while being open to offers. That is a total cop-out, I know, but it is the best course of action. If another club is prepared to overwhelm me with an offer, great. If not, I'll hang onto him and hope the rebuild goes swiftly. Holding onto an ace-caliber starting pitcher who has yet to reach his 25th birthday is always a justifiable move, but sometimes trading him makes sense as well.
Thursday brings us plenty of stretch-drive MLB action, so keep it right here

The ballparks in Cincinnati, San Diego and Seattle will have expanded netting in place by Opening...

Mondesi spent six years as the mayor of San Cristobal in the Dominican Republic after reti...
The veteran skipper has been Mets manager since the start of the 2011 season

The Baltimore third baseman is eligible for free agency following the 2018 season

The clubs breaks ground on Globe Life Field next week