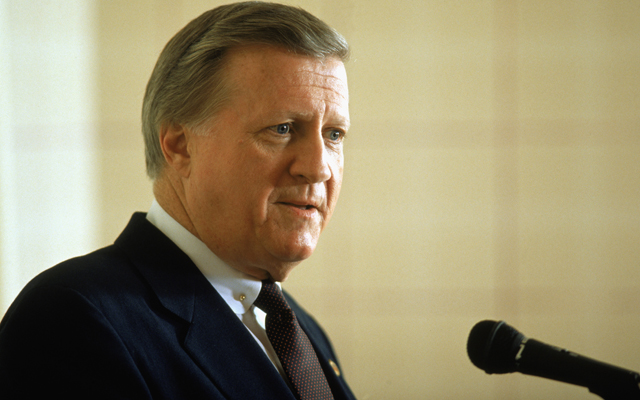 MORE: Cox, La Russa, Torre elected to Hall | No Miller, again
George Steinbrenner wasn't elected to the Hall of Fame in the most recent round of Veterans' Committee balloting, and he didn't come especially close to making it. It's impossible to know to what extent those tasked with casting ballots agonized over his case, but they probably should have wavered, at least a bit, before making a final decision. That's because Steinbrenner's case for enshrinement is manifestly a complicated one. 
First and most fundamentally, there's precedent. The Hall of Fame has long bestowed plaques upon those who didn't play the game on the field but rather lorded over it. Sky-scraping figures like Walter O'Malley, Bill Veeck and Tom Yawkey were long ago inducted, and in many senses Steinbrenner is their peer. 
On that point, consider the merits of Steinbrenner's legacy. In December 1972, Steinbrenner, who had grown up in a family of wealthy Cleveland shipbuilders, and Mike Burke purchased the Yankees from CBS for only $10 million. The once-proud Yankees had been foundering, and soon enough Steinbrenner seized full control of the team. His declaration at the time is, all these years later, uniquely delicious:
"We plan absentee ownership as far as running the Yankees is concerned. We're not going to pretend we're something we aren't. I'll stick to building ships."
Bulletin: Steinbrenner would not keep his word. 
As events would have it, free agency arrived to baseball in time for the 1977 season, and Steinbrenner -- with his dollars and his relentless drive to compete -- clutched at those new opportunities. The '76 Yankees, the product of methodical rebuilding and canny trades, won the pennant but were swept in the World Series by the mighty Reds. That, to say the least, left Steinbrenner spoiling for more. 
So he and the Yankees were at the front of the new market in the winter of 1976. After appraising and engaging pretty much every high-profile free agent, Steinbrenner settled on Reggie Jackson and Don Gullett. A World Series title -- the Yankees' first since 1962 -- followed. Before 1978, Steinbrenner again raided the coinpurse, this time for relievers Goose Gossage and Rawly Eastwick. The Yankees won the World Series again. 
Steinbrenner's team would win the pennant again in 1981, and then a series of free-agent misadventures sank them in the standings. By the early 1990s, though, they were assembling a colossus once again. We all know what happened after that: Five more World Series titles, four under Joe Torre and one under Joe Girardi. For those counting, that's seven World Series trophies on Steinbrenner's watch. That listless team he bought for $10 million is these days valuated at more than $3 billion. Not a bad capital gain. 
As the "sportsman owner" archetype goes, Steinbrenner was one of the best. He benefited from his market size and the existing Yankees brand, but unlike so many other team bosses, he cared deeply (probably to excess) about winning. In that sense, he was the ideal owner -- one concerned, above all, with excellence on the field and one who didn't view his team as just another asset in a corporate portfolio. 
But then there are the demerits of George Steinbrenner. He was a convicted felon, as Steinbrenner in the early 1970s illegally funneled money to a pro-Nixon reelection committee in exchange for future business considerations (e.g., shipbuilding contracts and getting the Department of Labor off his scent). The scheme unraveled, though, and Steinbrenner eventually faced federal charges: five counts of making illegal contributions, four counts of obstructing justice, two counts of obstructing a criminal investigation and two counts of encouraging false statements. Steinbrenner eventually pleaded down and avoided jail time. As a result, commissioner Bowie Kuhn suspended Steinbrenner from baseball for two years. Steinbrenner was later pardoned by President Reagan. 
Then, years later, came an arguably even uglier scandal. By the mid-1980s, Steinbrenner began to think better of the 10-year, $23 million contract to which he had signed Dave Winfield. He couldn't deal the outfielder because of no-trade protections, and, despite his best efforts, he couldn't hector him out of existence.
The two sides eventually went to court over the Yankees' failure to send negotiated payments to Winfield's charitable foundation, and that's when Steinbrenner paid gambler Howard Spira a sum of $40,000 to give him usable "dirt" on Winfield. Things fell apart when Steinbrenner, not wanting to pay any more money to Spira, put the FBI on Spira. Steinbrenner's role then of course came to light, and commissioner Fay Vincent suspended him for life for consorting with gamblers. Eventually, Steinbrenner was reinstated, but the stench of the entire affair stuck for a long time. 
And that brings us back to his Hall of Fame case. While Steinbrenner's gambling associations weren't as plainly baseball-related as, say, Pete Rose's were, they were still gambling associations at least indirectly yoked to the game. You can't do that. In the full light of his misdeeds, which are serious, a vote against Steinbrenner based on the Hall's character clause is a defensible stance.
Personally, I see the character clause as something that's inconsistently applied and too often used as a cudgel to settle personal grievances. I'm not much for moral value judgments when it comes to the rogue's gallery that is Cooperstown. So I'd vote for Steinbrenner based on his stewardship of the Yankees and the tacit standards for Hall of Fame owners. There's no getting around his character flaws, though, no matter how much his image was reconstructed late in his life. So those who voted against Steinbrenner did so with sanction. 
Like I said: With George Steinbrenner and the Hall of Fame, it's complicated.