The cost of signing Buster Posey long-term
The Giants and Buster Posey have started talking about a long-term contract extension, but what's a reasonable price?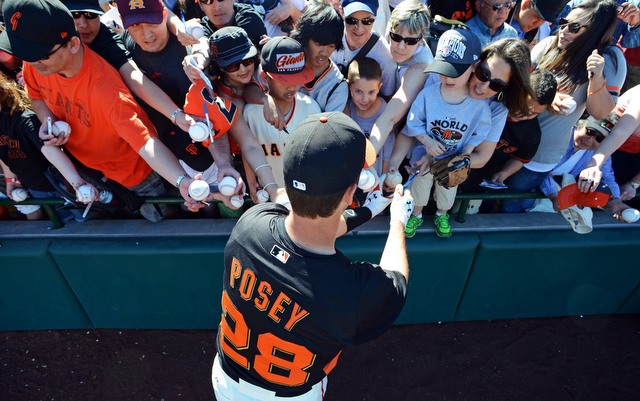 Earlier this week, CBSSports.com's Jon Heyman reported that the Giants and reigning NL MVP Buster Posey have quietly begun talks about a new contract extension. A deal is not imminent, but talks are ongoing.
Posey, 25, has unprecedented credentials. He has an NL Rookie of the Year Award and a batting title to go along with his MVP, and he also helped the team to two World Series titles. His $8 million salary for 2013 puts him in line for $20+ million as soon as 2015. As a Super Two, Posey will be arbitration-eligible four times instead of the usual three. That makes contract negotiations unique.
The Giants, of course, have some experience with unique cases and players with unprecedented credentials. A few years ago they went through a round of contract talks with Tim Lincecum, who won two NL Cy Young Awards before becoming arbitration-eligible for the first time (also as a Super Two). The two sides eventually worked out a two-year, $23 million deal. Posey's contract figures to be much longer, however.
Usually, when looking at a potential extension, I try to dig up comparable players to see what they were paid. Because Posey is so unusual, we don't have comparable players to look at. We have a comparable player. Singular. Unsurprisingly, the list of guys with a Rookie of the Year and MVP before their first arbitration-eligible year is quite small, especially when looking at recent years and modern salaries.
Ryan Howard's Arbitration Salaries
 
Posey
Ryan Howard
 Pre-Arb. Years WAR
12.1
11.0
Arb. Year 1 Salary
$8M
$10M
Arb. Year 2 Salary
?
$15M
Arb. Year 3 Salary
?
$19M
Arb. Year 4 Salary
?
$20M
Total Salary during Arb. Years
?
$64M
Howard's $10 million arbitration award in 2008 is still the record for a first-time eligible player. The Phillies realized he could get pretty expensive in a hurry after that, so they signed him to a three-year, $54 million contract before the 2009 season and got some cost certainty.
Despite having the whole Rookie of the Year/MVP thing in common, the similarities between Howard and Posey end there. Howard hit for enormous power early in his career, which is why his salary was so high in his first arbitration year. Homers pay more than anything else in baseball. Catchers tend to get the short-end of the salary stick because they're big-time injury risks. It comes with the position, as Posey learned with his ankle-breaking collision in 2011.
Given inflation and the fact teams have more money to spend now than ever before, it wouldn't be outrageous for Posey's representatives to ask the Giants to match Howard's $64 million guarantee for his four arbitration years. That would mean $56 million over the next three years, an average of $18.7 million per season. The team would probably shoot that down, but hey, it doesn't hurt to ask.
More realistically, Posey's camp should probably seek $50 million to $54 million for this four-year chunk of his career, meaning $42 million to $46 million over the next three years. An annual payout of $14 million to $15.3 million seems very reasonable since he's already making $8 million this year. Another MVP or batting title and Posey could be making $15 million as soon as 2014. There's always a discount with these extensions, though; the player sacrifices some earning potential for a guaranteed payout.
The question the Giants have to ask themselves is this: Is it the right time to sign Posey long-term? He's coming off a batting title and an MVP, not to mention a 172 OPS+ that seems like it would be pretty hard for a catcher in a big home ballpark to repeat. Posey is great, but it wouldn't be crazy to think he may have just had a career year. Since his leverage is at an all-time high, would waiting a year be beneficial and result in some savings down the road? Is it worth pinching some pennies when it comes to the franchise cornerstone? It's easy for us to say no it's not, but we're not the ones writing the checks.
Given his age and the lengthy extensions recently signed by stars like Ryan Braun, Joey Votto and Troy Tulowitzki, Posey's representatives could ask the Giants for a 10-year deal. If they value his free-agent years at $18 million to $20 million annually, a 10-year contract taking effect today -- overriding his one-year deal for 2013 -- could be worth $158 million to $174 million. It would be a touch below Joe Mauer's catcher record $184 million deal, but he was one year away from free agency. Not four like Posey. If the team wants to limit the contract to eight years because catchers are so risky, $130 million or so would be more appropriate.
Outside of Lincecum, who has signed two two-year deals and is scheduled to become a free agent after this season, the Giants have not been shy about signing their stars long-term. Matt Cain signed what was then the richest contract ever given to a right-handed pitcher (six years, $127.5 million) last April, then Madison Bumgarner signed a five-year deal a few weeks later. Barry Zito's hefty annual salary ($18 million) will be off the books in a few months, and that money could be reinvested in Posey, the team's best and most indispensible player.
The free-agent market has been slow and one player is bracing for an even longer wait

The Mets didn't want to trade a young outfielder for an older one

Josh Harrison doesn't sound pleased Gerrit Cole and Andrew McCutchen have been traded away
The team's media contracts expire following the 2019 season

San Francisco could use more help in the outfield and at the back of the rotation

The White Sox, Athletics, Orioles and Marlins are the holdouts after the Blue Jays and Angels...