The Cubs and the Jeff Samardzija conundrum
The Cubs have reportedly reached out in an attempt to sign Jeff Samardzija to a contract extension. They still might trade him, too. Let's take a look at the merits of either.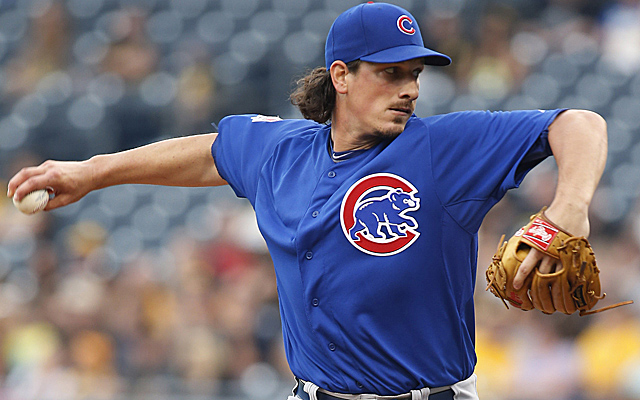 More MLB: Power Rankings | Expert Picks | Latest news & notes | Fantasy news
With the Cubs' hopeful window of contention still a few years away, they seemingly continue to wrestle with ace starter Jeff Samardzija. That is, what should they do with him?
So far in terms of the trade rumor mill, Samardzija is easily the most prominent name and probably the most frequently mentioned name believed to be available with roughly six weeks until the trade deadline.
The right-hander is 2-6, but he's been saddled with lots of hard-luck no decisions and losses. His 2.77 ERA entering Tuesday's games was ninth in the NL and he's struck out 82 hitters in 91 innings with a 1.18 WHIP. It's fair to say he's one of the 20 best pitchers in baseball.
The latest from Chicago is that the Cubs are again discussing a multiyear deal with Samardzija. He's set to be a free agent after the 2015 season. Gordon Wittenmyer of the Chicago Sun-Times reports the following:
Cubs officials wouldn't comment on the subject Monday.

But the offer is believed to be for the same five years previously discussed by the parties, but at a higher number than the $60-million to $65-million range last on the table.

It was not immediately clear how high the Cubs have gone, or what their walkaway figure is. One source suggested it would take something close to the $17.5 million annual value of Cincinnati pitcher Homer Bailey's six-year contract signed during the spring to persuade Samardzija to commit to an extension, especially without a no-trade clause.
Ken Rosenthal of Fox Sports said he wasn't surprised by this report, and added:
What would be surprising is if #Cubs' Samardzija agreed to discount from non-contender. Better career ERA than #Reds' Bailey, fresher arm.

— Ken Rosenthal (@Ken_Rosenthal) June 17, 2014
Bailey got 6/$105M from #Reds. #Cubs' Samardzija almost certainly will not take less, and probably wants closer to Matt Cain at 6/$127.5M.

— Ken Rosenthal (@Ken_Rosenthal) June 17, 2014
Letting Samardzija get to free agency and then leaving doesn't seem like a feasible option. It just makes no sense to get nothing back for such a hot commodity if losing him. Considering the starting pitching market heading to July this year appears to be thin, now would probably be the time for a trade.
So, essentially, the decision is likely to either trade Samardzija now or give him a contract extension now. Let's run down both sides.
Arguments for trading him
The Cubs' plan for their window of contention appears to be in the 2016-17 range. While Samardzija might seem young as a starting pitcher, that's because he just transitioned there within the past few years. He'll actually be 30 heading into next season. So a five-year extension will cover his ages 31-35 seasons. If he wants to be paid like Matt Cain for those years, that seems a bit steep for a team in the midst of a massive rebuild.
Further, what if the Rays don't make David Price available? Samardzija will likely be the only thing resembling a frontline starter on the trade market this July. A bidding war between at least five teams wanting to upgrade for this season might result in a bit of a coup in terms of a prospect package.
Remember, the Cubs got third baseman Mike Olt (10 homers, 25 RBI right now, though an awful average), relievers Neil Ramirez (1.06 ERA, 26 K in 17 IP) and Justin Grimm (2.97 ERA, 31 K in 30 1/3 IP) along with now-top pitching prospect C.J. Edwards last season in exchange for a few months of Matt Garza. They even got Jake Arrieta (2-1, 2.09 ERA in eight starts) and Pedro Strop (3.92 ERA, 22 K in 20 2/3 IP) for Scott Feldman. Theoretically, Samardzija should be able to land even more in this climate -- since the trading partner will get him for at least a season and a half.
Weighing that against a nine-figure extension for a guy who will be north of 30, it seems a good argument for trading him. Right? Let's see ...
Arguments for extending him
Samardzija doesn't have much wear on his arm for his age. He only has 649 career innings pitched in the majors (1,134 1/3 total professional innings). To stick with the Cain comparison, since they are essentially the same age (Cain is a bit less than four months older), the Giants right-hander has thrown 1,779 2/3 innings in the majors alone.
While we can't be sure, it's possible that Samardzija having saved so many bullets as a reliever earlier in his career means he can maintain his effectiveness into his mid-30s, maybe later.
Further, the Cubs are going to spend some money in free agency this coming offseason. Not only are they committed to just over $31 million in payroll next season (plus arbitration raises, of course), but general manager Jed Hoyer has already publicly said they will be spending. Considering most of their upper-level talent either in the majors (Anthony Rizzo, Starlin Castro) or in the upper levels of the minors (Arismendy Alcantara, Javier Baez, Kris Bryant) consists of position players, pitching would be a good place to spend. Max Scherzer, Jon Lester, James Shields and Justin Masterson, among others, look likely to be available, too.
Then again, if the Cubs are going to spend on pitching, why not just keep their guy instead of risking missing out on all of the above names? There's probably a strong argument to be had there.
---
So that's the decision the Cubs have to make within the next six or so weeks -- and they have to do so while hoping that either a trading partner or Samardzija and his agent cooperate. Stay tuned, because this is one of the biggest storylines as we head toward July.
The lefty starter is coming off a terrible season

After acquiring Ian Kinsler and Zack Cozart in recent days, the Angels are trending upward

Cozart's coming off a big season as the Reds' shortstop
The veteran slugger spent the last eight seasons with Cleveland

The Padres may be poised for an active winter

Yes, Bryce Harper is going to make a lot of money next winter