The curious case of Boston's reported interest in Cole Hamels
It's hard to know, but maybe Boston's alleged pursuit of Hamels is an admission they should have tried hearder earlier with Jon Lester.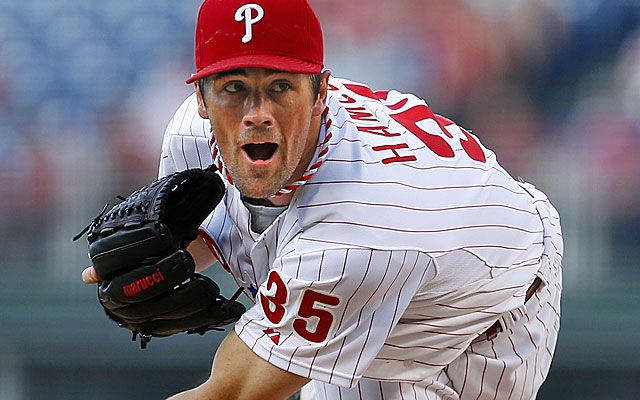 More MLB: Power Rankings | Expert Picks | Latest news & notes | Fantasy news
No one can really be blamed for making a play for a great pitcher like Phillies star left-hander Cole Hamels. But in the case of the Red Sox, who have shown interest in Hamels according to the Boston Globe and others, it's maybe just a littler bit harder to understand.
Boston offered its own star lefty Jon Lester $70M over four years in spring training. Now suddenly, they'd be willing to take what's left of Hamels' $144-million, six-year deal, and give up prime prospects, too, for a very comparable pitcher?
It's true Hamels has only about $106 million left on his deal through 2018. But that's still significantly more than the Red Sox offered Lester. And they'd have to surrender cherished young players to acquire Hamels, to boot.
Of course, the Red Sox saw the $70M mention as more of a negotiation conversation starter (though ironically, it seems to have been a conversation ender). And word from people familiar with their thinking is that they were willing to go to $100M for five years before Lester told them a few weeks ago that he'd like to table contract talks for now so as not to distract his teammates, and maybe himself too.
And of course, it's also possible the Red Sox are at least partly viewing the reported Hamels play as a way to restart things with Lester -- who's said all along he wants to stay in Boston badly enough to give them a hometown discount. And maybe the Red Sox are just concerned they might not get Lester back now that he's tabled talks, and are just covering their bases.
And maybe the Red Sox would like to have both Lester and Hamels. But that still begs the question as to why they might like to absorb a contract that is twice as high as their starting point with Lester.  
Boston people are very logical and smart. But in this case, I'd like an explanation (and more to the point, so might Lester himself).
It's hard to question the calls of GM Ben Cherington and Co. who went an unprecedented and even unheard-of six for seven on the free-agent market two winters ago, leading to the team's third World Series championship in 10 years (and what's more, the one free-agent miss, Ryan Dempster, vacated the second year of his deal, making it a clean sweep for the Red Sox).
But if Lester is wondering now what's going on, you could hardly blame him.
He and Hamels are very comparable pitchers in terms of talent and resume. But if anyone's a better fit for Boston, that would have to be Lester, an extremely tough pitcher and person who's been almost infallible in his two World Series and often appears almost mood-less. (To be fair Hamels was also very good in the 2008 World Series, but Lester already has the proven perfect personality to deal with all that comes with the fishbowl in Boston.)
The Red Sox do a lot of prescient things but they also have an odd history of paying much bigger for players who are not their own. There was Carl Crawford ($142 million), Adrian Gonzalez ($154 million) and to a somewhat lesser degree John Lackey ($82.5 million). It seems that far less frequently their own players are rewarded in that manner, at least not by them. Dustin Pedroia stayed, but his $100-million, eight-year deal felt very team friendly at the time.
The Red Sox can investigate whatever trades they desire, and maybe they're just doing some due diligence in this case. But any pursuit of Hamels, though while not quite callous in this big business, appears at the very least, considerably curious.
The Nats will host the All-Star Game in 2018

The Orioles are looking to trade Machado heading into his walk year

The Cardinals have been linked for a while to the Baltimore star
Gallardo spent the first eight years of his career in Milwaukee

MLB revenues are at a record high right now, but teams aren't spending it on players

Chicago added Tyler Chatwood earlier this offseason but might not be done adding to the ro...