The death of the 500th career home run milestone
Albert Pujols became the newest member of the 500 home run club on Tuesday night, but no one seemed to care. Why not?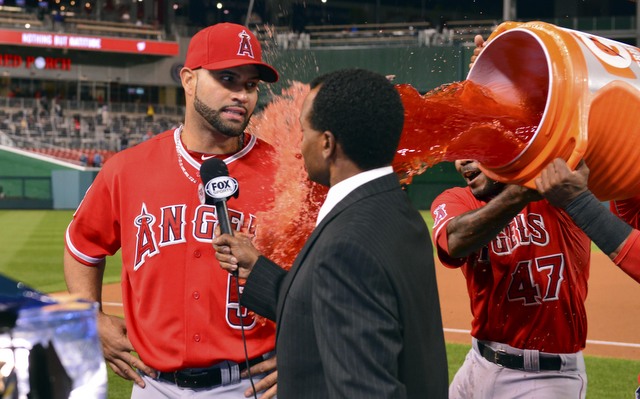 More: Pujols' rank among 500 Club | Growth of 500 Club | How many can Pujols hit?
With two swings of the bat on Tuesday night, Angels first baseman Albert Pujols became the 26th member of the 500 home run club. He is the third youngest player to reach the milestone (behind Alex Rodriguez and Jimmie Foxx) and the first since Gary Sheffield in 2009. And yet, there was very little buzz or anticipation.
Pujols is not the first player to have his 500th career dinger pass relatively quietly. There was little buzz when Sheffield hit his 500th, ditto Manny Ramirez and Jim Thome before that. (Thome's 600th was a big deal.) In fact, the last 500th homer chase that I can remember being day-in, day-out focus was A-Rod's back in 2007. The milestone was once an automatic ticket to Cooperstown and now it's barely a blip on the radar.
Why is that? I think it's a combination of things, really. There isn't one reason, there are several. Let's run them down.
Performance-Enhancing Drugs
This one is obvious, so might as well start here. We just came out of an era in which the ball was flying out of the ballpark every night, with much of that attributed to PEDs. Expansion and smaller ballparks contributed to that as well, but most people place the blame for the homer spike on illegal substances. Guys are hitting tainted homers and records are being broken unfairly. They lose some appeal when that happens, no doubt about it.
Too Much, Too Soon
From 1979 through 2000, only four players hit their 500th career home run. Then three players hit their 500th from 2001-03: Barry Bonds, Sammy Sosa and Rafael Palmeiro. Of course, all three guys have varying levels of PED ties as well.
Ten players have joined the 500-homer club since the turn of the century, including seven from 2001-07. We used to see someone hit his 500th home run once every four or five years, but suddenly it was every other month. When something like this happens all at once, the novelty starts to wear off no matter how special the occasion.
Media Overkill
This ties into the "Too Much, Too Soon" section. When all those guys were hitting their 500th career homer during the 2000s, the media was all over it. The milestones were covered from every angle and the 24-hour news cycle meant everyone was hearing about it all the time. Turn on a game and it was being discussed. Turn on the news, there it was. Read the paper, see it there too. Read the internet and you couldn't escape. There's only so much people can take. They had 500th home run fatigue.
* * *
More than anything, I think we need to go several years without a player hitting his 500th homer for it to feel special again. I don't mean one or two years either -- remember, it was almost five years between Sheffield and Pujols -- I mean more like nine or 10. I don't know if that will ever happen in this age. Adam Dunn and Miguel Cabrera are about a year or two away from their 500th homer and more guys are coming up behind them.
There wasn't much buzz when Pujols hit his 500th dinger on Tuesday night, at least not compared to other players when they hit the milestone. That's a shame because it is still an incredibly impressive accomplishment. We're talking about something only 26 out of literally tens of thousands of players have done. It was a historic night whether fans cared or not.