The elite contact skills of the Braves' Andrelton Simmons
It took until April 17, but Braves shortstop Andrelton Simmons finally got to strike three this season. What a start to 2014.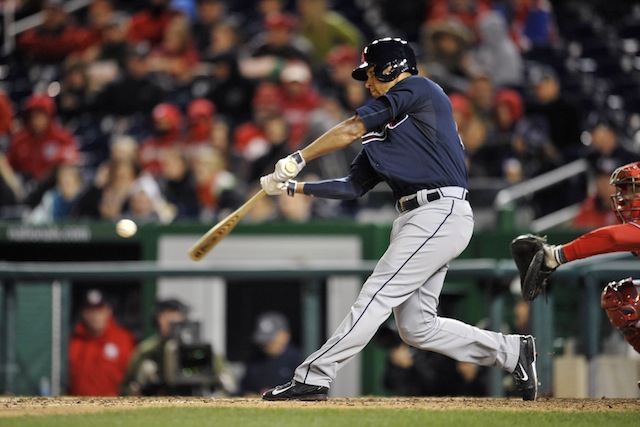 More MLB: Power Rankings | Expert Picks | Latest news & notes | Fantasy news
On Thursday, Braves shortstop Andrelton Simmons struck out for the first time in 2014. It was his 52nd plate appearance of the season, and A.J. Burnett of the Phillies got him to chase a four-seamer. Even then, though, Simmons struck out on a foul tip held by catcher Wil Nieves. That's right: In Simmons's lone strikeout of 2014, he still put bat on ball (at least a little). 
Needless to say, it's quite remarkable to go 50-plus plate appearances without striking out. That's especially the case these days, when strikeout rates are climbing to unprecedented heights and have been climbing for several seasons. In 2000, for instance, hitters league-wide struck out in 16.5 percent of their plate appearances. In 2013, they struck out 19.9 percent of the time. This season, that figure is up to 21.1 percent in the early going. 
As for Simmons, he showed outstanding contact skills in prior seasons, as he logged a K% of 11.5 in 2012 and 8.4 in 2013. In his remarkable start to 2014 (he's batting a stellar .333/.346/.563 thus far), he's toting around a K% of 1.9. Yes: 1.9 percent. On that front, let it be said that Simmons this season has faced some accomplished bat-missers like Gio Gonzalez, Stephen Strasburg, Yovani Gallardo, Cliff Lee, Rafael Soriano and, of course, Burnett. In that sense, the feat has been hard-won. 
Obviously, we're talking about a very limited sample, being as this is the first month of the season. However, it's worth noting that a hitter's contact rate, per Russell A. Carleton's expert research, stabilizes at around 100 plate appearances on an individual basis. The same goes for K rate. In other words, Simmons is about halfway to meaningful with regard to his 2014 contact rate and penchant for avoiding strike three.
Speaking of his contact rate (i.e., the total rate of contact when swinging at pitches), it's at 92 percent this season versus a league rate of 78.7 percent. Given his previous high marks in this category and his pre-prime age, we may be seeing skills growth in what was already a pronounced strength. 
To be sure, Simmons isn't the only elite contact hitter in the game today -- Marco Scutaro and Ben Revere, among others, certainly merit mention. However, Simmons combines an ability to put bat on ball with power potential. 
Keep in mind that's he's coming off a 2013 season in which he tallied 17 homers, and this season -- as implied above -- he's toting around an Isolated Power of .230 (more triples than strikeouts!). Now take a look at Simmons's swing. Here's the home run he hit against the Phillies on Monday ...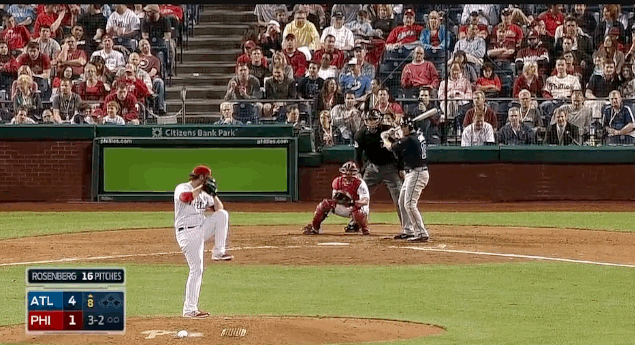 And here's his clout the day before against the Nationals ...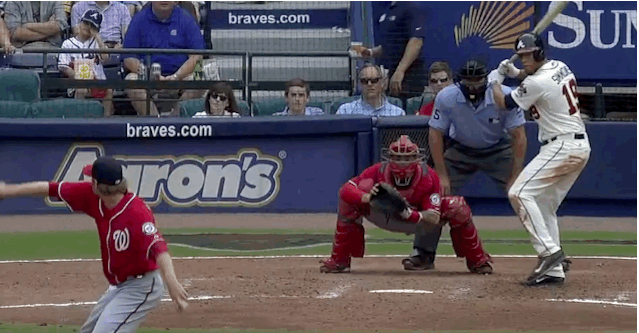 As you can see, this is hardly a "choke up and swing level" kind of contact-friendly stroke. As is apparent in both GIFs -- and especially the first one -- Simmons has a pronounced high finish to his swing, even when the pitch is up (as is the case in the second GIF). Obviously, that helps him loft the ball. As well, Simmons gets plenty of hip drive. His swing isn't as "rotational" as, say, that of Miguel Cabrera, who starts his hips very early (and wields them to great effect), but Simmons definitely uses his lower half to help generate power. 
That he's able to "swing for the downs" in such a manner while still making contact at an elite rate is fairly remarkable. Simply put, Simmons is hitting for power and making contact in such a way that's all but unique in today's game. 
Oh, and he can also play a little defense.