The end of the 15-year Jack Morris debate
After falling short of induction for the 15th straight year, Jack Morris is no longer eligible to be voted into the Hall of Fame by the BBWAA. Here's a look at everyone who dropped off the ballot in 2014.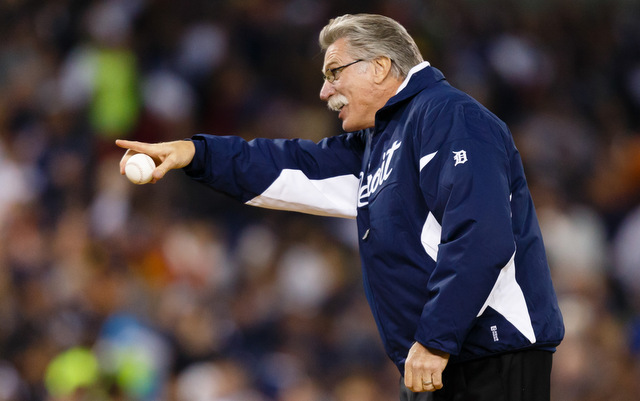 MORE: Maddux, Glavine, Thomas elected | Craig Biggio and other near-misses | Vote totals
When the 2014 Hall of Fame class was announced on Wednesday afternoon, Jack Morris was not one of the three players who heard his name called for induction. He appeared on only 61.5 percent of the ballots, 78 votes short of the 75 percent needed for election.
This was Morris' 15th and final year of BBWAA eligibility, meaning he drops off the ballot and has to wait three years before being eligible for induction by the Expansion Era Committee. Morris' Hall of Fame case was a hotly and not always politely debated topic these last 15 years, but all of that is in the past now. He fell short for the 15th time and the rules say he's off the ballot.
During his first year of eligibility in 2000, Morris appeared on only 22.2 percent of the ballots. He was still appearing on roughly one-quarter of the ballots as late as 2004 (26.3 percent), but his support grew stronger over these last 10 years and Morris climbed closer towards that magic 75 percent threshold even though he hasn't thrown a pitch since 1994. That's fine though, voters have the right to change their minds. That's a good thing.
Morris did not receive any additional support in his final year of eligibility -- there was no "final year push." He topped out at 67.7 percent of the vote last year but dropped down to 61.5 percent this year. That likely has to do with the rest of the ballot. Voters are limited to only 10 votes per year and there were simply too many qualified candidates. Morris has a good Hall of Fame case but not a great one, unlike 2014 inductees Greg Maddux and Tom Glavine.
There were 36 players on this year's Hall of Fame ballot and 16 fell off completely. Morris was the only one to come off due to the 15-year rule; the other 15 guys dropped off the ballot because they received fewer than five percent of the vote. Here's a rundown of the fellas who didn't get enough support to stick around for another year.
25 votes (4.4 percent): Rafael Palmeiro
Palmeiro is one of only four men in history with 3,000+ hits and 500+ home runs, but he won't be going to Cooperstown because of his performance-enhancing drug ties. He failed a test in August 2005, a few months after telling congress he never used steroids. Palmeiro has Hall of Fame credentials but he was never getting in. He was four votes shy of staying on the ballot.
Six votes (1.1 percent): Moises Alou and Hideo Nomo
Alou had a long and productive career while Nomo's was more up and down, with an insane peak early on. Nomo's windup was first ballot Hall of Fame worthy, however:
Five votes (0.9 percent): Luis Gonzalez
Gonzalez had a very long and very productive career, piling up 2,591 hits and hitting 354 home runs while driving in 1,439 runs. He also walked nearly as often as he struck out (1,218 strikeouts and 1,155 walks). Gonzalez had that monster 2001 season (57 HR and 174 OPS+) but otherwise he was a Hall of Really, Really Good player, not a Hall of Famer.
Two votes (0.4 percent): Eric Gagne and J.T. Snow
There's no real argument to made for Snow as a Hall of Famer but at least Gagne won a Cy Young (2003) and had one of the most dominant three-year stretches in baseball history: 152 saves, 1.79 ERA (223 ERA+), 0.82 WHIP and 6.29 K/BB from 2002-04. He was named in the Mitchell Report, however.
One vote (0.2 percent): Armando Benitez, Jacques Jones and Kenny Rogers
Did you know that, among pitchers who have thrown at least 750 innings in the big leagues, Benitez ranks 20th with a 140 ERA+? He's one point behind Trevor Hoffman. True story. Rogers threw a perfect game and that's pretty great, but I can't come up with a reason to vote for Jones. Don't know what that vote is about.
No votes: Sean Casey, Ray Durham, Todd Jones, Paul Lo Duca, Richie Sexson and Mike Timlin
If I had to vote for one of these guys, I'd go with Timlin even though Durham leads the group (by a lot) with 33.7 WAR. Timlin was a rock solid reliever for a very long time, plus he recorded the save in the clinching game of the 1992 World Series. It's a stretch, but if I had to vote for one of these guys, he'd be my pick.
There's no shame in failing to appear on five percent of the ballots or getting shut out all together. You had to do an awful lot right to even appear on the Hall of Fame ballot in the first place.
Judge's 48 homers trail only McGwire's 49 in single-season rookie history

The Reds still have one of the best hitters in the game in Joey Votto and a rising star in...

Maxwell joins a growing movement across sports
The Yankees punched their ticket to the playoffs with a win over the Blue Jays on Saturday

Sabathia's stance seems to be an increasingly popular one among athletes

Plus the A's and Brewers have hope, Giancarlo goes deep again, and much more