The first-half awards for 2014
The 2014 season is roughly at the mid-point, and that means it's time to hand out some imaginary MVP, Cy Young and Rookie of the Year hardware.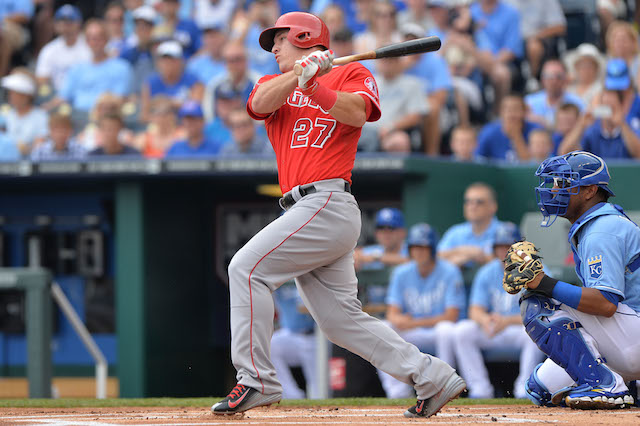 MORE: Heyman's Stock Watch: Trout is tops
We're at the rough mid-point of the 2014 season, and that presents us with the contrived opportunity to hand out awards that don't actually exist. That is, I'm about to name my first-half MVP, Cy Young, Rookie of the Year and Manager of the Year for each league. I do so for the benefit of the people.  
Forthwith ... 
AL MVP: Mike Trout , Los Angeles Angels
This is a spectacularly easy call. Coming into Tuesday, Trout was batting .314/.407/.610 (good for an MLB-leading OPS+ of 186). He's crushing right-handers (.990 OPS), and he's crushing left-handers (1.079 OPS). He's producing at an elite level at home (1.025 OPS), and he's doing the exact same thing on the road (1.009 OPS). All of that, of course, is in addition to his outstanding base-running (10-for-10 in steals, and he's taken the extra base an impressive 67 percent of the time) and plus defense in center. 
Also worth mentioning: Jose Bautista , Blue Jays; Edwin Encarnacion , Blue Jays; Jose Altuve , Astros
NL MVP: Jonathan Lucroy , Milwaukee Brewers
This one's more of a debate than in the AL. First, know that when it comes to the MVP, I don't care how good a player's teammates are. That is, it's an individual award, and I use individual accomplishments as my guide. While voters are free to concoct their own definition of valuable, I use it as a synonym for "best" and not, say, "the guy on a team in first place who has a lot of RBI." Opinions will vary, of course.
Anyhow, I'm taking Lucroy by a quarter-hairsbreadth over Troy Tulowitzki of the Rockies. Lucroy mans a vital and demanding defensive position, and he's perhaps the best pitch-framer in the game today. Oh, and this season Lucroy ranks third in MLB in innings caught. That alone would make him highly valuable, but consider that Lucroy on top of all that is batting .334/.403/.515 in 335 plate appearances. By way of comparison, the average major-league catcher this season is batting .249/.314/.386. In other words, Lucroy's bat would have him in the MVP discussion even if he weren't a frontline defensive catcher.
As for Tulo, he's having a brilliant season to date, and one can easily muster a case that he's the NL MVP at the midpoint. However, my long-held belief that there's much in the numbers that doesn't capture the true value of a great defensive catcher earns Lucroy the nod by the narrowest of margins.
Also worth mentioning: Tulowitzki; Giancarlo Stanton , Marlins; Carlos Gomez , Brewers; Andrew McCutchen , Pirates; Yasiel Puig , Dodgers
AL Cy Young: Felix Hernandez , Seattle Mariners
At this writing, King Felix leads the AL in innings pitched, and his ERA+ of 179 ranks second. As well, Hernandez's K/BB ratio of 6.23 is good for fourth in the AL. Need more? This season, he boasts a 2.04 ERA away from pitcher-friendly Safeco, and only Masahiro Tanaka has a higher quality start percentage than Hernandez's mark of 88.8. Tanaka is quite clearly my (very strong) runner-up, but what gives Felix the nod for me is that fact that the average offense he's faced this season is scoring 4.45 runs per game, while Tanaka is much further down the list at 4.16. Tough decision, though.
Also worth mentioning: Tanaka; Yu Darvish , Rangers; Mark Buehrle , Blue Jays; Dallas Keuchel , Astros; Garrett Richards , Angels
NL Cy Young: Johnny Cueto , Cincinnati Reds
My suspicion is that the actual end-of-season NL Cy Young award is going to wind up in the deserving paws of Clayton Kershaw for a second straight year. Right now, though, his innings deficit drops him behind Cueto and Adam Wainwright of the Cardinals.
In any event, we have another difficult choice in our midst. I'm going with Cueto because he leads the NL in innings and is tied for the league lead in innings-per-start and quality start percentage. Cueto also has to his credit an MLB-leading 1.88 ERA and MLB-leading 194 ERA+. Wainwright has actually allowed a lower R/9 figure (thanks in part to his not giving up a single unearned run all season), but Cueto has pitched in the tougher park and against tougher offenses.
Also worth mentioning: Wainwright; Kershaw; Julio Teheran , Braves
AL Rookie of the Year: Masahiro Tanaka, New York Yankees
It's hard to be a rookie hitter who leads the bigs in homers and RBI and not take top freshman laurels. However, Jose Abreu of the White Sox has the misfortune of playing in the same loop as Tanaka. Tanaka paces the AL in ERA and ERA+, and he ranks fourth in innings and fifth in K/BB ratio. He's also notched a quality start in, well, every single start of his MLB career to date. Abreu's astounding power is acknowledged and appreciated, but Tanaka's body of work just noses him out.
Also worth mentioning: Abreu
NL Rookie of the Year: Billy Hamilton , Reds
Hamilton is presently batting a semi-useful .281/.312/.402, but bear in mind that he also adds a tremendous amount of value with his base-running and his excellent defense in center field. Easy choice.
Also worth mentioning: Chris Owings , Diamondbacks
AL Manager of the Year: John Gibbons, Blue Jays
The Manager of the Year criterion typically comes down to which skipper's team has been the most pleasant surprise. That brings us to Gibbons and the Jays. They flopped last season and entered 2014 as the consensus pick to finish last in the AL East. Instead, they're leading the AL East.
Also worth mentioning: Bob Melvin, Athletics; Lloyd McClendon, Mariners
NL Manager of the Year: Ron Roenicke, Brewers
Roenicke's Brewers play in a division that yielded three playoff teams a season ago. Not only do they lead said division, but they also find themselves on pace for a franchise-record 97 wins.
Also worth mentioning: Mike Redmond, Marlins
Maxwell joins a growing movement across sports

The Yankees punched their ticket to the playoffs with a win over the Blue Jays on Saturday

Sabathia's stance seems to be an increasingly popular one among athletes
Plus the A's and Brewers have hope, Giancarlo goes deep again, and much more

Matt Chapman and Matt Olson give the A's hope

Despite an awful month, the Dodgers are again NL West champions