The first round of the 2014 MLB draft: Five important things
The first round of the 2014 MLB draft is in the books. Now let's see what was especially notable on day one.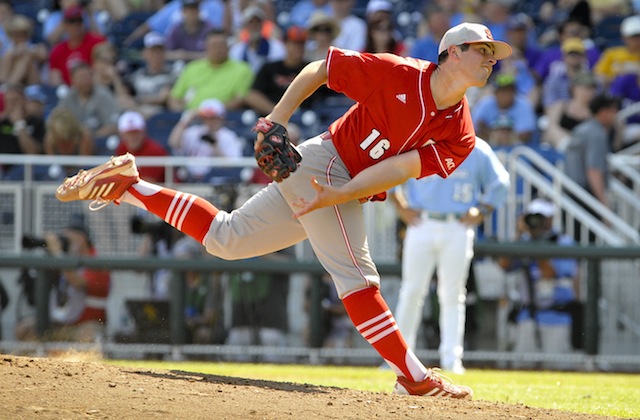 MORE: 2014 first-round tracker | Astros take Brady Aiken with top pick
The top 34 picks are off the board, and so the first round of the 2014 MLB draft is complete. Now let's look back upon that first round and set the stage for remainder by highlighting a few Important ThingsTM from Thursday's cattle-call ... 
Important thing: Marlins pass on Carlos Rodon at no. 2
For a long time, the expectation was that if the Astros, as anticipated, passed on NC State lefty Carlos Rodon with the top pick in favor of prep lefty Brady Aiken, then the Marlins would grab him at no. 2. After all, Rodon coming into 2014 was the consensus no. 1, what with his wipeout slider and record of success. As well, he's of Cuban descent, which would of course play very well in Miami. However, the Marlins instead opted for Texas prepster Tyler Kolek -- who's the (exceedingly) rare high-schooler with a triple-digit fastball. Kolek at two isn't a reach by any means, but it's noteworthy that the Fish passed over Rodon. He of course went to the White Sox with the very next selection. 
Important thing: Cubs go with Kyle Schwarber at no. 4
Having the fourth overall pick is a good thing, of course, but in a certain sense the Cubs were in a tough spot. That's because this is a draft with a clear top three (Brady Aiken, Kolek and Rodon), but an initial drop-off after that trio. The Cubs are in need of pitching depth in the system, but, again, the fourth position left them with no clear solutions (I'd have gone Aaron Nola -- Phillies, no. 7 -- were I the Cubs). That they settled on Schwarber, the cather/first baseman out of Indiana University, is fairly surprising. He has a playable bat, to be sure -- power and a mature command of the strike zone -- but he's fringy in terms of future position. There's no use in predicting what's ahead for an MLB draft pick, but Schwarber seems a reach at four.
Important thing: Brewers take Kodi Medeiros at no. 12
Medeiros, the prep lefty out of Hawaii, was left off a number of first-round boards and mocks. He has command of three pitches, but there's some concern that his low arm slot will lead to platoon issues as he advances up the ladder. There's so much imprecision involved in the draft that this could wind up being an outstanding pick, but it's a bit of a shocker in the here and now. 
As it turns out, Medeiros was indeed a late riser for Milwaukee ... 
#Brewers indeed pick LHP Kodi Medeiros out of Hilo, Hawaii. Reportedly blew them away in a pre-draft workout, reaching 97 mph.

— Tom (@Haudricourt) June 6, 2014
Needless to say, if Medeiros is able to sustain those velo gains, then the Brewers may really have something here. Developing, as is the case with every pick. 
Important thing: Two recent Tommy John patients go in the top 18 picks
Teams recognize that 85 percent of pitchers who undergo Tommy John surgery rediscover their prior skill level. That's why you saw the Blue Jays pop Jeff Hoffman (East Carolina) at no. 9 and the Nationals take Eric Fedde out of UNLV at no. 18. Both right-handers have undergone the transformative procedure in recent weeks. Sure, they're going to miss out a year of development, but they're also likely to sign below slot while providing substantial upside. It may not work out, but it's an impressive example of calculated risk-taking by the Jays and Nats.
Important thing: Touki Touissant slips to the Diamondbacks at no. 16
In a recent Q&A with Eye On Baseball, draftnik Chris Crawford listed Touissant as his no. 10 overall prospect. Other boards had him higher thanks to his incredible upside. He's raw, having played baseball for just five years, but the stuff is crackling. It's quite surprising that nine arms were taken ahead of him. While it's certainly no indictment to be the 16th overall pick, the D-backs got a potential steal, even at that relatively high slot.  
NBC Sports California has cut ties with the former A's slugger after a string of inappropriate...

Pineda figures to miss most of the 2018 season after undergoing Tommy John surgery

Keep tabs on the top 50 free agents right here
Your one-stop shop for all things MLB Winter Meetings-related

The Angels knew about the first-degree sprain and still wanted to sign the potential ace, of...

The run on relievers continues with two more signings