The front page of the 'Pittsburgh Post-Gazette' from Jan. 2, 1973
It was Dec. 31, 1972 that the great Roberto Clemente died. Here's how his 'hometown' paper passed along the tragic news.
MORE: FA tracker: position players | FA tracker: pitchers
Every Dec. 31, baseball fans reflect upon the tragic passing of the luminous Roberto Clemente. Clemente, of course, died on New Year's Eve, 1972 when his plane went down shortly after takeoff, just beyond the shores of his native Puerto Rico. He was en route to deliver humanitarian relief-and-aid packages to survivors of an earthquake in Nicaragua. It was a hero's death mournfully befitting the hero's life that Clemente lived. 
As for Clemente's baseball home of Pittsburgh, here's how the Post-Gazette imparted the news to Pirates fans: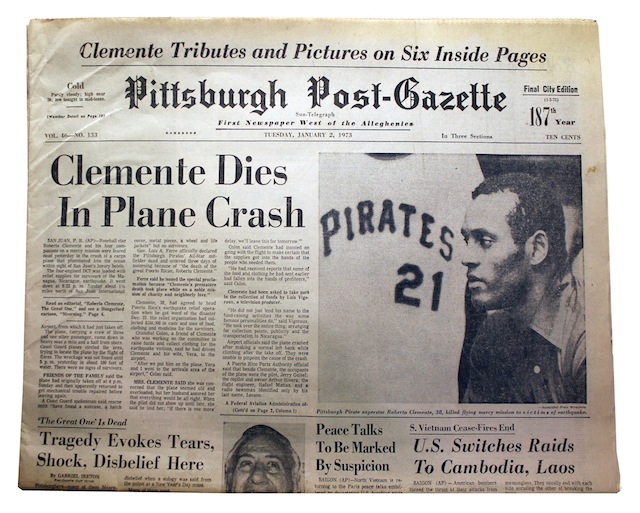 (Image: natedsanders.com)
Here's an enlarged version. 
"'The Great One' Is Dead," it reads just above the fold.
Manny Sanguillen, Clemente's long-time friend and teammate, would've been on that plane had he not earlier lost his car keys. Days after the crash, Sanguillen didn't attend a mass celebrating Clemente's life. Instead, he swam those waters searching for the body of his friend. It was never found.