The games will go on, but Friday in Boston was no day to play
Friday was a day like no other in Boston, and it was no day for baseball. The Red Sox made the right call in postponing their scheduled game with the Kansas City Royals. The games will go on, but not on this day.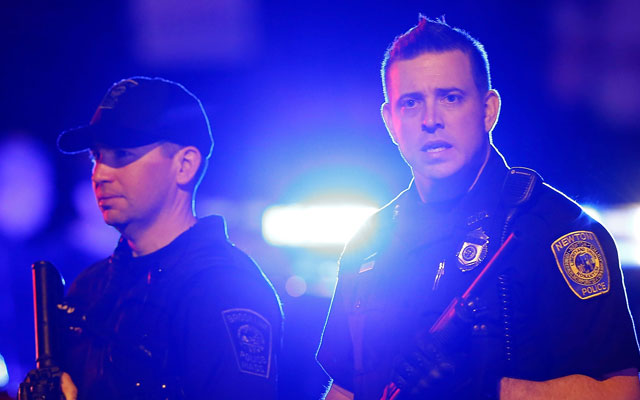 BOSTON -- I'm a mile from Fenway Park, and I really don't want to get any closer.
I'm a mile from Fenway Park, and the street in front of my hotel is filled with police cars, police vans and what appear to be Army transport vehicles. There's almost no one on the streets, but I did just see two tourists get their cameras out to take a picture of a Boston Police Special Operations van. Seriously.
Friday should have been a great day for baseball in this city. It feels like spring (72 degrees outside as I write this), and the Red Sox came home from Cleveland in first place in the American League East. They have an exciting team that has embraced this city, a team that would no doubt love to take the field at Fenway and carry that emotion to their fans.
Friday wasn't the day to do it. Friday wasn't a time for baseball, not in a city that spent the day under lockdown.
Offices were closed. Restaurants were closed. There was a supermarket open, but people walked the aisles quietly, looking straight ahead.
No, postponing this game didn't mean the terrorists won. Postponing this game simply meant common sense prevailed.
The games will go on. The Red Sox will play. Just not on this night.
The Red Sox said they followed the lead of government agencies. They said they "didn't want to cause any distraction for what's important here," as chief operating officer Sam Kennedy told WEEI.com. "And what's important here is they find this guy."
All day, the picture of suspect Dzhokhar Tsarnaev remained on Boston television screens, continuing to haunt this city four days after he and his brother allegedly set off the Boston Marathon bombs. One report had him in a car. Another had him on a train.
It wasn't until early Friday evening that reports indicated that Tsarnaev had been cornered, and it wasn't until nearly 9 p.m. Friday that officials were able to say that they had taken Tsarnaev into custody.
CBSSports.com college basketball writer Jeff Goodman, who lives near Boston, tweeted that the crowd at a local restaurant burst into cheers at the news.
The cheers for the Red Sox could wait. Now, with Tsarnaev in custody, the Red Sox expect to play their scheduled Saturday afternoon game against the Royals.
By then, this city may be able to think about baseball again.
Friday, there was no time for that. On television, on radio and in everyone's minds, there was only time for the manhunt.
The coverage was nonstop. The questions were nonstop. The answers were hardly clear, but the fear was real.
One report had Tsarnaev in a car. Another had him on a train.
A friend who covers the Celtics was on an early morning Amtrak Acela from Boston to New York. Twice, his train was stopped and searched, with bomb-sniffing dogs going down the aisle.
My train from New York made one longer-than-expected stop and never did make it past Providence, R.I. There were no trains between Providence and Boston, no commuter rail or public transportation in Boston at all, no taxis allowed in the city for a good part of the morning.
Later in the day, all service between Boston and New York was suspended.
We made it to Providence, and a fellow passenger and I rented a car to go the rest of the way. He knew the area well and marveled at the lack of traffic where Interstate 93 meets Route 3.
As we made it into town, the highways were almost deserted. On to Storrow Drive, which is normally crowded at any time, let alone at midday on a Friday.
We found a parking garage, but before we could go in, the security guard outside asked to search the trunk. Along the streets, the signs directing families where to wait after the marathon were still up. Down the block, past where officers had the street blocked off, trash cans were still upended, apparently not touched since Monday's bombing.
A police officer stood guard at the end of the street near my hotel. Down the block, men wearing FBI jackets walked in and out of another hotel.
So, no, this wasn't a night for baseball.
I'd been looking forward to Friday's game, and even more to Friday's Fenway atmosphere. I've been coming to Boston for nearly three decades to cover Red Sox games. I've seen Fenway celebrate, I've seen Fenway disappointed and I've seen Fenway upset.
This was going to be different. This still will be different, whenever they feel it's safe and right to play again.
It could be Saturday, when the Red Sox and Royals are scheduled to play at 1:10 p.m.
This city won't yet be back to normal by then, but the time could well be right for baseball.
Friday, the time wasn't right. Friday wasn't the day to play.
Sheffield has the numbers to make it to Cooperstown, but he has received very little suppo...

Granderson heads north of the border for his age-37 season

What did the Pirates get in return for their franchise player?
Rivero could remain in Pittsburgh for some time to come

The White Sox, Angels, Athletics, Orioles and Marlins are the holdouts after Blue Jays fol...

The Pirates have several attractive trade chips if they decide to go into a full rebuild