The Good Life: Verlander living a dream, but would like Max to stay
Tigers star Justin Verlander, who's living the good life, has said he'd stay out of Max Scherzer's contract talk. But there's no doubt he wants him around.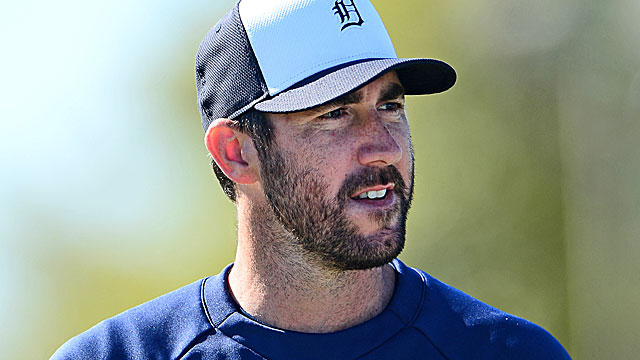 LAKELAND, Fla. – Tigers superstar pitcher Justin Verlander drove here to the Tigers rustic, old-school facility in a yellow Ferrari. And we all know which supermodel he hangs out with. So who's he to complain that he's no longer baseball's best-paid pitcher, eclipsed within a year by Clayton Kershaw?
Not Verlander, that's sure.
Asked if it bothers him that he's no longer baseball's best paid pitcher, and is No. 2 (by a lot), Verlander doesn't hesitate.
"Life is going pretty well,'' Verlander said recently by his locker in the decidedly non-luxurious Tigers clubhouse.
By all appearances, that would seem to be a pretty fair summation of how things are for Verlander, a smart and savvy fellow (not to mention talented) who's living out the American dream in more ways than one. Verlander got an extension late last spring that left him with $180 million over seven seasons, a pretty fair chunk of change for someone who'd just turned 30 (he's now 31). So he has no hard feelings over Kershaw eclipsing him with his own $215 million, seven-year deal.
"Why not Kershaw?" Verlander said. "He's had three, four, five good years in a row, and he's what, four, five years younger than I am."
No sir, Verlander isn't looking back.
Even if he had a typical Verlander year in 2013 -- he didn't quite pitch to his usual standard of domination and was 13-12 with a 3.46 ERA -- why would he? The Tigers showed how much they appreciated him with that record deal.
"I got the best contract at the time," Verlander said. "I wanted to stay in Detroit. We made it work. It also helped change the market."
Verlander isn't just a guy who overpowers you with his stuff, though he definitely can do that. He is one of the more cerebral guys in the game. He understands his place, and also the role of everyone around him.
So of course he knows how vital to the future success of the team Max Scherzer -- who's next up for a deal -- is. Verlander has said he won't campaign for Scherzer to stay, though he waffles a bit on that score. "I may ask him, I may not," Verlander said, acknowledging that ultimately it's up to Scherzer.
That doesn't mean he's above dropping a hint or two.
"Do I want him to stay? Of course," Verlander said about Scherzer. "Over the last year, year and a half, he's moved into the echelon of pitcher everyone expected him to be. It wasn't just last year but the second half of the year before, too. Yeah, I want him [here]."
Without talking directly to Scherzer, he makes a good case for staying -- though, it won't be an easy sign, as is mentioned here in this story. "We have, in my opinion, the best owner in baseball. He's got the will to win," Verlander said. "In free agency, how many teams would you say that about?"
The Tigers certainly have put together a winning nucleus. "[GM Dave Dombrowski] does a good job of bringing personalities to win," Verlander said. "I think he does his research."
The recipe for success is obvious. "If you have three strong starting pitchers that makes for a very formidable team year after year," Verlander noted. On that score, the Tigers also have Anibal Sanchez, who led the AL in ERA last year.
In actuality, the first thing the Tigers need this year is for Verlander to be himself following a rare off year and core muscle surgery (like a sports hernia) Verlander didn't realize he needed so badly. When they did the MRI, his right side was nearly as bad as his left, and he had no idea. He just pitched through it, no questions. No one should be surprised if he's back to his old self this year now that he's been repaired.
In the meantime, there will be some worry in Detroit if he'll be ready. There shouldn't be.
"I don't feel a thing," Verlander said. "I'm to the point where I don't even think about that area."
 He may be a bit behind his usual schedule, but Verlander is as good as any at pacing himself. As we know, he's a guy who may throw in the low 90s in the first few innings, then in the high 90s (or higher) in the last few. (He topped out at 99.9 last year, but has reached 100 at times, topping at 102 in 2007.)
"I do what's necessary," he said.
He takes his craft as seriously as anyone, and understands what's necessary better than anyone. It'd be a shock if he wasn't in the rotation all year. Folks around the Tigers don't doubt Verlander will pitch opening week.
"My goal is to be ready by the start of the season," Verlander said. "I find it very probable that I will be ready."
The way things are going for him in life, you'd be a fool to doubt him.
I've only been in the BBWAA three years, but here's what my ballot would've looked like this...

In the last two votes, Clemens has gained nearly 17 percent in Hall of Fame voting

The results of the BBWAA Hall of Fame vote are revealed Wednesday, Jan. 24
Does the Jackson signing mean the Giants are out on Lorenzo Cain?

Acuna edged out Shohei Ohtani and Vladimir Guerrero Jr.

There's no reason to run over the cases for and against Bonds, so let's have fun instead