The great Tony Gwynn will be remembered for two amazing talents
Tony Gwynn, who lost a four-year battle with cancer Monday, wasn't just a great hitter.
More: Gwynn's place in history | Gwynn's days as a hoops star | Latest news & notes
Tony Gwynn will be recalled for being as fine a person as he was a hitter, and that says something for a man who won as many or more batting titles than anyone except Ty Cobb.
The news of Gwynn's passing at the unfair age of 54 after a four-year battle with cancer struck folks all over the country hard, but especially so in his adopted hometown of San Diego where he was, as longtime friend, former Padres beat writer and Gwynn book collaborator Barry Bloom of MLB.com called him upon announcing the news, Mr. Padre.
Folks all over Twitter were mourning the passing of baseball's gentlest soul. So you can only imagine how those who knew him well felt.
"Yes it's true, very sad day and have lost a dear friend," Gwynn's long-time agent John Boggs texted in one of the most poignant messages sent.
Gwynn was special, of course, because he could hit a baseball like almost no one else ever could. But it was more than that. He was the superstar who never, even once, acted like one. He treated everyone with kindness and understanding. He never checked a circulation figure before granting an interview. No big-time ballplayer was more approachable, in his day or since.
How great a hitter was Gwynn? Well, he hit .338 for his career, which is better than anyone who' has played in the past 50 years, and better than anyone who has played in the past 70 except Ted Williams. Which means, he's the best hitter, judging by batting average, a majority of Americans can claim to have seen live.
Hard to believe, Gwynn hit .429 against the incomparable Greg Maddux, with 39 hits in 91 at-bats. Even harder to believe, Gwynn never once struck out against Maddux. (Even Maddux marveled at this, once joking that the one time he had him whiffed in one at-bat, Gwynn got the call.)
It's a shame the 1994 baseball season ended prematurely and abruptly due to the work stoppage because Gwynn may have become the first since Williams in 1941 to hit .400. When the season was called, he was tantalizingly close, at .394.
Gwynn never complained, never claimed he would have done it. He just marched on, collecting batting hits and batting titles. He had seven hits titles, eight batting titles.
Hard to believe, the lowest batting average he posted in years when he qualified for a batting tile was .313. And yes, he did win the title in that 1988 season, which also happens to be the only full season he played where he wasn't an All-Star. He never stopped hitting. Even in his last two years he hit .323 and .324. He could hit forever, he just ran out of gas.
In all those 20 years as a Padre icon, he never came close to leaving San Diego, never once considered it. Gwynn loved the area as much as its inhabitants loved him. He stayed in the area to coach at San Diego State, where he became a beloved mentor to Stephen Strasburg and many others.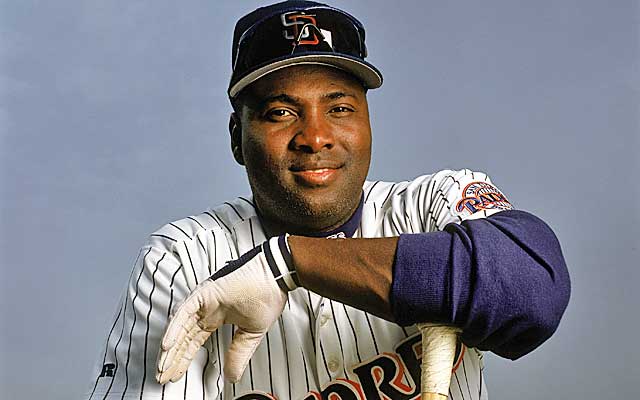 San Diego was lucky to have him. Truly, there may never be such a hitter again in baseball.  Even with better ballparks in which to hit, pitching and strikeouts are up. Gwynn never struck out more than 40 times in a single season. That sounds almost comical in this day.
Gwynn was born to hit, yet basketball was his first love. He left his hometown of Long Beach, Calif., to go 90 miles south to San Diego State for a basketball scholarship, then only turned to baseball due to practicality.
Gwynn was drafted by the then-San Diego Clippers the same year the Padres made him a third-round pick (No. 59 overall), and he realized then that he was better suited for the diamond, that the pounding could curtail a career. Good call. He played 20 years, making 15 All-Star teams in 16 years at one point.
He started as a speedy center fielder, but eventually the basketball convert settled into right field, where he became a very fine all around player (he has five Gold Glove awards) with one incredible skill -- the ability to hit a baseball like no one in decades.
Unusually, he actually possessed two extraordinary skills, the other being the ability to be consistently friendly and kind, and to keep everyone around him at ease.
Hard to believe, this whole terrible episode with cancer (Gwynn blamed his use of dipping tobacco for the mouth cancer diagnosed four years ago) may be the first time any sort of consternation or sadness is associated with the great Padre.
Hard to believe he's gone, way too soon.
L.A. manager Dave Roberts indicated that Puig's benching was related to more than one inci...

Manager Torey Lovullo said so on Monday
Let's see how SportsLine forecasts the race for MLB's 10 playoff spots

Monday kicks off the final week of MLB action. Let's take a look at everything that went d...

No other rookie in baseball history has hit more home runs than Judge has this year