The growth of the 500 Home Run Club, through the years
Here's a look back at how the 500 Home Run Club grew from zero members to 26 over the course of history, in chronological order.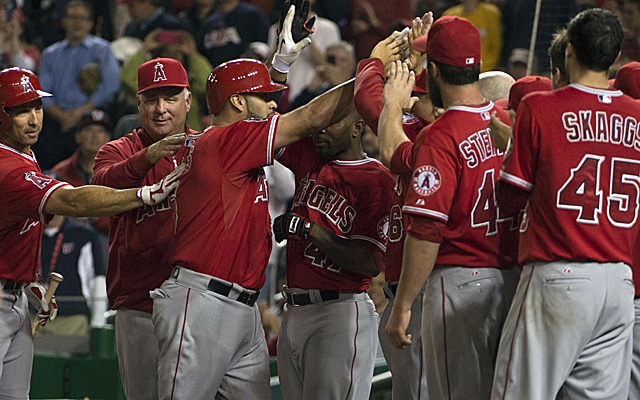 Related: Pujols clubs No. 500 | Leaderboarding: Pujols ranks among 500 Club

Albert Pujols became just the 26th man in the history of Major League Baseball to record 500 career home runs when he crushed one into the Washington D.C. night Tuesday.
How did the 500 Club grow from zero members to 26 over the years? Let's take a stroll down memory lane, shall we? We'll check out, in chronological order, when each member of the club achieved the milestone, going by decade.
1920s (1)
August 11, 1929: Babe Ruth became the first member of the club. He'd go on to hit a whopping 714 career homers, which places him third on the all-time list. 
1930s (0)
1940s (2)
Sept. 24, 1940: Jimmie Foxx finally joined the Babe's illustrious company when he hit No. 500 more than 11 years later. Double X would end up with 534 career bombs, which is now good for 17th on the career list.
Aug. 1, 1945: Mel Ott joined Foxx and Ruth. He'd only have a few more dingers left in him, as he'd end on 511. He currently sits 23rd all time.
1950s (0)
1960s (5)
June 17, 1960: Ruth, Foxx and Ott were alone for a while, but it was Teddy Ballgame who joined the fray almost 15 years after Ott. Ted Williams would end up with 521 homers -- note that he lost several seasons due to World War II -- ranking him in a tie for 18th place in history.
Sept. 13, 1965: Willie Mays started what looks like a mini-boom here in the mid-to-late '60s. He'd go all the way to 660 in his career, which is now fourth all time.
May 14, 1967: Mickey Mantle joined the fun here, en route to 536 career homers. He sits at 16th all-time.
July 14, 1967: Just two months after Mantle became the sixth member of the growing club, Eddie Mathews became the seventh. He ended with 512, which is tied for 21st.
July 4, 1968: Hank Aaron joined his teammate, Mathews, less than a year later. As we all know, Henry Aaron would end up with 755 homers, sitting at the top for a long, long time. He's now second.
1970s (4)
May 12, 1970: Ernie Banks was the next to join the club. He'd end up tied with Mathews with 512.
Aug. 8, 1971: Harmon Killebrew clubbed his 500th, as he was on his way to 573 in his career. He now sits at 11th all time.
Sept. 13, 1971: And now Frank Robinson became the seventh man to join the club in a seven-season span -- when the club previously only had four guys. The venerable Robinson would end up hitting 586 homers, good for ninth of all-time (though he was fourth for a while).
June 30, 1978: Willie McCovey became the first player to hit his 500th homer in almost seven years after the boom of the mid-'60s to early-'70s. He'd end his career with 521, tied for 18th.
1980s (2)
Sept. 17, 1984: The straw that stirs the drink here in the 500 Club was finally a member: Reggie Jackson. Mr. October would end up with 563 regular-season homers, which is good for 13th all-time.
April 18, 1987: Mike Schmidt joined the party, giving the 500 Club 16 members. Schmidt finished his outstanding career with 548 homers, which means he's now 15th in history.
1990s (2)
Sept. 6, 1996: Eddie Murray became the man who took the longest to reach 500 homers, when he did so in his 11,095th at-bat. He'd only hit four more and is currently 25th on the all-time list (before Pujols passes him within the next few weeks). Little did we know at the time the floodgates were about to open again.
Aug. 5, 1999: Mark McGwire became the fastest ever to 500, when he went deep for the 500th time in just his 5,487th at-bat. And Big Mac also started a brief trend ...
2000s (9)
April 17, 2001: I think it could still be argued at this point that the 500 Club hadn't yet gotten oversaturated from the so-called "Steroid Era," but that point was right around the corner. For now, though, the great Barry Bonds joined. He wouldn't slow down, either, going all the way past Mr. Aaron and topping the charts at 762.
April 4, 2003: Sammy Sosa hopped his way into the group. He'd go all the way to 609, putting him eighth in history.
May 11, 2003: Just over a month later, Rafael Palmeiro joined Sosa and company. He'd eventually run his total to 569, putting him 12th.
June 20, 2004: Ken Griffey Jr. joined in on the fun and he could keep going all the way to 630 in his career. He's sixth all-time.
June 28, 2007: Newly-elected Hall of Famer Frank Thomas became the 23rd member of this illustrious club. He'd end up with 521 dingers, tying him with Williams and McCovey for 18th in history.
Aug. 8, 2007: Public Enemy No. 1 Alex Rodriguez hit No. 500 on this day. He's sitting at home suspended with 654 to his credit now -- trailing only Bonds, Aaron, Ruth and Mays.
Sept. 16, 2007: Just over a month later, it was Jim Thome getting in on the action. He'd also go over 600, getting to 612 in his underrated career. He's seventh all time.
May 31, 2008: The fourth man in less than a year to join the club? Why not. It was Manny Ramirez this time. He's got 555 in his career, which is 14th.
April 17, 2009: Gary Sheffield became the 10th man in less than a decade to hit No. 500. He'd only have nine more in him and he's 24th on the all-time list before Pujols sails by him.
2010s (1)
April 22, 2014: Congratulations, Albert Pujols, for joining the elite group. How far can he get? He's 34 and is signed with the Angels for another seven years after this one. He's also leading the majors with eight homers right now and looks pretty locked in. Time will tell. For now, he's just the 26th member of the 500 Home Run Club.
The reliever had a very good 2017 season with the NL Central champs

We don't need to discuss Chipper's Hall of Fame case, so let's have fun instead

Dioner Navarro still hopes to return someday
Christian Yelich's agent says his client's relationship with Marlins is 'irretrievably bro...

The free-agent market has been slow and one player is bracing for an even longer wait

The Mets didn't want to trade a young outfielder for an older one