The Hall of Fame case for and against Curt Schilling
As part of our ongoing series, let's look at the pros and cons of Curt Schilling insofar as his Hall of Fame candidacy is concerned.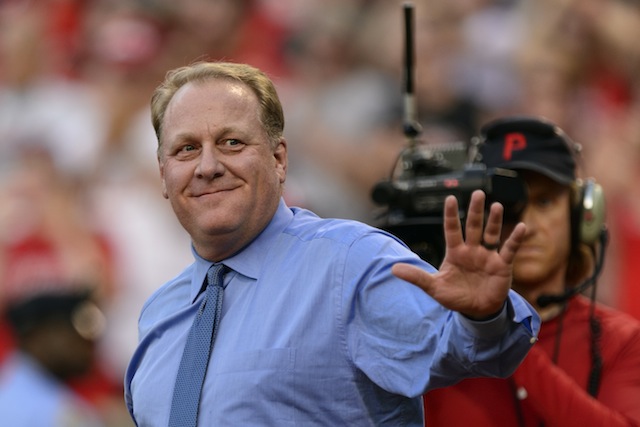 Hall of Fame cases: Luis Gonzalez | Moises Alou | Lee Smith | Fred McGriff | Don Mattingly | Jack Morris | Rafael Palmeiro | Sammy Sosa | Edgar Martinez | Jeff Kent | Alan Trammell | Larry Walker | Mark McGwire | Tom Glavine | Frank Thomas | Mike Piazza
We're mere days away from Jan. 8, when the BBWAA Hall of Fame voting results will reveal who will join managers Joe Torre, Bobby Cox and Tony La Russa in the 2014 Baseball Hall of Fame class.
In keeping with our previous posts on the 2014 candidates (see the above links), we'll now recap the cases for and against Curt Schilling. As a reminder, we're discussing the Hall of Fame merits and demerits of each player and not advocating one side or the other. After we state the pros and cons, it's up to you (and the voters, of course) to decide whether the player in question is worthy of a plaque.
Now, on to Mr. Schilling ...
The bare essentials
Across parts of 20 major-league seasons, Schilling went 216-146 (.597) with a 3.46 ERA and 127 ERA+ in 3,261 innings. He ended his career with 3,116 strikeouts, and three times he struck out 300 or more batters in a season. Six times Schilling made the All-Star team, and four times he finished in the top five of the Cy Young balloting. As for his postseason bestowals, more on that below.
The case for induction
Schilling is in the top 100 all-time in wins (82nd), WAR (62nd), ERA+ (46th), WHIP (47th), K/9 (22nd), strikeouts (15th), innings (96th) and K/BB ratio (2nd). When you look at the intersection of workload -- nine 200-inning seasons (including four 250-inning seasons) -- and keeping runs off the board -- that top-50 all-time ERA+ -- then Schilling's case is pretty strong as is. But then there's the postseason. 
Consider Schilling's playoff dossier: 19 starts, 11-2 record, 133 1/3 innings, 2.23 ERA, 120 strikeouts, 25 walks. Turning to a Bill James called "Game Score," which measures a starting pitcher's level of dominance in a given outing, Schilling is one of just seven pitchers to record a Game Score of 80 or more (which is very, very good) in three or more postseason starts. Along the way, Schilling was named NLCS MVP in 1993 for the Phillies and World Series co-MVP in 2001 for the Diamondbacks. In a related matter, Schilling ended his career with three World Series rings -- one for Arizona and two for the Red Sox.
In terms of dramatic narrative, it's of course hard to top Schilling's "bloody sock" start in the 2004 ALCS ... 
Beyond that, Schilling was also a rarity in terms of his stamina, at least in the contemporary era. The innings totals are noted above, and Schilling once led the majors in complete games and three times led his league. Over the first 12 seasons of his career, he completed more than one out of every four starts he made. In the context of his era, when the complete game was in precipitous decline, that's fairly remarkable.
The case against induction
Some voters might see Schilling's 216 wins as being a little lacking, at least as Hall of Fame standards for starting pitchers go. After all, just 16 starting pitchers have made the Hall with fewer than Schilling's 216 victories. In contrast, 44 inducted starting pitchers have more than 216 wins. The flaws of pitcher win-loss records are deep and undeniable, but there's no denying that some voters still weigh it heavily.
On that point, though, it's worth noting that over his career, Schilling didn't enjoy particularly great luck in terms of run and bullpen support. For instance, he logged just 19 "cheap" wins in his career (i.e., wins in which he didn't log a quality start) but was saddled with 41 "tough" losses (i.e., losses in which he did log a quality start). 
Otherwise, the case against Schilling in the here and now depends upon where he stands on a ballot positively brimming with worthies. Is he one of the 10 best on the 2014 roll call? That will be the question for many voters.
SATURDAY: The case for and against Craig Biggio
CBS Sports HQ Daily Newsletter
Get the best highlights and stories - yeah, just the good stuff handpicked by our team to start your day.
Please check the opt-in box to acknowledge that you would like to subscribe.
Thanks for signing up!
Keep an eye on your inbox for the latest sports news.
Sorry!
There was an error processing your subscription.
The Mets need a "lopsided" deal if they're going to deal the righty

From Manny Acta to Ron Washington, here are some potential candidates

Eovaldi's postseason heroics and youth make him an appealing candidate
Jansen missed nearly two weeks in August due to an irregular heartbeat

Davidson rounded the bases, but then needed help getting off the field

Sterling, the legendary Yankees broadcaster, is known for this call