The hardest thrower in the bigs isn't who you think; it's little-known Royals reliever Herrera
Twenty-two-year-old righthanded reliever Kelvin Herrera has the fastest "average'' fastball in the biggest leagues, even faster than you know who.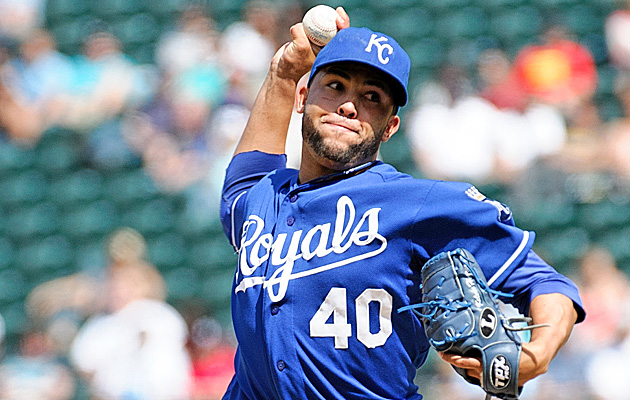 Herrera is consistently faster than flamboyant Reds closer Aroldis Chapman. (US Presswire)
Ask 100 fans of Major League Baseball who has the fastest fastball in the big leagues, and about 99 (key number here for another reason -- yes, the average velocity) will guess it's Reds star closer Aroldis Chapman.
But that's not true, at least not completely. If you go by a pitcher's average speed, the answer is the much lesser-known Kelvin Herrera, the fine right-handed reliever toiling almost anonymously in the heart of the Royals' bullpen.
According to Pitchf/x, Herrera throws his "average" fastball 98.6 mph, as Chris Quick (appropriately named in this case) of SweetSpot first pointed out. Chapman, no surprise here, is second at 97.9 mph.
If you go by individual pitches, Chapman wins, with five pitches at 102 mph, all thrown this summer, with Herrera the only other pitcher and the only American Leaguer to hit 102 mph on the gun this year according to Pitchf/x. His 102 mph blur was thrown in an April 14 game against the Indians' Carlos Santana, Herrera recalled by phone.
In any case, the 22-year-old Herrera wins on average because he is more consistently faster than Chapman, who draws all the attention as the Reds' flamboyant, flame-throwing Cuban refugee closer (and in the estimation of some, a Cy Young contender). Meanwhile, Herrera barely is noticed as the seventh- and sometimes eighth-inning man in Kansas City's deep pen.
The modest, soft-spoken Herrera (@KelvinHerrera40) said admiringly about Chapman by phone, "He's one of the great arms in the big leagues."
Though there's been less than 1/100th written about Herrera compared to Chapman, his arm ranks right up there. A couple of differences between the two lie in the story (Herrera is more of a typical signing from the Dominican, though the Royals' executive responsible, Rene Francisco, admitted they were "lucky" to get him) and the standings (the Reds are in first, the Royals are not).
But the biggest difference is strikeouts. Chapman is whiffing a ridiculous two batters per inning while Herrera, who is 1-2 with a 2.59 ERA, is at the more conventional (yet still excellent) strikeout an inning.
The reason for the strikeout discrepancy quite likely has to do with Chapman's dominating breaking ball. Herrera's second pitch is a very nice changeup, but he is still working to recapture the magic of a great curveball he flashed as the surprise Royals tryout sensation five years ago.
The shock that day was for the Royals, whose scouts had assembled prospects, and Herrera wasn't one of them. Herrera merely was a kid from nearby Tenares sitting in the stands who had tagged along with a best buddy who was on the tryout list when he asked Royals scout Orlando Estevez if he could throw a few pitches.
Herrera was an outfielder in the Tenares neighborhood where he grew up just down the road from the Royals' old academy in Salcedo. But his best skill was his arm, so he figured he'd give it a try.
He threw a few fastballs, then flashed one curve, and Royals people said that was enough. A few days later they signed him for $15,000, just enough to pay for a life-saving surgical procedure for his mother, Maria, who didn't have insurance. Herrera said she is fine now.
Then 17, Herrera was throwing about 94 mph and had a brilliant breaking ball, but his full genius wasn't seen until four years later, after he weathered a couple arm injuries and a switch to the bullpen that allowed him to air it out. Royals people and competitors are a bit shocked, as Herrera is only 5-foot-10 and 198 pounds. Though Francisco, who signed Rafael Furcal and others while with the Braves, points out that Pedro Martinez was only about as tall (and much thinner), and that the velocity comes from a magic arm and mehanics.
"He was always an undersized guy with a real fast arm," Royals GM Dayton Moore said of Herrera, who has allowed 57 hits but walked only 13 to go with 62 strikeouts in 64 innings.
After the Royals' decision to switch Herrera from starting to the bullpen, he just "took off,"+ Moore said.
Herrera said he could come up with no explanation for his 99 mph average fastball (though throwing 94 mph at 17 isn't common either). "I feel the same," he said. "It's just going harder."
He's currently in the middle of the Royals' bullpen but could be a closer candidate, or he might even return to starting if the curve comes around. In the meantime, he's performing amazing feats in relative anonymity. Ten days ago, after allowing singles to Dayan Viciedo and Gordon Beckham of the White Sox, he whiffed DeWayne Wise, Kevin Youkilis and Adam Dunn consecutively on 100 mph fastballs in a 4-2 victory in the Royals' stunning sweep of the AL Central leader.
His bosses, even the ones who saw him that fateful day in Salcedo, are as modest as Herrera about what's going on.
"We never thought he was going to throw 100 mph. He always had a very clean arm action and had the ability to spin the ball," Francisco said. "The way we signed him it was luck. God was looking after us."
The former Braves star served as a race official for the Daytona 500

He'd be a good fit in the Bronx, but can they make it work and still stay under the luxury...

The slugger had shoulder surgery in November
Tebow reported to spring training with Mets position players on Sunday

Santa Clara senior Jake Brodt did the honors Saturday

Eric Hosmer's eight-year contract with San Diego has wide-ranging ramifications