The King belongs to the Mariners (and no, you can't have him)
The Mariners are closing in on a record $175 million deal with Felix Hernandez, which means yet another of baseball's biggest stars won't get to the free-agent market. The financial playing field isn't level, but there's so much money in the game that most teams can find a way to sign their best players.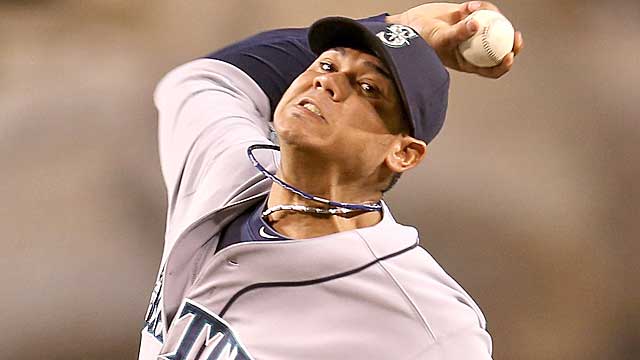 Hernandez's mega-deal means the Mariners won't lose another franchise player in his prime. (Getty Images)
Yes, the money's huge. Yes, it's a lot of years for a pitcher, even a 26-year-old pitcher.

But the biggest thing to take away from Felix Hernandez's almost-agreed-to seven-year, $175 million deal with the Mariners is that yet another big star won't be getting to the free-agent market.

And yet another team that doesn't play in one of baseball's biggest markets is keeping its biggest star.

For all their money, the Yankees can't get King Felix.

It's a constant concern in baseball, which operates without a salary cap and with a severely uneven financial playing field. But what has happened in the game is that the revenues have grown dramatically all over the game, to the point where small- and mid-market teams can and do keep many of their stars.

Not all of them, for sure. Albert Pujols left the Cardinals. Prince Fielder left the Brewers (but they kept Ryan Braun). The Indians traded away CC Sabathia and Cliff Lee rather than lose them.

But Joey Votto stayed with the Reds. Joe Mauer stayed with the Twins (who now no doubt wish he hadn't). Cole Hamels stayed with the Phillies (who aren't exactly small-market but were supposed to have trouble keeping him away from all the Dodger dollars).

Now Felix stays in Seattle.

He always said he wanted to, but many chose not to believe him. The Mariners always said they didn't plan to trade him, but many chose not to believe them, either.

How could he stay? How could they pay him?

He did, and they did. Hernandez will get the biggest total contract ever given to a pitcher, and the seventh-biggest overall contract still in place.

Of the six players ahead of him on that list, two (Alex Rodriguez and Mark Teixeira) are Yankees. One (Pujols) is in Southern California.

But the others play in Cincinnati (Votto), Detroit (Fielder) and Minnesota (Mauer).

Huge contracts in those markets are huge risks, even more than in New York (where the Yankees would do anything to get out of A-Rod's deal) or Los Angeles (where the Angels may say the same about Pujols sometime before his deal runs out -- at age 42).

There's no doubt the Mariners are taking a big risk with this deal. The M's had an $85 million payroll in 2012. Even if it goes up quite a bit over the next few years, with more national television money and a new local deal as well, committing $25 million to one pitcher is dangerous.

But you can certainly understand why they're doing it. The Giants have won two of the last three World Series on the strength of their pitching, and that has meant committing nearly half of this year's payroll to starting pitchers.

The Tigers have been to the World Series twice and to the ALCS three times in Justin Verlander's seven seasons. They're already paying Verlander $20 million a year, a number that will grow if (when?) they get him signed to a new deal.

Hernandez's deal will give Verlander a number to shoot for, but the Tigers have already said they intend to keep him, and he has said he wants to find a way to stay. No one is betting on him becoming a free agent after 2014, as he could be if he's not signed.

Same goes for Clayton Kershaw. While Verlander is three years older than Hernandez, Kershaw is two years younger.

Verlander could break Felix's record even before the King throws his next official pitch. Colleague Jon Heyman suggested Thursday that while he thinks $160 million for six years would be a fair deal for Verlander, he thinks the Tigers will need to go to seven years and $180 million to get a deal done.

You can call it crazy money for a pitcher. You can say you wouldn't pay it.

But CC Sabathia added a guaranteed year to his contract last winter at $25 million. Hamels signed last summer for $24 million a year (on a six-year deal), and the Dodgers gave Zack Greinke $24.5 million a year for six years in December.

Greinke did get to the free-agent market. A few of the big ones still do.

Many more don't. More and more, teams have the money (and are willing to spend it) to lock up their biggest stars.

It's not a level playing field, not even close. But the biggest fear -- that the richest teams will always be able to get the best players -- hasn't played out.

The Yankees can't just buy Felix Hernandez.

He's not available.
The lefty starter is coming off a terrible season

After acquiring Ian Kinsler and Zack Cozart in recent days, the Angels are trending upward

Cozart's coming off a big season as the Reds' shortstop
The veteran slugger spent the last eight seasons with Cleveland

The Padres may be poised for an active winter

Yes, Bryce Harper is going to make a lot of money next winter