The Lineup: Ben Zobrist goes deep late, Astros get to Aroldis Chapman
Ben Zobrist's 10th-inning home run gave Tampa Bay a victory, while Matt Dominguez's home run was the first allowed by Aroldis Chapman since June. Justin Verlander goes to the mound Saturday against the Angels and C.J. Wilson.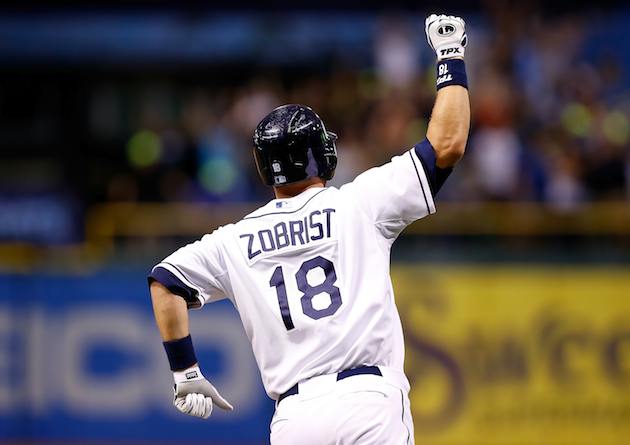 Ben Zobrist gave the Rays their 20th win in their last 30 games. (Getty Images)
The Yankees bounced back from their Thursday loss to retake the lead in the AL East with a victory over Baltimore. In the NL Central, Ryan Braun's 13th-inning homer gave Milwaukee a win in St. Louis. Meanwhile out west, the Giants took the first game against the Dodgers in an NL West showdown -- and that's not it, so let's get to it …
Full Friday results with box scores and recaps for all games






3 UP

Ben Zobrist, Rays: Zobrist's two-run homer in the 10th gave Tampa Bay a 3-1 victory over the Rangers and the team's 20th victory in its last 30 games. The Rays struck out 16 times in the game, but Zobrist and Evan Longoria both homered to score all three of Tampa Bay's runs.
Matt Dominguez, Astros: He didn't even start, but Jose Altuve's replacement sure finished. Dominguez hit a three-run homer off Aroldis Chapman to give Houston a 5-3 victory over the Reds. It was Chapman's first blown save in 28 chances. His last blown save was against the Twins on June 24. He has five blown saves this season. The first two hits off Chapman were bloops, but Dominguez came through with a blast. The four hits recorded by the Astros were twice as many as Chapman had allowed in any outing this season.
Starlin Castro, Cubs: Castro's fifth-inning single was his second hit of the night and 500th of his career. He became only the 28th player in MLB history to record 500 hits before turning 23. He finished 3 for 5 with four RBI. 
3 DOWN

Pittsburgh Pirates: It's never good when you have three more errors than hits. Pittsburgh committed seven errors in its 12-2 loss to the Cubs while managing only four hits. The Pirates managed only one hit off starter Travis Wood in his six innings of work and added three of their four hits (and both runs) in the eighth inning. Meanwhile, outfielder Starling Marte committed two errors, as did second baseman Brock Holt. Also adding errors were catcher Rod Barajas, first baseman Gaby Sanchez and shortstop Josh Harrison. Pittsburgh has lost 11 of its last 16, and all of a sudden a .500 finish doesn't seem as certain as it once did. The Pirates fell to 72-65.
Wei-Yin Chen, Orioles: After retiring nine of the first 10 batters that he faced, he got into trouble in the fourth. First, he hit Nick Swisher and walked Robinson Cano to set up Russell Martin's three-run homer. Steve Pearce added a two-run homer in the inning. He then gave up another home run in the fifth, a two-run shot by Alex Rodriguez.
Liam Hendriks, Twins: Hendriks started his 16th career game in the big leagues on Friday and is still looking for his first win. The Australian allowed four runs on eight hits, walking three and striking out two in five innings. He didn't figure in the decision, but he's still searching for that first W. Only four pitchers have begun their careers with more starts without picking up a win -- Bill Caudill (20 from 1979-81), Mike Mohler (20 from 1993-97), Craig Anderson (17 from 1962-64) and Jason Hammel (17 from 2007-07).

Medlen on the mound: Braves right-hander Kris Medlen hasn't allowed an earned run in his last 37 1/3 innings going into Saturday's game against the Mets. Medlen has two complete games in his past four starts, and his team has won each of the last 18 games he has started. 4:05 p.m. ET
Lefties in Baltimore: The Yankees hope CC Sabathia can guarantee at least a split in their series in Baltimore and a division lead when they leave town. The Yankees send their ace to the mound in the third game of the series against the upstart Orioles. Sabathia is 1-1 with a 2.53 ERA in three starts since coming off the disabled list. Former Diamondback Joe Saunders is making his third start for Baltimore. After a disastrous debut with the Orioles, he rebounded, throwing 6 1/3 shutout innings in his second start with his new team, a victory over the Blue Jays last week. 7:05 p.m. ET
Aces on tap: Detroit sends Justin Verlander to the mound against C.J. Wilson and the Angels. The last time that Verlander faced the Angels, he took a no-hitter into the eighth inning last July. That game is better remembered for the feud between Jered Weaver and Carlos Guillen. 9:05 p.m. ET
• October storm warning: With MLB squeezing in another wild card this season, there's a potential nightmare situation if a tie-breaker game is needed. ESPN.com's Jayson Stark breaks down what could go wrong.
• Everyone loves a list: MLB.com re-ranks its top 100 prospects. Two of the top three -- Jurickson Profar and Manny Machado -- are currently on big league rosters.
• Not the problem: Since Ichiro Suzuki was traded from the Mariners to the Yankees, his former team is 25-17 while his new team is 20-23, but Seattle Times beat writer Geoff Baker argues it's a coincidence.
• The first curve: Was Candy Cummings the first pitcher to throw a curveball, or was he just the best publicist? John Thorn of MLB unearths this fascinating article Cummings wrote in 1908.
• 'Rooker's unintentional walk': Jim Rooker recalls his walk from Philadelphia to Pittsburgh in 1989. [Seamheads.com]
• Fun with sepia filters: Thanks to NotGraphs for bringing this beauty to our attention:
• Time lapse fun: And another video, this one is a gorgeous time lapse of Great American Ball Park in Cincinnati (thanks to Better off Red):
For more baseball news, rumors and analysis, follow @EyeOnBaseball on Twitter, subscribe to the RSS feed and "like" us on Facebook.
Dodgers manager Dave Roberts on Sunday announced his World Series rotation for the first four...

How should the Astros play it when one of their two aces isn't on the mound against the Do...

The former big-league infielder also worked as GM of the Puerto Rico national team
The Indians pitching coach would be getting his first MLB managerial job

In the last several years, lots of droughts have ended in MLB

The most likely scenarios are Dodgers winning in five or six games