The Lineup: Chipper Jones homers in return to Braves' lineup
Chipper Jones' home run helped the Braves win their first game of the season on Tuesday, while Wednesday features a several attractive pitching matchups.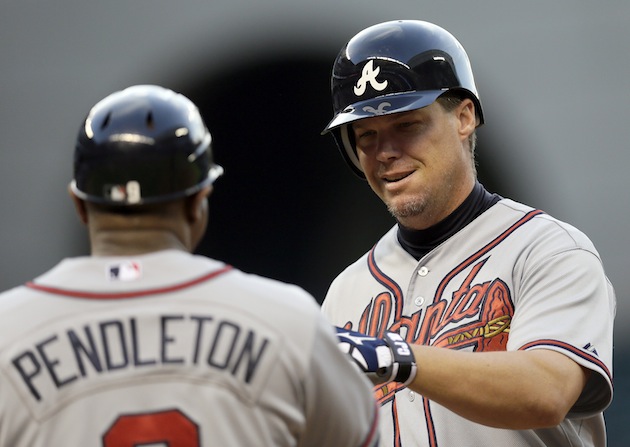 The Diamondbacks and Tigers are stil undefeated thanks to late-inning heroics, while the Mets proved human and the Braves showed signs of life with their first victory over the season.
3 UPChipper Jones, Braves.
Someone in
Atlanta
may want to try to talk Jones out of retirement. After four losses to start the season with Jones on the DL, the team activated the future Hall of Famer on Tuesday and he immediately made an impact. Jones hit a three-run homer in the third inning. He also added a single later in the game.
David Freese, Carlinals.
Maybe he should just have a permanent spot in the 3 Up. Freese went 2 for 3 with a two-run homer in the
Cardinals
' 3-1 victory in
Cincinnati
on Tuesday, making it the fifth time in six games this season he's recorded multiple hits in a game. He also has 10 RBI so far this season.
Neftali Feliz, Rangers.
In his first start in the big leagues, the former Rookie of the Year, threw seven scoreless innings, allowing just four hits. His seven innings was the longest start by a Rangers starter in the first time through the rotation.
3 DOWNFreddy Garcia, Yankees.
It's never good when you have more wild pitches than innings pitched. Garcia also gave up four runs (three earned) on four hits in 4 2/3 innings.
Paul Maholm, Cubs.
It didn't have the hype of
Yu Darvish
's debut a night earlier, but the first inning of Maholm's Cubs debut took nearly as long. The left-hander needed 41 pitches to get through the five-run top of the first for the
Brewers
. Maholm walked two, hit two and gave up two hits, including ALex Gonzalez's three-run homer.
Athletics offense
. Mother nature served a bit of mercy to the A's on Tuesday, as their game with the
Royals
was called after a rain delay in the eighth inning, good for a 3-0 Royals victory.
Oakland
managed just a single hit off of Royals left-handed starter
Danny Duffy
and reliever
Aaron Crow
. The two combined to strike out 10 in seven innings of work. The lone hit was shortstop
Cliff Pennington
's third-inning double.
Ace on Ace action:
James Shields
did look much like an ace in the Rays' opener, giving up six earned runs on nine hits against the Yankees, but
Tampa Bay
still managed to get the win.
Justin Verlander
, on the other hand, allowed just two hits in his first outing of the season, but picked up a no decision on opening day.
1:05 p.m. ETAce on Ace action 2:
It'll be interesting to see if the Mets'
Johan Santana
can repeat his opening-day brilliance. Last week he limited the Braves to just two hits in five innings in a
New York
victory. Likewise,
Stephen Strasburg
looked as dominant as ever in his first start of the season, giving up five hits and striking out five against the Cubs. Like Santana, he pitched well enough to win, but didn't get the W, despite his team's victory.
1:10 p.m. ETAce on Ace action 3:
Josh Johnson
can look unhittable at times, but last week's start wasn't one of them, as he allowed 10 hits to the Cardinals in the opening of
Marlins
Park. All those spring training concerns over
Roy Halladay
's velocity seemed a little silly last week when he held the
Pirates
to two hits over eight scoreless innings.
7:05 p.m. ET
Wednesday's full schedule
• Celebrating in style:
Tuesday night was the 50th anniversary of the first game in Astros' franchise history. And for a team that has struggled to find a good looking uniform throughout their history, it seems they had it right in the beginning. The team played in its original Colt .45s uniforms against the Braves, and they looked fantastic -- especially those who chose to show their stirrups, like second baseman
Jose Altuve
below.
Here's the game story from the Houston Chronicle from 50 years ago of the Colts' 11-2 victory over the Cubs on April 10, 1962
.
• Other anniversaries:
Tuesday was also the 50th anniversary of Dodger Stadium's debut and today marks 50 years since the Mets played their first game.
It's also the 100th anniversary of the first game at Cincinnati's old Crosley Field,
which opened as Redland Field on April 11, 1912
. The Reds left Crosley Field for Riverfront Stadium in the middle of the 1970 season. In addition to the story,
check out the video of Cincinnati Enquirer reporter Howard Wilkinson's visit to the site
of the former Reds home. There's also a
3D animation
, along with pictures, including the overflow of fans on the field for the first game.
It was a banner year for new parks in 1912, in addition to Redland Field, you also had Navin Field (later to become Tiger Stadium) in
Detroit
and Fenway Park in
Boston
.
• SABR GM:
New
Angels
general manager Jerry Dipoto
refers to himself as a "card-carrying member of SABR" and uses advanced statistics in his job
.
• Morse suffers setback:
Nationals
outfielder Michael Morse was expected to return this week from a strained right lat muscle,
but he suffered a setback on Monday and is out indefinitely
.
• Ray and the green jacket:
James Shields and I have something in common, we've both
played a round of golf with Masters champion Bubba Watson
.
• College player threatened:
If you missed the video of the cheap shot by Yavapai College freshman Austin O'Such,
go watch it now
. It was a cowardly act -- but two wrongs don't make a right. The 18-year-old
has left the Arizona junior college after receiving numerous threats from across the country
. The school suggested he return home to California. He is still enrolled in school and is taking classes online.

Neshek and the Phillies are closing on a two-year contract

And the team that first drafted Cole is interested

This scout was SUPER into Jeter
Stanton warned Marlins fans about the lean years that are forthcoming

The World Series champions aren't complacent

Stanton swiped at his old team on his way out