The Lineup: Chipper's big day and celebrating America's birthday
Tuesday gave us great excitement, with two walk-off bombs, some outstanding pitching performances and plenty of offense as well -- especially from the White Sox. But one man stole the show ... It's The Lineup.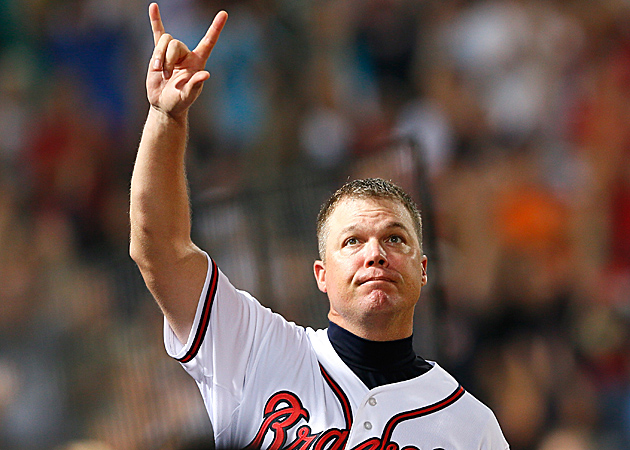 Tuesday gave us great excitement, with two walk-off bombs, some outstanding pitching performances and plenty of offense as well -- especially from the Chicago White Sox . But one man stole the show ...
Full Tuesday scoreboard with recaps and box scores for every game








3 UP

Chipper Jones , Atlanta Braves : On the day he found out he would be making a trip to the All-Star Game in this his final season, Jones did something he hasn't done since 2002: Collect five hits in a game. That includes two doubles and he also drove home four runs in a 10-3 Braves' victory. When lifted for a pinch-runner in the eighth inning, Jones received a standing ovation from the Atlanta fans and even got a curtain call.

Kevin Youkilis , White Sox: We really should put the whole White Sox team here for destroying the Texas Rangers 19-2, but Youkilis has extenuating circumstances. It was his first home game as a White Sox player, and he came through for his new home fans. Youkilis was 3-for-6 with a home run, three runs and four RBI. That'll endear him to The Cell faithful rather quickly.

Drew Sutton , Pittsburgh Pirates : Going 3-for-5 with two runs and an RBI looks pretty good anyway, but factor in that Sutton's lone RBI came on a walk-off homer and it looks a lot better. The Pirates once trailed 6-2, but clawed all the way back. They are now eight games over .500 after 80 games.

3 DOWN

Roy Oswalt , Rangers: Oswalt served up 13 hits -- including three homers -- and 11 runs (nine earned) in 4 2/3 innings to the White Sox. That's two consecutive starts in which Oswalt has allowed 13 hits.

Trevor Bauer , Arizona Diamondbacks : It's been a rough entry to the major leagues for the heavily-hyped rookie. Tuesday night, it was the light-hitting San Diego Padres that battered him for six hits and six earned runs in just 3 1/3 innings. Bauer now has a 9.82 ERA through two starts, which have lasted a total of only 7 1/3 innings.

Dan Haren , Los Angeles Angels : The Cleveland Indians crushed Haren Tuesday night to the tune of nine hits and seven runs (six earned) in 4 1/3 innings. The three-time All-Star has an 8.67 ERA, 1.89 WHIP and has allowed nine home runs in his last five starts. 








Independence Day in Washington D.C.: On our great country's 236th birthday, the Washington Nationals will play at 11:05 a.m. ET in our nation's capital. It's a game between two first-place ballclubs. We're given a great pitching matchup, too, as Edwin Jackson (4-4, 3.57) gets the ball for the Nats and Madison Bumgarner (10-4, 2.85) will pitch for the San Francisco Giants .

Twinkies streaking: Are the Minnesota Twins showing signs of life? They've now won five in a row and no longer have the worst record in the American League. They have a tall order Wednesday night to extend the streak, as they face Justin Verlander (8-4, 2.52) of the Detroit Tigers . Brian Duensing (1-3, 3.82) will pitch for Minnesota. 7:05 p.m. ET

Philadelphia Phillies streaking ... the other way: The Phillies are seemingly falling apart. They were dismantled, 11-1, by the New York Mets Tuesday night for their sixth straight loss. Wednesday, Cliff Lee looks to break his season-long winless drought. Chris Young (2-1, 3.30) gets the ball for the Mets in Citi Field. 1:10 p.m. ET
Wednesday's probable pitchers








• TV rights = $$$$: Major League Baseball's current TV deals with ESPN, Fox and Turner Broadcasting come to an end after the 2013 season. The league currently makes an average of $711 million per season and nytimes.com reports it stands to get even richer with the new deals. Reportedly likely to be in on the bidding are ESPN/ABC, NBC, Turner/CBS (!) and Fox.
• Speaking of TV money ... For next Tuesday's All-Star Game, Fox has sold each 30-second commercial slot for $550,000, reports adweek.com. Hmm, I'm sure someone out there is going to tell us baseball is "dying," right? That argument is still very popular among people who dislike baseball. Yep, here it is ...

• Incredibly lame and overplayed trashing of baseball alert: Rick Reilly is reportedly paid seven figures to offer up his stories occasionally to ESPN.com. His latest is an absolute hatchet job of baseball, with his complaint being that the pace of play is too slow and the game is boring. I find that interesting, considering Reilly loves golf. I don't have a problem with golf -- in fact, I quite like playing it -- but if you like it and also think baseball is slow and boring, it seems pretty contradictory. If you don't like baseball, that's fine, but it's faster and has more action than golf. Plus, one would think the highest-paid sportswriter in the country would be a bit more creative than breaking out an argument that's been beaten to a pulp for the past decade. (Via Hardball Talk)
• More on MLB popularity: Alright, so since I'm a bit riled up, I'll take this opportunity to point out that Major League Baseball attendance is booming. So far this year, MLB has pulled in almost one million more fans than at this point last season (BizofBaseball.com).

• Odd 'honeymoon:' With Carlos and Pamela Pena as their wedding party, Tampa Bay Rays catcher Jose Lobaton and now-wife Nina got married at home plate of Tropicana Field Monday. And then Lobaton caught Monday night's game. (Tampabay.com)

• What if ... ? If Ichiro Suzuki started his professional baseball career in America, would he have a shot at Pete Rose's all-time hits record? We can't just add his hits from Japan because the level of play isn't equal to the majors here. Beyond the Box Score crunches lots of numbers and figures he'd have 3,904 career MLB hits in this hypothetical situation, which means he'd probably run down Rose's 4,256 in a few years.

For more baseball news, rumors and analysis, follow @EyeOnBaseball on Twitter, subscribe to the RSS feed and "like" us on Facebook.
There have been several racially charged incidents at Fenway Park this year

Washington's right fielders have sputtered offensively since Harper went down

The good news? Wichita still has a chance to win the series Tuesday night
Soon more home runs will have been hit in 2017 than in any other season in MLB history

Ferrell somehow avoided going to the ground

Plus, we saw a possible AL Wild Card Game preview in the Bronx and lots more from around M...