The Lineup: Clutch home runs in pennant races; AL West battle looming
It's the Sunday night version of The Lineup, starring Prince Fielder, Yoenis Cespedes, Jordan Lyles and much more.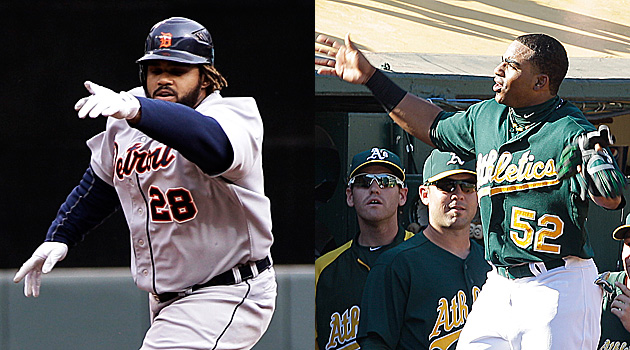 Each of these sluggers came up with a huge home run Sunday. (AP)


Huge Sunday of baseball, as there were several clinchings -- good and bad, the latter in the case of the Pirates' 20th straight losing season -- but we still have several spots up for grabs with just three regular season games remaining for all 30 teams. Let's get to it.

Full Sunday scoreboard with recaps and box scores for every game








3 UP

Prince Fielder, Tigers: The Tigers struggled offensively Sunday and entered the eighth inning trailing the Twins, 1-0. With Austin Jackson on first base, Fielder stepped to the plate and knocked a Jared Burton pitch into the left-field seats, giving the Tigers a 2-1 lead. They would hold the lead and now have a three-game lead over the White Sox with three games to play.

Yoenis Cespedes, Athletics: The A's were locked in a 2-2 tie with the Mariners in the bottom of the eighth when Cespedes sent a moonshot into the left-field seats. The A's would go on to win 5-2 and are actually within two games of the Rangers in the AL West now.

Jordan Lyles, Astros: Hey, we have room for some Astros love. We can't say Lyles single-handedly beat the Brewers, because his teammates played some defense behind him, but Lyles came damn close. He worked a complete-game shutout, allowing only four hits and a walk while striking out three. Lyles outscored the Brewers himself, too, as he hit a solo home run.

Bonus up: Mike Napoli utterly owns his former team. Wow.
3 DOWN

Luke Hochevar, Royals: He was brutalized by the lowly Indians Sunday, allowing nine earned runs in just 4 2/3 innings. The former number one overall pick finishes 2012 8-16 with a 5.73 ERA. He's now 29 years old and is 38-59 with a 5.39 ERA in his six-year career. I think it's pretty safe for the Royals to stop giving him chances and cut their losses.

The Kevin Youkilis trade, Red Sox: The Red Sox lost their corner infield depth when they traded Kevin Youkilis to the White Sox back in June. They got Zach Stewart and Brent Lillibridge (who now plays for the Indians) in return. Sunday, Stewart was shelled again, meaning he now is 1-4 with an 8.58 ERA this season.

Ervin Santana, Angels: Every game is a must-win for the Angels now and Santana was spotted four runs by his offense in the nightcap of the double dip in Arlington. And Santana couldn't even hold onto it for three innings. He ended up departing after 2 2/3 innings while allowing six runs on seven hits.








Head-to-head out West: The Rangers hold a two-game lead over the Athletics in the AL West, but it's time to start a three-game series between to the two. Each controls their own destiny, with the division winner getting to the ALDS and the second-place team needing to win a veritable play-in game this coming Friday. Game 1 of this series pits rookies Martin Perez (1-3, 5.03) and Jarrod Parker (12-8, 3.44) against each other. 10:05 p.m. ET

Clinching time? The Nationals have a magic number of one, so their next win (or Braves loss) means they'll be division champions. Washington D.C. has never had a baseball team win its division. John Lannan (4-0, 4.23) gets the ball for the Nats against Kyle Kendrick (10-12, 4.08) and the Phillies. 7:05 p.m. ET

NLDS preview? It wasn't possible in the old format, but in this new format, it's entirely possible the Reds and Cardinals square off in the NLDS. They kick off a three-game series in St. Louis Monday. The Cardinals hold a two-game lead over the Dodgers for the final NL playoff spot while the Reds enter Monday tied with the Nationals for the best record in baseball. It's Bronson Arroyo (12-9, 3.70) against Jaime Garcia (6-7, 3.99). 8:15 p.m. ET

Monday's probable pitchers








• AL MVP talk: Joe Posnanski breaks down the AL MVP race, with this beauty included: "I've already written that I think it does a great disservice to Mike Trout's MVP case to pin it on advance statistics. His case as the league's most valuable player is as old school as Jim Leyland's mustache." Much more, too. (JoeBlogs)

• WAR talk: Jonah Keri breaks down WAR for WGN-TV, for those who aren't familiar with WAR and are open-minded enough to want to know more about it.

• Rollins the run scorer: Phillies shortstop Jimmy Rollins has scored at least 100 runs in a season six times. MLB.com takes a look at the company this puts him in.

• Interesting perspective: If the rest of the Cubs take on the personality of Matt Garza, it would appear the new administration is well liked. Check out this quote from Garza, discussing what he told manager Dale Sveum: "We're on the verge of 100 losses," Garza said Sunday. "I just told him last year we were close to .500 and I hated every day of my life coming in here. It was miserable. ... This year, I'm not even performing and I look forward to coming in. I said: 'You brought that back. Thank you.'" CSNChicago.com has the full story, with more quotes from Garza painting a pretty terrible picture of 2011 Cubs manager Mike Quade.

• Score another win for David Price: This one in the friendly banter department ...
you went to vandy with me flash..its YOU'RE...id make firewood out of ur batsRT @rflaherty3: @davidprice14 your just lucky you pitched today

— David Price (@DAVIDprice14) October 1, 2012

For more baseball news, rumors and analysis, follow @EyeOnBaseball on Twitter, subscribe to the RSS feed and "like" us on Facebook.
The Nats will host the All-Star Game in 2018

The Orioles are looking to trade Machado heading into his walk year

The Cardinals have been linked for a while to the Baltimore star
Gallardo spent the first eight years of his career in Milwaukee

MLB revenues are at a record high right now, but teams aren't spending it on players

Chicago added Tyler Chatwood earlier this offseason but might not be done adding to the ro...