The Lineup: Dickey flies through shutout; two races tighten; A's can't lose
The two closest division races grew closer, the Reds extended their lead to 9.5 games, the Nationals extended theirs to 6.5 and the A's embarrassed the Red Sox. And much, much more. Let's check it out. It's The Lineup.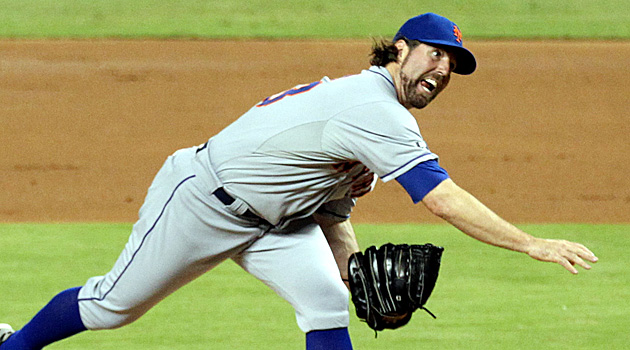 Dickey worked awfully fast in his shutout. (Getty Images)


The two closest division races grew closer, the Reds extended their lead to 9.5 games, the Nationals extended theirs to 6.5 and the A's embarrassed the Red Sox. And much, much more. Let's check it out.

Full Friday scoreboard with recaps and box scores for every game








3 UP

R.A. Dickey, Mets: He threw another shutout, his third of the season, which also amounted to his fifth complete game. That's not why he's here, though, because Dickey dominating the Marlins this season isn't unusual. We're going with Dickey in the top spot here because the game only took two hours and seven minutes. Talk about efficiently stifling an opponent.

Mark Reynolds/Miguel Gonzalez, Orioles: Credit goes to the whole team, actually, but let's stick with these two. Reynolds hit two homers on a 2-for-4 night and also made two sparkling defensive plays at first base (which you rarely hear). Gonzalez only allowed four hits and one walk in seven shutout innings while striking out nine -- which is a career-high. And the Orioles beat the Yankees, 6-1.  That means the Yankees' once double-digit lead is now down to just two games over the Orioles.

Ex-Red Sox against Red Sox: The A's utterly humiliated the Red Sox Friday night, 20-2. Most noteworthy in the shellacking, though, was three former Red Sox going absolutely nuts (Coco Crisp is also a former Red Sox, but he didn't join in on the party much). Josh Reddick, Brandon Moss and George Kottaras combined to go 9-for-15 with three doubles, four homers, 13 RBI and nine runs. Feats for each: Reddick hit a grand slam, Moss had four hits, drove home four and scored four while Kottaras had the first two-homer game of his career.

3 DOWN

Craig Kimbrel, Braves: Kimbrel entered Friday night having closed down 32 of his 34 save chances. He had a 1.13 ERA and had only allowed two homers all season. And yet he gave up a home run to Erik Kratz of the Phillies to blow the save Friday night. Digging deeper, Kratz's bomb came on an 0-2 count. Prior to that at-bat, hitters this season that faced an 0-2 count against Kimbrel were 5-for-73 (.068) with 55 strikeouts and zero extra-base hits. Wow.

The Giants: Madison Bumgarner was roughed up by the Cubs for six hits and five runs (four earned) in just four innings. Meanwhile, the Giants offense could only muster two runs on Chris Volstad in 5 2/3 innings of work. This shouldn't happen for first place teams.

Kevin Millwood's efficiency: Millwood allowed nine hits and four earned runs in five innings. He walked four, too. He's not here for that. No, he is listed here because he needed 117 pitches to get through five. That's 23.4 pitches per inning.








Creeping up in the East: As noted above, the Orioles are now within two of the Yankees. Saturday, it could be trimmed to one or bumped up to three. Wei-Yin Chen (12-7, 3.78) gets the ball for the O's while David Phelps (3-4, 2.96) will start for the Yankees. 1:05 p.m. ET

Creeping up in the Central: Just like above, a deficit has been trimmed to two in a head-to-head series. This one has the Tigers within two of the White Sox in the AL Central after winning Friday night. Francisco Liriano (5-10, 5.06) and the White Sox look to push it back to three while Max Scherzer (14-6, 4.13) and the Tigers are hoping to cut it to one. 7:05 p.m. ET

Eight for A's: The Athletics have now won seven in a row. Saturday, it's time to look for the eighth in a row. They face Felix Doubront (10-6, 4.79) and the Red Sox while A.J. Griffin (3-0, 2.42) toes the slab for the home team. 9:05 p.m. ET

Saturday's probable pitchers








• Ichiro the Mushroom Farmer/Mountain Supervisor: When in high school, what did you want to be when you grew up? I'm pretty sure I wanted to play in the majors. Ichiro Suzuki does, so did he achieve his dreams? Nope. Via NPB Tracker, which got its hands on a survey Ichiro took when he was in his third year of high school, Ichiro's dream was "managing a mushroom patch" and "a mountain supervisor" was his answer to what he wants to become in the future.

• Young Vin Scully: Flip Flop Fly Ballin' has a picture of Vin Scully from his first communion.

• When does a bat become a weapon? Georgia baseball player Kyle Carter has been arrested and charged with assault and having a weapon on school grounds. His weapon? A baseball bat. The other side alleges Carter wanted a woman to leave his dorm room and threatened her with his bat. His side?
"All that happened was that she was in the room. We were arguing, and she was asked by multiple people to leave," Carter told the Columbus Ledger-Enquirer. "She wouldn't leave, and she threatened me, so I picked up my bat, pointed it at the door and told her she had to leave right now. The charges are hopefully being dropped. My attorney is working on it right now. So, really, I'm not worried about anything."

• Ballpark of the Year: Baseballparks.com annually reviews ballparks at every level across America. This year's winner for best park? Pensacola Bayfront Stadium, home of the Pensacola Blue Wahoos, the Double-A affiliate of the Cincinnati Reds. (MiLB.com)

• No further comment: The Marlins are having Teenage Mutant Ninja Turtles Day Sunday. (Marlins.com)

For more baseball news, rumors and analysis, follow @EyeOnBaseball on Twitter, subscribe to the RSS feed and "like" us on Facebook.
No, you're not imagining things. This MLB offseason has been very slow compared to the last...

Francesa will retire from radio next month, so he'll have plenty of free time next summer

Get your sports fans something that they'll wear all year
Get 15 percent off any order of more than $75 at CBS Sports Shop

The Twins need help in the rotation, and they may look to the trade market to find arms

Here are the bullet-points of what went down Tuesday regarding MLB and the Braves' punishm...