The Lineup: Downtown goes Frazier; A-Rod calls his shots
The Reds' Todd Frazier hit a walk-off homer to beat the Braves, while Alex Rodriguez had his first multi-homer game in more than a year.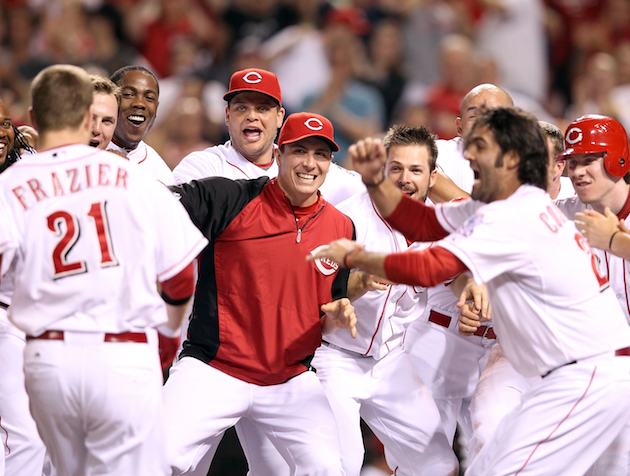 Cole Hamels
didn't hit
Bryce Harper
this time, and for more than five innings, the
Washington Nationals
couldn't hit Hamels. Although
Danny Espinosa
broke up the no-no in the sixth inning, Hamels didn't flinch, allowing just four hits in eight shutout innings, breaking the
Philadelphia Phillies
' four-game losing streak. Meanwhile in Phoenix, the
Los Angeles Dodgers
' six-game winning streak came to an end.
Wednesday's full scoreboard with box scores and recaps for all games
3 UP

Todd Frazier

,

Cincinnati Reds

.
With Scott Rolen out indefinitely, Frazier has a golden opportunity to show he can start in the big leagues. However, Frazier's struggled as a starter, hitting just .195 as a starter (8 for 41) and earned a day off on Tuesday. Back in the lineup on Wednesday, Frazier was hitless in his first three at-bats, but hit a one-out, walk-off homer off of the
Atlanta Braves
'
Cristhian Martinez
to give the Reds their fifth straight victory.
Alex Rodriguez

,

New York Yankees

.
On Tuesday, A-Rod said he was about to "go off." Wednesday he backed up his words, hitting two homers in the Yankees' victory over the
Kansas City Royals
after hitting just one home run in his previous 23 games. It was his first multi-homer game since May 17, 2011 and the 60th of his career.
Alex Liddi

,

Seattle Mariners

.
The first Italian-born player in the big leagues since 1962 hit his first career grand slam in Seattle's 5-3 victory over the
Texas Rangers
. Liddi has six career homers, only one has been solo. Of his 15 career RBI, 13 came as a result of a home run.
3 DOWN

Prince Fielder

,

Detroit Tigers

.
Who says first base defense doesn't matter? Two eighth-inning plays at the plate were the big difference in the
Cleveland Indians
' victory over the Tigers on Wednesday -- with
Casey Kotchman
making the play for Cleveland and Fielder unable to do so for the Tigers. In the top of the inning, Kotchman threw out Fielder at the plate for the second out of the inning that saw the Tigers load the bases with no outs, but walk away still tied. In the bottom of the inning, Fielder cleanly fielded
Travis Hafner
's grounder, but he bounced the throw home, allowing
Jason Kipnis
to score the go-ahead run.
Ted Lilly

, Dodgers.
Lilly had allowed just 10 earned runs in his last 10 starts, dating back to last season -- on Wednesday he gave up eight in a loss to the
Arizona Diamondbacks
, snapping the Dodgers' six-game winning streak. The lefty dropped his first game of the season and saw his ERA go from 1.79 to 3.14.
Barry Zito

,

San Francisco Giants

.
After putting up a 1.76 ERA in his first five starts, Zito has a 6.20 ERA over his last four starts -- including Wednesday's disaster. The first six batters he faced reached base and the
Milwaukee Brewers
batted around in the six-run first. Because of two errors, including one from Zito, only four of the eight runs the lefty allowed in three innings were earned. Zito is now 0-4 with a 7.67 ERA in eight career starts at Miller Park.
Justin versus Justin:
The Tigers have to be happy to see
Justin Verlander
's spot in the rotation come up again -- especially against the division-leading Indians. The Indians have won the first two games of the series at Progressive Field and look for the sweep on Thursday behind
Justin Masterson
. However, the bad news for the Tigers is that Verlander has struggled at Progressive Field -- his 6.10 ERA at the park is the highest for any stadium where he's started more than one game.
12:05 p.m. ETDecision time:
On May 14, Cincinnati's
Homer Bailey
and Atlanta's
Randall Delgado
both pitched well, but neither figured in the decision. Bailey allowed just one run on six hits in 6 2/3 innings of the Reds' 2-1 victory at Turner Field, while Delgado allowed just an unearned run on four hits in 6 2/3 innings. Since then, Delgado lasted just four innings in a loss to the
Tampa Bay Rays
, while Bailey picked up the W at Yankee Stadium on Saturday.
7:10 p.m ETWelcome to the big leagues:
Cole De Vries
, a 27-year-old right-hander, grew up in Minnesota, went to Eden Prairie High School and the University of Minnesota and will make his big-league debut on Thursday with the
Minnesota Twins
. Bad news, he's going to face the hottest hitter in the majors,
Paul Konerko
. The
Chicago White Sox
first baseman is hitting .615/.688/1.000 over his last eight games, including his ninth homer of the season on Wednesday night.
8:10 p.m. ET
Thursday's probable pitchers
• Undercover boss:
Houston Astros
general manager Jeff Lunhow worked as a ticket-taker before Tuesday's Astros-
Chicago Cubs
game in Houston. Lunhow said he was recognized by just one fan. [
MLBlogs.com
]
• Limits limiting pitchers?
Have pitch counts and inning limits in the minors hurt pitchers?
Baseball America studied every first-round pitcher
from 1992 to 2007 and found that the pitchers who pitched more innings in their first full season of professional baseball were more likely to make the big leagues and less likely to be injured. Those pitchers babied in their first pro season were more likely to be injured.
• Comebacker king:
The Cubs'
Tony Campana
and
Miami Marlins
' Emilio Bonifacio are both really, really fast -- but not fast enough to leg out grounders hit back to the pitcher. Campana and Bonifacio share the lead for comebackers this season with 14. [
ACTASports.com
]
• Kolllege is greatt:
Not only does the Big 12 have problems with counting, spelling is a problem as well.
Big League Stew has the picture
from the Big 12 "baseballl" tournament. I know typos happen (really, few know that as well as I do), but this one is pretty bad.
• '42' filming:
The Jackie Robinson movie started shooting on Monday in Chattanooga at Engel Stadium. [
TheChattanoogan.com
]
• The Eternal Question:
George Vecsey of the New York Times asks the question we've all asked at one time or another
-- what would your walk-up music be? I'd like to think I'd have some hometown connection, whatever local band I like from where I was playing at the time. So, currently I live in Cincinnati, so I'd go with the Afghan Whigs' "Gentlemen" and I used to live in Georgia, where I think I might go with the opening to "Lookout Mountain" by the Drive-By Truckers. You?
For more baseball news, rumors and analysis, follow @EyeOnBaseball on Twitter, subscribe to the RSS feed and "like" us on Facebook.
The Blue Jays are not expected to bring Bautista back next season

The Dodgers have already clinched the NL West title, so the D-Backs will be a wild card te...

Check out all of Sunday's action, including a single-season record getting closer to falli...
Judge's 48 homers trail only McGwire's 49 in single-season rookie history

The Reds still have one of the best hitters in the game in Joey Votto and a rising star in...

Maxwell joins a growing movement across sports