The Lineup: Elvis' big hit, newest Giant and Dodger flop
Elvis Andrus helped the Rangers overcome deficits of six runs early in the game and three in the 10th to topple the Angles. Meanwhile, Hunter Pence and Shane Victorino struggled in their first games with new teams.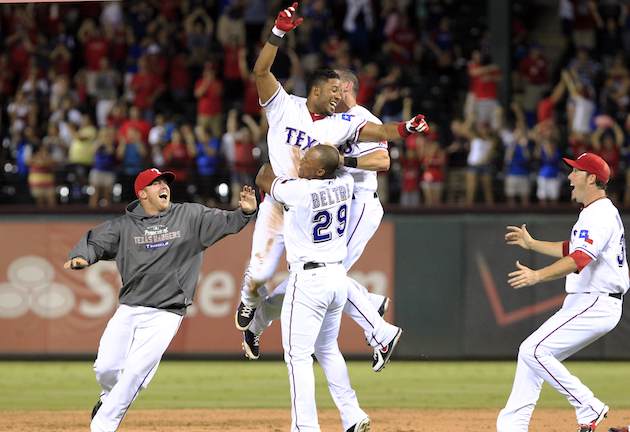 Elvis Andrus' two-run single gave Texas an 11-10 victory over the Angels in 10 innings. (Associated Press)


The Dodgers and Giants got all the headlines at the trading deadline, but watch out for the Diamondbacks, as Arizona completed a three-game sweep of Los Angeles to pull just 1 1/2 games behind the second-place Dodgers. Meanwhile, the other Los Angeles team lost a heart-breaker in Texas.

Full Wednesday scoreboard with recaps and box scores for every game







3 UP

Elvis Andrus, Rangers: There were several heroes in what may have been the game of the year, but Andrus came up with the game's biggest hit -- a two-run single in the 10th inning giving Texas a 11-10 victory over the Angels. Los Angeles led 7-1 in the fourth inning and 10-7 in the 10th, before coming back for the victory. Andrus was 4 for 6 with three RBI. The Rangers appeared on their way to losing their fourth straight game to the Angels and third of this series before Andrus' big knock. Instead of seeing their lead in the AL West cut to two games, they pulled to four games up on the Angels.

Ryan Ludwick, Reds: For the second night in a row, Ludwick knocked in four runs. Since Joey Votto's last game, Ludwick's hitting .388/.444/.857 with six home runs and 20 RBI in 15 games. He hit his 19th home run of the season in first inning of Wednesday's victory. The Reds trailed twice in the game -- and both times Ludwick put the team back on top.

Patrick Corbin, Diamondbacks: Called up from Triple-A Reno to take on the Dodgers, Corbin allowed just two hits in six innings as the Arizona swept Los Angeles at Dodger Stadium.

3 DOWN

Baltimore Orioles: There was plenty of bad to go around from Wednesday's debacle in the Bronx -- starter Zach Britton gave up seven runs in just 2 2/3 innings, which was bad enough, but the team's offense had just as much blame. For just the second time since the team returned to Baltimore, the Orioles were hitless with runners in scoring position in at least 15 at-bats. Baltimore recorded 13 hits -- just none when it mattered most.

Hunter Pence, Giants: In his San Francisco debut, Pence's highlight was a strikeout. Pence was 0 for 4, including two strikeouts. In the fourth inning, he struck out but reached first on a wild pitch. In the ninth inning, he went down on three pitches for the second out of the inning in the Giants' 2-1 loss.

Shane Victorino, Dodgers: Like his former teammate Pence, Victorino went 0 for 4 in his first game with his new team. He only struck out once, though, as the Dodgers lost 4-0 to the Diamondbacks.







Take two: In his first start after signing his big extension, Phillies lefty Cole Hamels went just five innings and gave up five runs in a loss to the Braves. He'll make his second start with his newfound security against the Nationals, who will send Ross Detwiler to the mound. 7:05 p.m. ET

New streak: Atlanta's seven-game winning streak came to an end on Wednesday, but Mike Minor will attempt to start a new streak. Minor is 2-1 with a 1.98 ERA over his last four starts. His one loss in that streak was to Thursday's opponent, the Marlins. In that game in Miami, Minor pitched well, allowing two runs on six hits in seven innings, but his team managed just one run off of Josh Johnson. Atlanta won't see Johnson again on Thursday as Nathan Eovaldi will make his second start as a Marlin. 7:10 p.m. ET

We meet again: Former Ranger C.J. Wilson will make his fourth start of the season against the Rangers and third at Rangers Ballpark. He's 0-1 with a 4.50 ERA against the Rangers, but the Angels have won two of those starts. His loss came in his first start back, lasting just 1/3 of an inning before a two-hour rain delay on May 11. He came back the next day, going 5 2/3 innings in an Angels victory. Meanwhile, Ryan Dempster will make his Ranger debut. 8:05 p.m. ET

Thursday's probable pitchers


• Ax gets the chop: Brewers closer John Axford isn't having the greatest season on the field, but he made a really nice move off of the field on Monday. Axford cut his long hair -- something he'd been planning on doing for a while. He wanted to wait until it grew to 10 inches so that he could donate it to Locks of Love, a charity that provides hairpieces to financially disadvantaged children in the United States and Canada. "Once I reached a certain point of ridiculousness, I figured I would keep growing it until it reached the length necessary to donate it," Axford told MLB.com. Kudos to Axford.

• More Most Valuable Player: The Pirates' Andrew McCutchen is the front-runner for MVP, but the Hardball Times argues he may be even more valuable than we thought, accounting for nearly 25 percent of the team's WAR.

• And much worse than you thought: The Astros' July was the fifth-worst month in baseball history. [Big League Stew]

• Big swing, big eats: Where does Giancarlo Stanton's power come from? Room service, apparently:
Is it bad that every time I order room service they ask "Should we bring silverware for 2, or 3 people?"

— Giancarlo Stanton (@Giancarlo27_) August 1, 2012
• Trade that works for everyone: The Nationals are certainly happy with what they've gotten out of Gio Gonzalez while the A's are pretty happy about their return from the offseason trade with Washington. [Washington Post]

For more baseball news, rumors and analysis, follow @EyeOnBaseball on Twitter, subscribe to the RSS feed and "like" us on Facebook.
Pawol is expected to umpire in the minors again come the regular season

No. 3 Texas Christian is looking to ruin Long Beach State's return home

Martinez's physical isn't taking much longer than usual
The Rangers have a lot riding on Mike Minor and Matt Bush

Though the process is far from complete, taxpayers got good news Thursday

Dickerson had been designated for assignment by the Rays last week