The Lineup: Fister huge for Tigers; can A's rebound?
What a day of action. Three of the five 1 p.m. games went into extra innings -- where the Orioles are making history and the Yankees took a wild one. The NL Central and West divisions were won, and the Cardinals gained some separation from several NL wild-card contenders. Let's recap the day, set up Sunday and hit some links.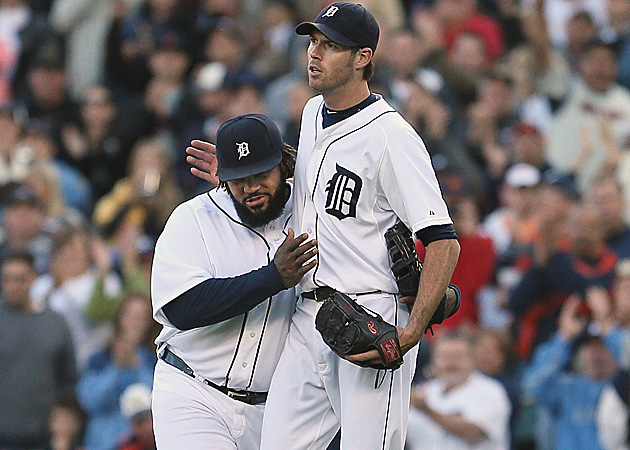 Fister came up huge for his club Saturday. (Getty Images)


What a day of action. Three of the five 1 p.m. games went into extra innings -- where the Orioles are making history and the Yankees took a wild one. The NL Central and West divisions were won, and the Cardinals actually gained some separation from several NL wild-card contenders. Now, about that AL Central.  

Full Saturday scoreboard with recaps and box scores for every game








3 UP

Doug Fister, Tigers: The Tigers continue to linger in the rearview mirror of the White Sox in the AL Central, and Fister's effort Saturday against the Twins was huge. He worked a shutout, allowing only seven hits while striking out seven. With a rainout Friday and Fister's complete game Saturday, the Tigers' bullpen is very well rested heading into a double-header on Sunday. And the Tigers enter the day just a half-game behind Chicago, too.

Rays' offense: When the Rays have struggled this September, it's been mostly due to a lack of offense. They only scored six runs when swept in a three-game series in Baltimore, for example. Things have turned around lately, though. Saturday night, the Rays brought their big-boy bats again. They racked up 11 runs on 15 hits against Toronto, and they've now scored 43 runs during their four-game winning streak. And at 3 1/2 games back of the second wild card, it would be foolish to bury this club.

Carlos Beltran, Cardinals: Cubs closer Carlos Marmol is stigmatized for his woes the past few seasons, but he had successfully closed down his last 19 save chances. He hadn't allowed a home run since July 6, either. And he took the hill Saturday with a chance to hand the Cardinals a devastating loss, considering the close NL wild-card race. Instead,  Carlos Beltran homered to tie the game and the Cardinals would win in 10 innings. Meanwhile, the Brewers, Dodgers and Phillies all lost, so it ended up being a wonderful swing of events for St. Louis.

3 DOWN

Roy Halladay, Phillies: It's a line we usually see from No. 5 starters, spot starters, rookies or relief pitchers thrust into a starting role: 1 2/3 innings pitched with five hits, three walks and seven earned runs allowed. And it was posted by Halladay on Saturday, a day the Phillies entered just three games back of a playoff spot. Ouch.

Wily Peralta/Livan Hernandez, Brewers: Yes, the Brewers have been playing great baseball for a while and every once in a while, teams just get beat. But the Brewers are still digging themselves out of the hole they dug in the first half of the season and the margin of error is tiny. And Saturday, Peralta and Hernandez combined to allow 10 hits, five walks and nine earned runs in 3 1/3 innings.

Josh Reddick, Athletics: In any extra-innings game with lots of runs scored, there always seems to be at least one player with an ugly line sticking out like a sore thumb. It was Reddick on Saturday. He was 0-for-7 with a strikeout and seven men left on base.








Can the A's bounce back? Saturday's loss to the Yankees in 14 innings had to feel like a punch to the gut of the Athletics. They'll need to shake it off by Sunday, as they're right in the thick of a playoff race. Sunday, A.J. Griffin (6-1, 2.45) also needs to bounce back, as he's coming off his worst outing of the season and has to face the Bronx Bombers in Yankee Stadium. The Yankees will give the ball to Hiroki Kuroda (14-10, 3.26) and attempt to hold their one-game lead over the Orioles in the AL East. 1:05 p.m. ET

On the prowl? As mentioned above, the Tigers have a double-header against the Twins Sunday. They only trail the White Sox by a half-game in the AL Central, so if Detroit can win both, it'll be either tied for first or leading the division by a game, depending upon how the White Sox fare in Los Angeles (against Jered Weaver, so it's a tall order). It's Scott Diamond (11-8, 3.69) against Max Scherzer (16-6, 3.78) at 1:05 p.m. ET and P.J. Walters (2-4, 6.39) against Drew Smyly (4-3, 4.45) at 7:05 p.m. ET

Back to form: Phillies starter Cliff Lee (6-7, 3.27) has had a rough season from a few points of view. Most notably he was unfairly hammered for a lack of wins in the first half, but he was down in a few other categories at times. Not lately, though. Lee is 4-0 with a 1.63 ERA, 0.99 WHIP and 54 strikeouts in 49 2/3 innings pitched in his last seven starts. He's only walked four in that time frame. Sunday, he takes on the Braves in a game with playoff implications for each club. Tim Hudson (15-6, 3.77) is his counterpart. 1:35 p.m. ET

Sunday's probable pitchers








• "Trouble with the Curve" reviews: Surely most baseball fans have seen the previews for the new baseball movie with Clint Eastwood playing an aging scout. Unfortunately, here are two reviews that say it doesn't really have that much to do with baseball -- and the parts that do sound unrealistic. Jessica Quiroli has a lukewarm-at-best review, while Grant Brisbee has a much more harsh breakdown.

• Executed killer mentions Rangers in his last words: "I'm going home. I'm going home," said convicted murderer and now-executed Robert Wayne Harris before his lethal injection. "Don't worry about me. I'll be all right. God bless, and the Texas Rangers, Texas Rangers." (AP, via CBSNews.com)

• Misguided tweet of the day: Curt Schilling is a blowhard, so this shouldn't be surprising.
I love Posey, but can someone tell me HOW IN THE WORLD Molina isn't a SERIOUS contender for MVP? Gold Glove, raking, at premium position

— Curt Schilling (@gehrig38) September 22, 2012
My response? HOW IN THE WORLD does a paid baseball analyst believe people don't consider Molina a SERIOUS contender for NL MVP? Just to personalize it, we've been calling him an MVP candidate for weeks in this space, including our last NL MVP watch. We aren't even close to being alone. Pay attention, Curt. Or just stop tweeting. Either one.

• Best hitters to never win MVP: With Miguel Cabrera likely on his way to winning the AL MVP -- though it's not a done deal -- he'll probably fall off this list. Baseball Nation takes a look at the best hitters with no MVPs, from Mel Ott to Ralph Kiner to Manny Ramirez.

• Where did he have to go? We'll leave you with this video, in which Alexi Casilla is called out for staying on a base.



For more baseball news, rumors and analysis, follow @EyeOnBaseball on Twitter, subscribe to the RSS feed and "like" us on Facebook.
Boston wants to add two big bats to their lineup, not just one

Even more relievers signed on the final day of the Winter Meetings

Keep tabs on the top 50 free agents right here
The league is not happy Ohtani's medical information leaked

Kansas City and Baltimore were quite busy at the Rule 5 Draft

Piscotty's mother was diagnosed with ALS earlier this year