The Lineup: Kyle Lohse acting as Cards' ace; Royals disappointment
St. Louis right-hander Kyle Lohse picked up his third win of the season despite seeing his ERA rise to 0.99 thanks to a run in seven-plus innings. Meanwhile, the Royals dropped their 10th straight game.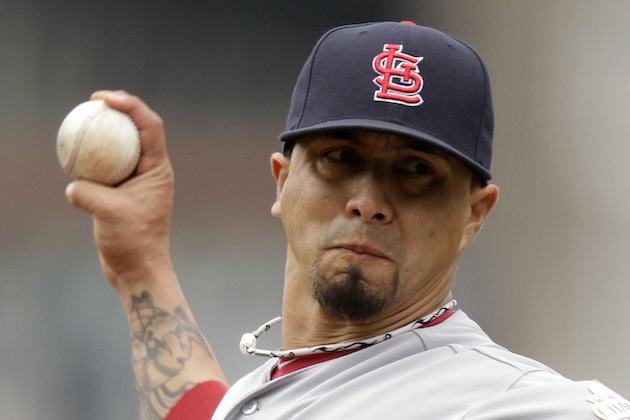 It was the rare Sunday where all the day's action was done by 7 p.m. ET, but rain in the East postponed three games, including the Sunday night game between the
Yankees
and
Red Sox
. Still, we had controversy in Detroit, a blowout in Houston and futility in Kansas City.
Full Sunday scoreboard with recaps and box scores for all 12 games.

3 UPKyle Lohse, Cardinals.
How good has the right-hander been so far this season? On Sunday his ERA
rose
to 0.99. No matter, Lohse picked up his third win of the season. Lohse gave up six hits in seven innings. He gave up back-to-back hits to begin the eight and was pulled after the first run scored. Unlike his last start, the Cardinals bullpen held on to the lead. Opponents are hitting just .170 against him so far this season and he has allowed just 16 hits and two walks in 27 1/3 innings.
Nick Markakis, Orioles.
The Baltimore right fielder had struggled on the team's road trip, hitting just .205 through nine games of the series and three hitless at-bats in the first six innings of Sunday's game against the
Angels
, but he came through late in the game in Anaheim, driving in all three of Baltimore's runs in the 3-2 victory over the Angels in 10 innings. Markakis gave his team the lead when he singled in two off of
Scott Downs
in the eighth and then provided the winning margin with an RBI single off of
LaTroy Hawkins
in the 10th. He had just one RBI in the previous nine games.
Astros offense.
Lefty
Wandy Rodriguez
has been great so far this season, entering Sunday's game with a 1.96 ERA after three starts -- but he'd yet to pick up a win. Rodriguez was fantastic again Sunday against the
Dodgers
, allowing just three hits and striking out six in seven innings, but for once he got some backing for his bats.
Carlos Lee
homered in the first to give him a 2-0 lead and then
Jordan Schafer
's second-inning grand slam gave Rodriguez more support than he needed. The team finished with 12 hits in a 12-0 win.
3 DOWNKansas City Royals.
With Sunday's 5-3 loss to the
Blue Jays
, the Royals are just 3-12 on the season, have lost 10 in a row and have yet to win at Kauffman Stadium this season. Kansas City is the first team to lose its first nine games at home since the 1995
Marlins
. The Royals host the Blue Jays again Monday night and if they don't win, they'll go the entire month of April without winning at home. Kansas City embarks on a nine-game road trip starting Tuesday and won't play at home again until May 3 when the Yankees come in for a four-game series.
Reds and Cubs.
The two teams combined for 14 errors in their three-game series at Wrigley Field, with each team committing at least two errors in each game. Friday the Cubs had three errors and Sunday it was the Reds with three errors. Chicago catcher
Geovany Soto
had two throwing errors on sacrifice bunt attempts in the decisive two-run sixth for the Reds. There was a strong wind at Wrigley Field on Sunday, but all five errors were in the infield.
Rain day and a Sunday.
Not only did Sunday's wet weather on the East Coast wash out three games, including the Sunday night national TV telecast between the Yankees and Red Sox, it also messed up a possible matchup of
Clayton Kershaw
and
Stephen Strasburg
on Friday.
Nationals
manager Davey Johnson is keeping his rotation intact, moving Sunday's scheduled starter,
Gio Gonzalez
, to Tuesday's game in
San Diego
. Strasburg will start Saturday at Dodger Stadium.
Freak show.
Tim Lincecum
has been flat awful this season, entering Monday's game against the
Mets
with an 0-2 record and 10.54 ERA. He was scheduled to start Sunday, but a rainout forced a doubleheader Monday at Citi Field. Lincecum has won his last three at Citi Field and is 3-1 with a 2.87 ERA in seven career starts against the Mets. He was supposed to face
Dillon Gee
on Sunday, but Gee will pitch the nightcap, while
Miguel Batista
will pitch the first game and
Johan Santana
has been pushed to Tuesday.
4:05 p.m. ETClash of the titans.
Texas has the game's best record early in the season and are coming off a 3-1 series win over the
Tigers
, owners of the American League's second-best record. Next on the list is the Yankees, who are tied with the Blue Jays at 9-6 (the
White Sox
are also 9-6). Sunday's rainout means both teams will have lefties on the mound, as New York's
CC Sabathia
faces the
Rangers
'
Derek Holland
. Holland is 0-4 with an 8.74 ERA in five career starts against the Yankees.
10:05 p.m. ETBouncing back.
The
Braves
had a five-game winning streak snapped on Sunday, while the Dodgers saw a modest three-game streak broken in
Arizona
. The two meet in Dodger Stadium, where the home team has won all six of its games so far in 2012. Atlanta's
Jair Jurrjens
has yet to go more than five innings in his first three outings this season and has surrendered five home runs -- which makes facing
Matt Kemp
worse. Kemp, who had a 10-game hitting streak broken Sunday in Houston, is 4 for 14 with a home run in his career against Jurrjens, but has struck out seven times.
10:10 p.m. ET
View entire Monday schedule with probable pitchers for all 11 games.
• Second Tommy John friendlier to relievers.
Research by the San Francisco Chronicle
shows that relievers have a better track record of coming back from a second Tommy John surgery than starters. While players come back from Tommy John surgery all the time now, and some even return better, it's rare for a pitcher to come back better following a second Tommy John surgery.
• Not-so-friendly reunion.
Marlon Byrd
had some harsh words about
Vicente Padilla
in 2009 when both were members of the Rangers and the next season Byrd felt Padilla hit him on purpose in a game between the Cubs and Dodgers. Now the two are teammates again after the Red Sox traded for Byrd. [
Boston Herald
]
• Enjoy Iowa.
Just because the Cubs traded Byrd doesn't mean Brett Jackson will be coming up to replace him in center field at Wrigley Field. Cubs manager Dale Sveum says the 23-year-old is still striking out. In his first 17 games at Triple-A Iowa this season, Jackson is hitting .239/.329/.475 with two home runs and 21 strikeouts in 71 at-bats. [
Chicago Tribune
]
• Watching perfection.
Philip Humber
's wife, Kristan, watched her husband's perfect game on TV in Chicago. Kristan Humber is pregnant and the couple's first child is due May 8, so she was unable to travel. [
Chicago Sun-Times
]
• Perfectly ordinary?
Four of the 21 perfect games in Major League history have been thrown since 2009, is the perfect game becoming ordinary? Hardly. [
The Economist
]
• Meet the new guy.
Magic Johnson has been the face of the new Dodgers ownership group, but Mark Walter will be the controlling partner. Just who is Mark Walter? [
Los Angeles Times
]

Charlie Morton will start either Game 3 or 4

Granderson, Verlander, Beltran and more are looking to reach the top of the MLB world

Houston's top relievers have been shaky this postseason
Our experts have a unanimous World Series pick

Otani's rare ability to hit and pitch will need to be accounted for in realms beyond real...

Kenny White has won 8 of his last 10 MLB Over-Under picks and has a strong play for Game 1