The Lineup: Nats win without playing, Oswalt battered again
It's The Lineup for trade deadline day, starring the Nationals, Hisashi Iwakuma, 9-spots, Rangers, Angels, Giants and Alex Johnson.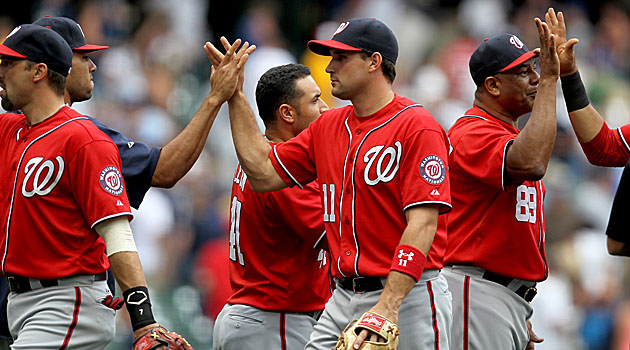 This picture is from Sunday, but there's still occasion for the Nats to celebrate something that happened Monday. (Getty Images)


It was a wild and wacky night on the field and in trade talk, with surely more of both on the way Tuesday. No reason to waste any time up here ...
Full Monday scoreboard with recaps and box scores for every game








3 UP

The Washington Nationals: The Nats didn't play Monday night, but, by virtue of the Reds' loss, the Nats are worth mentioning. That is because, on July 31, the Washington Nationals have the best record in all of baseball. They are the only club with a winning percentage of .600 or better (.604).

Hisashi Iwakuma, Mariners: Feel-good story of the night here. Iwakuma had been home in Japan to deal with a family matter. He returned to make a start Monday night in Seattle against the Blue Jays. And Iwakuma was nails. He allowed only four hits and one run (a first-inning solo homer) while striking out a career-high 13. He had previously never struck out more than seven in a game. He also picked up his first win as a starting pitcher. Good for Iwakuma. And oh by the way, the Mariners have won five straight.

9-run innings: We don't see them very often at all, but Monday night provided two of them. The Angels put a nine-spot on the Rangers in the top of the sixth, en route to a big 15-8 win. The Cubs came through with nine of their own in the bottom of the fifth, en route to a 14-4 win over the Pirates.

3 DOWN

Roy Oswalt, Rangers: For the third time in six Rangers starts, Oswalt gave up a double-digit number in the hits column. Monday, it was 11 hits, which led to eight earned runs and a blowout Rangers loss.

Mets-Giants pitchers: In a pitchers' park, the Mets and Giants combined for 28 hits and 10 walks in 10 innings. That's a 3.80 WHIP, which is ridiculously bad. Each side also blew a save.
Those poor Houston Astros: Not only are they an abysmal 3-23 in July, but the Astros only managed four runs in two innings against the pitiful Brewers' bullpen and fell short in their comeback attempt, losing 8-7.








Will he start, or won't he? Ryan Dempster (5-5, 2.25) is the Cubs' scheduled starter for Tuesday night's game against the Pirates, but he's almost surely going to be traded. Meantime, the Pirates have lost two straight and need to get back on track. They'll turn to A.J. Burnett (12-3, 3.52). 8:05 p.m. ET

Giant losing streak: The Giants have lost four in a row and the NL West has greatly tightened. With a Dodgers loss Monday night, the Giants remained in a first-place tie, but the Diamondbacks are now just 3.5 back. San Fran turns to former ace Tim Lincecum (4-11, 5.88) to break the streak. And he'll square off against Mets youngster Matt Harvey (1-0, 0.00). 10:15 p.m. ET

AL West showdown, Part II: The Angels destroyed the Rangers Monday night, as we already mentioned. They now trail the Rangers by four games (and don't forget about those pesky A's!) and send ace Jered Weaver (13-1, 2.26) to the hill Tuesday night. The Rangers will counter with Derek Holland (7-5, 4.74). 8:05 p.m. ET
Tuesday's probable pitchers (subject to change with the trade deadline looming, of course)








• As advertised: Nationals ace Stephen Strasburg strikes guys out at an alarming rate. We know that. In fact, the only starting pitchers who have ever had a higher strikeout rate than Strasburg does this season are Randy Johnson, Kerry Wood and Pedro Martinez. MLB.com has the story.

• Ichiro is awesome at shagging flies: In case you missed the highlight from the Sunday Night broadcast, new Yankees outfielder Ichiro Suzuki made a behind-the-back catch while shagging flies before the game. Cut 4 blog has the video evidence.

• Off to Japan: In the first week of August, Diamondbacks GM Kevin Towers and president Derrick Hall are going to Japan to scout the talent there. They aren't after big name stars, though. "We're going after the diamonds in the rough because of our market size," Towers said. "When it comes to the posting system, it's real money. When you're talking $40-$50 million before you sign the player. So you have to look at passed-over players." Full story on nytimes.com.

• The Alex Johnson story: With Mike Trout looking a decent bet to lead the American League in batting average, latimes.com tells the interesting story of the Angels' only batting champ in history: Alex Johnson. He led the AL with a .329 average in 1970, but fell out of favor the following season and is now estranged -- for lack of a better term -- from the franchise.

• The slow rise of Israeli baseball: Isreal has a national baseball team and it has been invited to take part in a World Baseball Classic qualifier for the first time this September. Wall Street Journal Online has the full story of the journey this baseball team has taken.

For more baseball news, rumors and analysis, follow @EyeOnBaseball on Twitter, subscribe to the RSS feed and "like" us on Facebook.
Fowler suffered a knee injury at Chicago's Guaranteed Rate Field

The lefty starter is coming off a terrible season

After acquiring Ian Kinsler and Zack Cozart in recent days, the Angels are trending upward
Cozart's coming off a big season as the Reds' shortstop

The veteran slugger spent the last eight seasons with Cleveland

The Padres may be poised for an active winter