The Lineup: NL Central sluggers muscle up, Yankees look to keep streaking
Attempting to round up a wild, wild Saturday before we set up Sunday and hit some links -- including "Babe" Votto and Andy "The Mentor" Pettitte.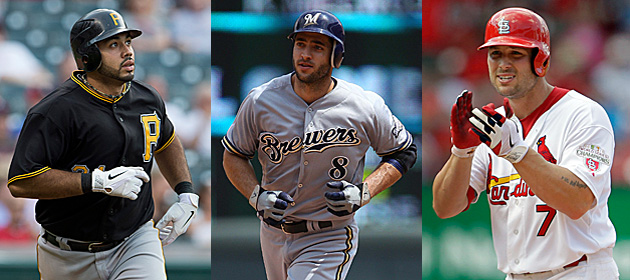 Our usual action-packed Saturday gave us an absolute gem by Jason Hammel (post here), an absolute gem by Ervin Santana (post here), A.J. Burnett's continued unbeatable ways (post here), the Yankees surviving a marathon 14-inning game against the Nationals (post here), the Marlins surviving a marathon 15-inning game against the Rays, a late Blue Jays' comeback, the triumphant return of Doug Fister, a fine outing from Homer Bailey and much more.
To catch up on all the action, click ...
Full Saturday scoreboard, with recaps and box scores for every game








3 UP

Pedro Alvarez, Pirates: Burnett's winning streak gets the headlines, but don't forget about the huge day Alvarez had in helping the Pirates break a four-game losing streak. The third baseman went deep twice for the third time in his career -- the first since July 21, 2010.

Ryan Braun, Brewers: Braun also had a two-homer game, marking the 14th time of his career he's come through with multiple homers in one contest. It was the second time this season, as he hit three bombs against the Padres on April 30. Braun also doubled in his 3-for-4 afternoon.

Matt Holliday, Cardinals: He entered the game in an 0-for-12 slump, but busted out in a huge way, going 4-for-5 with two doubles, a homer, five RBI and two runs. He twice came through in a big way. After a Cardinals triple play in the top of the first inning was overturned, the Royals got on the board first. Cardinals manager Mike Matheny was ejected in the aftermath. So the Cardinals went in to hit, trailing 1-0. Holliday followed a Carlos Beltran single with a bomb to put the Cardinals ahead 2-1. The Royals clawed back to take a 7-6 lead in the top of the seventh. In the bottom half of the inning, Holliday would knock in the tying run and then himself score a run on a two-RBI Yadier Molina single. And the Cardinals would go on to win.

3 DOWN

The Rockies' defense: Remember the "Little League home run?" You know, a kid hits a ground ball to an infielder and, a few errors later, crosses home plate -- and then starts bragging about how he hit a home run. Well, Miguel Cabrera isn't exactly a speed demon, and he ended up scoring on a play that started with him hitting a ground ball ... to the pitcher. Watch it on MLB.com/video.
Tim Lincecum, Giants: The hapless Mariners' offense touched him up for five runs on five hits -- including two first-inning home runs -- in five innings. The ERA is up to 6.19 and his ERA last season was 2.74. Also, the Giants are 2-12 in his starts this season and 35-17 without him. They lost five of his last six starts last season, too, so the Giants are 3-17 in Lincecum's last 20 starts. This isn't a small-sample fluke. It's become a legitimate trend.

The Rays' defense: The Rays piled up three more errors, with one in the first inning leading to an unearned run and one in the second inning leading to two unearned runs. The Rays didn't allow another run until the 15th inning, when they lost, 4-3, to the Marlins. The Marlins now lead the AL with 35 unearned runs allowed this season and are tied with the Orioles for the most AL errors, at 57.








Bombers streaking: The polarizing Yankees have won eight in a row and now sport the second-best record (behind the Dodgers) in all of baseball. They'll look to keep things rolling Sunday against the first-place Washington Nationals with Ivan Nova (8-2, 4.64) taking on Edwin Jackson (3-3, 3.02). 1:35 p.m. ET

Bombs away? This game is being played in Detroit, not Colorado -- fortunately for the pitchers. Still, Sunday's Rockies-Tigers pitching matchup bodes well for offense, because Rockies' starter Jeremy Guthrie (3-5, 6.91) will square off against Max Scherzer (5-4, 5.76) of the Tigers. Guthrie has allowed an NL-high 15 homers, which is just two more than the 13 Scherzer has coughed up. 1:05 p.m. ET

Next up? Friday night, Trevor Cahill stymied the Angels for seven innings and the Diamondbacks took home a shutout victory. Saturday night, Ervin Santana spun an absolute masterpiece, working a one-hit shutout victory. So which pitching staff dominates the opposing offense Sunday? Ian Kennedy (5-6, 4.32) gets the ball for the Snakes while Garrett Richards (1-0, 1.38) starts for the Angels. 3:35 p.m. ET
Sunday's probable pitchers








• Dissecting WAR: Beyond the Box Score checks out the differences in Wins Above Replacement as calcuated by the three websites that churn out the sabermetric stat. Most of the big discrepancies are due to how difficult it is to put a number on defensive performance.

• Votto playing like The Babe? Jayson Stark of ESPN.com notes that Joey Votto entered Saturday on pace for 201 hits and 136 walks. If he keeps up this pace, he'll join the great Babe Ruth as the only player to ever draw more than 130 walks while collecting more than 200 hits. Ruth did it three times, too. Wow.

• The Mentor: Phil Hughes is 4-1 with a 3.55 ERA since May 13. Prior to that date, he was 3-4 with a 5.50 ERA. May 13 was when Andy Pettitte re-debuted with the Yankees and Hughes gives some credit to Pettitte working with him on hiding the ball better as it comes out of his pitching hand (MLB.com).

• Wins ... I display win-loss record (like in the Hughes example just above) because it's a mainstream stat. But I hate doing it because I don't believe it should be mainstream -- and I'm not even close to being alone. Example number one billion: Cliff Lee has zero wins this season. The following pitchers have one win (and an ERA of over 10.00): Yoshinori Tateyama, Manny Acosta, Ryan Perry and Vinnie Chulk.

• Remembering Darryl Kile: We're closing in on the 10-year anniversary of Cardinals pitcher Darryl Kile's death of a heart attack at age 33. Joe Strauss of the St. Louis Post-Dispatch has a look back, along with interviews of several people (like current St. Louis manager Mike Matheny) who were close with Kile.

For more baseball news, rumors and analysis, follow @EyeOnBaseball on Twitter, subscribe to the RSS feed and "like" us on Facebook.
If the slow-play for Martinez, Hosmer and Arrieta sounds familiar, it should

The Nats will host the All-Star Game in 2018

The Orioles are looking to trade Machado heading into his walk year
The Cardinals have been linked for a while to the Baltimore star

Gallardo spent the first eight years of his career in Milwaukee

MLB revenues are at a record high right now, but teams aren't spending it on players