The Lineup: Pair of Red Sox combine for 26 letters, 2 HRs
The Red Sox set an odd record on Saturday, as Jarrod Saltalamacchia and Will Middlebrooks both homered to set a new record for most total number of letters by teammates to homer in the same game. Meanwhile, Nationals pitcher Ross Detwiler may be looking over his shoulder in D.C.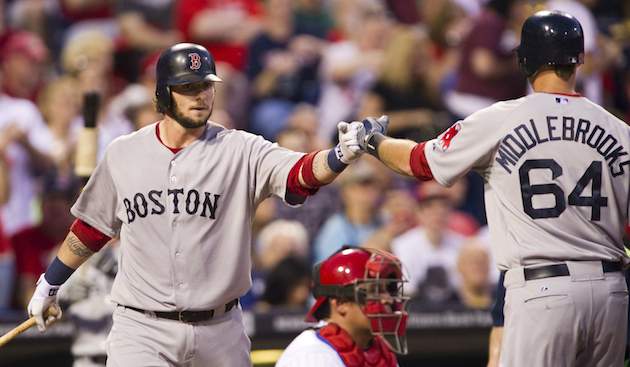 For the second day in a row, the American League took nine of the 14 interleague games on Saturday. Five different AL teams could complete a sweep on Sunday -- the
Orioles
,
Blue Jays
,
White Sox
,
Twins
and
Mariners
. The
Giants
are the only National League team that could claim a sweep over an interleague rival this weekend.
Full Saturday scoreboard with box scores and recaps for all games
3 UPJarrod Saltalamacchia, Will Middlebrooks, Red Sox.
Between them the two have 26 letters in their last names -- the most ever for a pair of teammates to homer in the same game. In the end, that doesn't really mean that much, but it's a fun, silly factoid. Middlebrooks' homer was his fifth in his first 16 games in the big leagues. He's hitting .277/.309/.585 since being called up.
Alexi Amarista, Padres.
Traded to San Diego in the May 3 deal that sent Ernest Frieri to the
Angels
, Amarista was involved in all three runs of the Padres' 3-2 victory over his former team. Amarista singled and scored in the second, walked and scored on a wild pitch in the fifth and doubled in the winning run in the seventh inning.
Andrew McCutchen, Pirates.
Drew Smyly
is no
Justin Verlander
, that's for sure. The day after managing a single hit off of Verlander, the Pirates pasted the 22-year-old lefty for seven hits and four runs in 4 2/3 innings. McCutchen connected for two homers off of Smyly to account for all of the Pirates' runs in a 4-3 victory over the
Tigers
. Over his last 12 games, McCutchen is hitting .452 with seven home runs.
3 DOWNRoss Detwiler, Nationals.
With Chien-Ming Wang ready to come off the disabled list next week, he's expected to go to the bullpen because of Detwiler's hot start. However, one or two more starts like his last three could put Wang back into the rotation. Detwiler gave up six runs on nine hits with a walk in five innings in a loss to Baltimore on Saturday. The 22-year-old lefty has an ERA of 1.59 after his first five starts, but has seen it rise more than two runs after his last three starts. He was the first Nationals starter to give up six earned runs since
Livan Hernandez
did it on Sept. 4, 2011 -- a span of 63 games.
Randall Delgado, Braves.
When your manager compares your outing to "checking your gas with a match" -- chances are things didn't go too well. Delgado walked five in four innings, including two in the third inning to set up
Matt Joyce
's grand slam in a loss to the Rays.
Ivan Nova, Yankees.
It's not often you see a pitcher who struck out 12 batters on this side of 3 Up, 3 Down, but Nova's strikeouts didn't keep him from giving up runs. Although he recorded his first seven outs of the game via strikeout, Nova was in a 2-0 hole after two innings. He then gave up a three-run homer to
Joey Votto
in the fifth inning. In all, he allowed five runs on seven hits, two walks a a hit batter.
Hold the Hot Stuff:
Stephen Strasburg
may or
may not have struggled with a heat rub in his last outing
, but chances are he won't find any Hot Stuff near his locker before Sunday's start against Baltimore. On Tuesday, Strasburg lasted just four innings, giving up four earned runs on seven hits. Meanwhile, Baltimore's
Wei-Yin Chen
has been outstanding. He's 4-0 with a 2.45 ERA and is coming off a dominant outing against the Yankees.
1:35 p.m. ETGreinke's home cooking:
Zack Greinke
has taken to Miller Park, putting up a 13-0 record at home since joining the
Brewers
. He's the sixth starter since 1900 to win each of his first 13 home decisions with a team, joining Johnny Allen (Yankees, 16 games, 1932-33), LaMarr Hoyt (White Sox, 16 games 1980-82), Kenny Rogers (
Athletics
, 15 games, 1998-99), Billy Pierce (Giants, 13 games, 1962-63) and David Palmer (Expos, 13 games, 1979-82). Greinke hasn't allowed a run in his last 15 innings -- regardless of where they were pitched. However, he did receive a no-decision in his last start at home, a Brewers' loss.
Jason Marquis
, who is off to a less-than-stellar start with the Twins, starts for Minnesota.
2:10 p.m. ETSweep shot:
The White Sox have won 17 of their last 23 against the
Cubs
and their first two this season. The Southsiders can sweep their intracity rivals behind right-hander
Jake Peavy
. Peavy is looking to bounce back from a six-run inning in his last start that raised his run nearly a full run. Peavy, though, has to feel good to be back in Wrigley Field. He's won his last four starts against the Cubs. White Sox first baseman
Paul Konerko
isn't expected to play, but his replacement in the lineup,
Dayan Viciedo
homered on Saturday and is hitting .478 with four home runs in his last six games.
2:20 p.m. ET
Full Sunday schedule with probable pitchers
• Playing by the book:
The
Cardinals
have given every minor-league player an 86-page handbook that outlines "The Cardinal Way." [
St. Louis Post-Dispatch
]
• Arms race:
The
Royals
had a heavily hyped minor-league system a year ago, but since then many of the team's top position players have been promoted to the big leagues, while the young pitchers have struggled. Still, the team is confident its pitchers will come through. [
Kansas City Star
]
• Baseball card bonanza:
A couple of weeks ago
I wrote about former big leaguer Dmitri Young and the baseball card collection he was selling
. The sale concluded Saturday morning, raising a total of $2,461,032 for the Dmitri D. Young Foundation. The foundation will host baseball and softball camps and clinics, support the Boys and Girls Clubs and sponsor programs and scholarships for students in Young's home area of Ventura County, Calif. The 1955 Roberto Clemente Topps rookie card went for $432,690, the Hank Aaron 1954 Topps rookie went for $357,594 and the 1963 Pete Rose rookie sold for $157,365. If you're into that sort of thing, you can see
all the results here
. And man, if I'd just bid $11,595.01,
I could've gotten the George Brett rookie I've always wanted
.
• Verlander's magic:
Yeah, this is from Friday night, but still thought it was cool --
the Detroit News did a great graphic
showcasing Justin Verlander's near-no-hitter.
• Bitter on the Bay:
For a guy who retired on top and has seemingly been given just about every honor that could be bestowed upon him, Tony La Russa seems awfully bitter. Of course, if La Russa isn't complaining, would anyone recognize him? [
San Francisco Chronicle
]
• You only streak once:
You think streaking -- or nearly streaking -- is a spontaneous decision? Not so for one Toronto teen. Give the kid credit, he did his research and wisely decided against going fully nude, which could have ended up in the kid having to register as a sex offender. [
Toronto Star
]
• Hot dog awesomeness:
What are the craziest hot dogs at big league parks this year?
SeriousEats.com
has photos of dogs from all around the majors -- including one that gives you a reason to visit Tropicana Field (other than the baseball, of course).
For more baseball news, rumors and analysis, follow @EyeOnBaseball on Twitter, subscribe to the RSS feed and "like" us on Facebook.
The lefty starter is coming off a terrible season

After acquiring Ian Kinsler and Zack Cozart in recent days, the Angels are trending upward

Cozart's coming off a big season as the Reds' shortstop
The veteran slugger spent the last eight seasons with Cleveland

The Padres may be poised for an active winter

Yes, Bryce Harper is going to make a lot of money next winter