The Lineup: Reds' slide hits 5, Jason Kubel clubs 2 HR
The Cubs' Alfonso Soriano hit a two-run homer in the eighth inning to sned the Reds to a season-high fifth straight loss, while Jason Kubel's two homers helped down the Pirates and keep the margin in the NL Central at 2 1/2 games.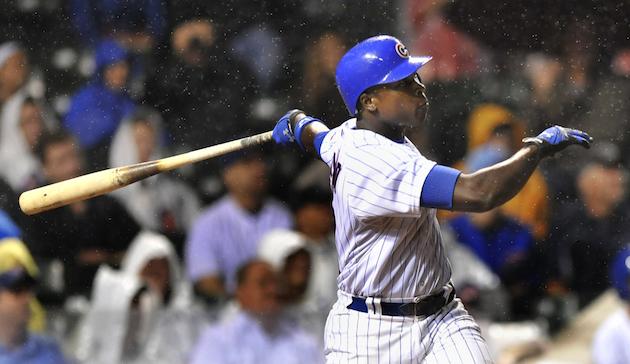 Alfonso Soriano's 20th home run of the season helped end the Cubs' eight-game losing streak. (Associated Press)


There were just nine games on Thursday, but we saw the debut of heralded Orioles prospect Manny Machado, who went 2 for 4 with a triple in his second big-league at-bat.

Full Thursday scoreboard with box scores and recaps for all games







3 UP

Alfonso Soriano, Cubs: Soriano broke a 3-3 tie with a two-run homer off of the Reds' Logan Ondrusek in the eighth inning of Chicago's 5-3 victory. It was his 20th homer of the season. Soriano and Andre Dawson are the only two players to hit 20 or more homers in their first six seasons with the Cubs.

Jason Kubel, Diamondbacks: Maybe because he's doing it in Arizona, but it seems like not may are noticing the fantastic season Kubel is putting together for the Diamondbacks. The 30-year-old outfielder is hitting .280/.352/.556 on the season and with his two-homer game on Thursday, he now has 25 home runs on the season. He needs three more to match his career-best mark of 28 set in 2009 with the Twins.

Ubaldo Jimenez, Indians: Jimenez picked up his first win in more than a month, striking out 10 Red Sox, a season-high in Ks for JImenez. The Indians now have a winning streak, it's just two games, but after losing 11, it's a start. Meanwhile, the Red Sox have lost seven of their last nine.

3 DOWN

Wei-Yin Chen, Orioles: On the night the Orioles gave way a shirt honoring the rookie left-hander, the Royals handed him something else. Kansas City put up seven runs on nine hits in 4 2/3 innings for Chen. Chen had given up five runs in his last seven starts combined.

Jose Reyes, Mets: Against former teammate R.A. Dickey, Reyes went 0 for 4 and had his hitting streak stopped at 26 games.

Joaquin Benoit, Tigers: Gave up back-to-back homers on consecutive pitches to Mark Teixeira and Eric Chavez in the eighth inning to take a victory away from the Tigers and starter Doug Fister.







Streaking: With Thursday night's loss to the Cubs, the Reds have lost a season-high five in a row. It also stopped an eight-game losing streak for the Cubs. Cincinnati's Homer Bailey faces Chicago's Justin Germano, a former Red, on Friday to attempt to end the streak. 2:20 p.m. ET

Welcome back: Hanley Ramirez will play his first game in a Dodger uniform at Marlins Park on Friday, as his new team travels to Miami. Ramirez is hitting .226/.328/.358 with one home run in 14 games for the Dodgers. The Marlins are 6-8 since Ramirez was traded. 7:10 p.m.

Playoff preview? Last year the Rangers and Tigers met in the ALCS and it wouldn't be a shock if the two met in the playoffs again. The Rangers won last year's ALCS in six games and have won five of seven meetings so far this season. Texas right-hander Scott Feldman is looking to win his seventh straight decision after losing his first six. Over that stretch, he's 6-0 with a 2.81 ERA in seven games and six starts.

Friday's probables for all games








• Who's Mr. Met's daddy? Who created Mr. Met? It may have been this man, Charles Palminteri. It may not have been, either. Another chapter in this mystery from ESPN.com's Paul Lukas.

• Minor-league musical chairs: Two New York Triple-A teams are looking for new affiliates. Both Buffalo and Rochester would like winning teams and are open to changing their affiliations. Buffalo is currently the Mets' Triple-A team, while Rochester is Minnesota's top farm team. [Baseball America]

• WAR across America: You can say what you will about the WAR statistic, but it does give a nice general idea about how good players are -- and this graph shows you which states (and cities) have produced the most valuable baseball players. [BeyondtheBoxscore.com]

• Everyone gets a piece of the pie: The A's 13 walk-off hits have featured 11 different heroes -- and all have gotten a pie in the face. [San Jose Mercury News]

• Best catchers: It seems like every year there's a new attempt at measuring catchers' defense. Matt Klaassen at TheScore.com does it in a relatively old-school way, by looking at passed balls, wild pitches, caught stealing and errors. The result passes the sniff test, as Yadier Molina is the tops in his rankings. The Reds' Ryan Hanigan is second. Rockies rookie Wilin Rosario is last.

For more baseball news, rumors and analysis, follow @EyeOnBaseball on Twitter, subscribe to the RSS feed and "like" us on Facebook.
Even more relievers signed on the final day of the Winter Meetings

Keep tabs on the top 50 free agents right here

The league is not happy Ohtani's medical information leaked
Kansas City and Baltimore were quite busy at the Rule 5 Draft

Piscotty's mother was diagnosed with ALS earlier this year

From the rebuilding Marlins to the aggressive Angels, here's how the most active teams made...